Paterfamilias of the Wagler clan. David L. Wagler, August, 2001.


Matriarch of the Wagler clan. Ida Mae (Yoder) Wagler, around 1995.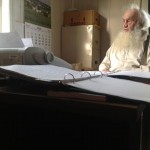 The lion in winter. David L. Wagler. June 15, 2013.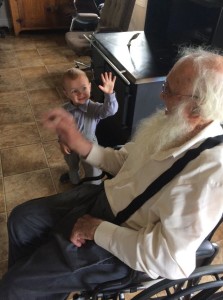 David L. Wagler and his only great-great grandchild, Jaylon Eicher. June, 2018


Mom, Dad and my brother, Stephen. June, 2007


My mother, the strongest woman I have ever known. June, 2007


David Wagler visiting with Abe Mast (on his deathbed) in Phoenix, AZ in Feb., 2004. I recorded the conversation.


Aylmer School yard around 1972-73. My brother Nathan's face is obscured by the ball. Linda Wagler is the teacher.


My political philosophy in one statement.


My sister Rhoda and her son Seth. No idea when. Maybe mid-1990s.


My old Bloomfield home. From Titus and Ruth's house. Mid-1990s.


Dorothy, Ira, Janice. Around 1991.


A very rare picture of Titus Wagler walking. He has been paralyzed since 1982. Photo from Florida, 1981.


Three thugs in Florida, 1981. Marvin Yutzy, Titus Wagler, Ira.


Titus in rehab in Waterloo, IA, 1982-83. From L, Rhoda, Titus and Friends.


Ira and Marvin Yutzy pretending they caught the fish. Florida 1981.


Me and my British Knights. Around 1989-90.


"And I was lean, and solid everywhere. Like a rock." Ira in Florida, 1986-87.


Successful hunt. Bloomfield, IA. Foxes shot by Mavin Yutzy, early 1980s. Ira and Marvin.


Successful hunt, Bloomfield, IA. Coyote shot by Ira, around 1983. Ira and Marvin Yutzy. We are outside Chuck's Cafe.


Delaware Bay, Nov. 2005. Blitzin cold, I'm frozen to death.


Bad little Amish boys. From L, Freeman Kauffman and Nathan Wagler, who knows when, probably early to mid 80s.


My first Nascar experience. I was an usher at the Pocono 500, 1997.


Camping inside the oval at the Coca Cola 600. May, 2000. From L, Porter, Nate, Ira, Chandler. My greatest Nascar experience.


Moonshine at the Coca Cola 600. Chandler and Ira; May, 2000.


Henry Egbert (now deceased) and Chuck Leonard, Bloomfield, IA. Around 2002.


With Roy Harris (now deceased) in Bloomfield, IA. Around 2002.

Wheat Harvest, 1986. Rare picture of me with full beard.


The Drifter in Florida, 1987.


Driver for Aaron & Jessica's Buggy Rides, 1994. I strongly dislike horses.


Ira and Jessica, Summer, 1994.


Teacher Wagler with his high school class at Lebanon Valley Christian School, 1993-94.


Bob Jones University, 1991-93. I never got a single demerit, and that's saying something.


Classy Lady, awkward Guy. Ira and Elizabeth, early 1990s.


Graduation Bob Jones University. Ira and Nate.


Graduation Dickinson Law, 1997. Nate, Ira, Steve.


Bruce Springsteen impersonation, Halloween, 1996. Note tatoo on my arm.


Attorney Wagler at Clymer and Musser, P.C. 1998.


Law School. Oh, how we imbibed to ease the pressure. Ira and Tom Moore, 1996.


Law school. Ira and the Special Ks. From L, Karen, Kelly, Ira, Kim.


Barrister's Ball, 1995. Kim and Ira.


In the presence of Greatness, around 1996. With Attorney William Ball (now deceased), lead counsel in the 1973 landmark Wisconsin v. Yoder case.


In the presence of Greatness II. Mid-90s. With John Hostetler (now deceased), author of "Amish Society," considered the most difinitive work ever published on the Amish.


Outstanding Alumni Award, Vincennes University, Vincennes, IN. 1998.


My first and only parade.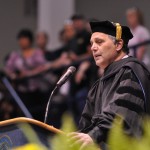 Honorary Doctorate of Letters. Vincennes University. April 28, 2012.


Front of the Old Kentuck Home in Asheville, NC. Where Thomas Wolfe spent much of his childhood and gathered much of his writing material.


The bed on which Thomas Wolfe's father died. One of the most famous written death scenes in all American literature. In the book, "Of Time and the River."


Outside the back of the Old Kentucky Home.


Allan Stanley and Ira dispensing joy at Freiman Stoltzfus' annual artistic open house, Lancaster, PA, Oct. 2003.
THE ELLEN YEARS; 1999-2007


(August 4, 2000)
"……the fresh scent of lilacs and sweet clover drifted in the gentle meadow breezes, and the banquet of life with all its rich and ample fare was spread before them like a feast…They were alone, lord and lady of vast domains, the king and queen of all their eyes could see.
And night seemed far away, and they knew that they would be forever young."
—Ira Wagler, "Reap the Whirlwind"


(March 22, 2007)
"……the road that led to death and battle and the shipwreck of their hopes."
—Thomas Wolfe, "The Four Lost Men"


(Nov. 1, 2007)
"Today my world slipped away."
—Vern Gosdin


Me and my guitar. Ira and Ellen on New Years' Eve, 2005-06. I can pick "Swing Low, Sweet Chariot," "Old McDonald" and one or two others.


New Years' Eve, 2005-06. From L, Allan, Bill, Wilm, Ellen, Ira.


Outside my rickety old trailer house, since demolished. 1999-2000.


Camping in Gettysburg, Aug. 2001.


Gettysburg, Aug. 5th, 2001. I am in the full bloom of my weight,
probably around 245 lbs.

Ellen outside our house


Ellen at the side of the Blue Ridge Parkway, NC. June, 2006


Ira and Ellen at Blue Ridge Parkway, NC. June 2006


Ira and Ellen. Greenwood, SC 2006


Ira and Ellen. June, 2006