The years flow by like water, and one day it is spring again.
Shall we ever ride out of the gates of the East again, as we
did once at morning, and seek again, as we did then, new
lands…and glory, joy, and triumph, and a shining city?
—Thomas Wolfe
______________
It's been an odd spring so far. Just different. Strange, actually. Part of it is just me, probably. And the way I've absorbed things this past month or so. Life, all of it, seems so much more intense. The color and flow and flavor of it. My grasp of how it's all so fleeting. And all so real. That's how it's been, ever since that little incident with my heart.
It's been a little odd at work, too. I mean, some of the people that wander through those doors, it's just been different. Not calling the people odd. No paying customer is ever odd, not that you could tell from me. Just the things that come down sometimes are.
A few weeks back, I was sitting at my desk right at noon, getting ready to dig into my salad. I usually eat at my desk, and I'm usually alone in the office for a while. Everyone else heads to the lunch room, or out of there to their favorite spots. And someone's got to keep the store open. That someone is usually me. And that day, just as I'd taken a few bites, the door bell jingled. A customer. I looked up, mildly irritated. Can't I have a moment of peace, here? But I smiled at the man, and got up and met him at the counter.
He was slim, rather short, bearded, and dressed plain. But something about him was a little different. He had a very bright smile. "I'd like to talk to someone about a pole garage I need," he said. Great, I said. I can help you, right here. The salad sat on my desk behind me, wilting in the air. And I kind of felt it out, what he was looking for. Or at least what he thought he needed. There was something just different about the man.
He smiled and smiled intensely. I gotta say, it was a little unnerving. But as usual, I got to chatting. Are you local? The way he was dressed, I figured he might not be. But he was. And I just couldn't help myself. So I asked. What group are you with? You look a little different than most plain people here in Lancaster County.
He smiled very brightly again. "I'm with no group," he said. I gaped. You're with no church group, and you dress plain like that? "Yes," he said. "It's just me and my family. We have two children. We've been this way for years." And then he settled in to tell me why.
They came from a non-plain background, him and his wife. He served in the military, way back. They have a child, a son, who is mentally challenged. Or mentally handicapped. Not sure what the accepted term is for that condition these days. The boy can walk and speak. And as he was growing into young adulthood, there were problems. The man and his wife tried to join a couple of different plain groups. Charity. Eastern. But their son caused issues, stirred things up. And the man didn't make any excuses for that. His boy was a big boy, and as he got into his upper teens, he got into trouble a lot. It wasn't specified exactly what that trouble was, and I didn't ask. The law was involved a few times, from what I took from it.
And so it just didn't work, to try to join those plain groups. Aside from his troubled behavior, the boy had a habit of standing around in crowds and just staring at people. Staring intently. In church, too, he did it. I can see where that would be a bit unnerving. And those plain groups just didn't have a fit for them. For that man, and his family. I'm not criticizing any group, here. Just telling a story a man told me happened to him. And then only because I asked. There was no place for them, with those groups. So they slivered off, on their own. And today, they just live there, in their home, all alone.
I sensed no resentment in the man at all. Sure, he told of how it was, what the preachers said, some such details. He had some rage in him, back there at some point, I think, at what all happened. He just let it go, long term. And his smile was real, there was no denying that. Almost a little too bright. But you could see it in his eyes, that the man had seen and lived painful things. I stood there, fascinated, and just listened to him talk. The salad could wilt all it wanted to. Here was a guy unlike any I'd ever met before. And I asked him.
How can you live all alone, with no other families to hang with? I mean, doesn't that just get lonely, a lot? I'd think it would have to. Is there no social structure, except you and your wife and your two children? It's not like you don't have neighbors. You're living right there, among people. Any connection, much, to any of them?
"Well," he said. "I'm a very social person. And my job is my social life. (He said what he did, but I won't divulge that. Definitely a job where he interacts with people.) And my children are both grown. My daughter has a full time job that she loves. She's a computer whiz." I can understand a little bit about that, I said. I get a lot of social value out of my job right here, too. And I'm pretty much an introvert, outside of here. I mean, I can sit at home and do nothing all by myself and be totally content. But still, I just can't imagine being an island, all alone, like that. I just can't. You have to have a social structure, somewhere. You just have to.
They don't though. He made that pretty clear. They worship by themselves, of a Sunday morning. And it became pretty clear, too, just from how he talked. It was for their son, that they did that. For his protection, for his growth. Somehow, they got the boy straightened out, from the troubles he got into years ago. He's in his 30s, now. A full-fledged adult. And for his sake, the family lives, cut off from all others, all alone. It's almost more than I can fathom, although I understand and respect the man's right to make the best choices he knows to make.
And the man stood there, in front of the counter, and just talked and talked. The stories just rolled right out of him. He talked about a lot of other things, too. Why they dress plain, and why they dress a little different from most other groups out there. His wife wears a vest, over her cape dress. He had his reasons for that. And I just stood there, almost entranced, and listened to him speak. I never even thought of my salad.
Somehow, through it all, I got his quote together, for the little building he was interested in. I printed it out and handed it to him. Went over it, explained everything I had included. And he seemed very impressed by the price. "This looks doable," he said. He seemed pleased. It was time to wind it down, then. I think we both sensed it. He smiled his too-bright smile and offered his hand across the counter. "It was an absolute delight to talk to you," he said.
I shook his hand. And smiled at him. Same here, I said. He turned and walked out. And I turned back to my salad.
There have been a few other odd conversations, lately at work. None worth telling, not right this moment, I don't think. But the other day, I got one of the stranger phone calls I've had in quite a while.
We're busy at work, right now. Real busy. Spring weather, or at least building weather, has finally busted loose. And now everybody wants everything yesterday. It's about all I can do, to keep the trucks rolling out, loaded with heavy loads. We just hired a new driver last week, and boy, was it way past time. I'm pretty much all set, now, except for the odd day when I just can't get everything to where it needs to go.
So it's busy. And when the phone rings, sometimes the guys have to answer, because Rosita's on another line. And that happened the other day, earlier this week. It rang. I answered. It was an Amish guy. Often, but not always, you can tell just from hearing them talk.
And he told me. He'd just bought a place, and moved in. The garage had an overhead door in it, with a Graber sticker stuck to it. That's where he got the number. But he was just wondering. There was an electric opener for the door. And he didn't have electric. Did I think Graber would be interested in buying that old opener back?
I didn't think I was hearing right, at first. What? I asked. Do I want to buy back an old opener that's been installed for years? Nah, I got no interest in that. Take it to a mud sale, and get what you can for it. "Oh, so you don't think it's worth much?" He asked. I can't imagine that it would be, no, I said. And then we hung up.
And I just got to thinking. How asinine was that? I mean, if you move into a house, and it's got an old dishwasher, would you call the dealer and ask if he wants to buy it back? Apply that little formula to just about anything. I thought the whole incident was just silly. Sometimes people just don't think, I guess, before doing something so stupid. But I couldn't help but laugh about it.
And then there's another little milestone that came along this spring. I mentioned it before, I think. Dad's working on his memoirs. And just real recently, he came out with the first little sliver of a volume. Hardcover. Self-published, of course. The First 20 Years. That's the title. My signed copy just got here earlier this week.
Dad is ninety-two years old. I don't expect to ever get anywhere close to that age. I don't even want to. But, here, at that age, he's publishing a book. And I read it through, pretty much, that first night I had it. Like I said, it's a slim little volume. 190 pages, I think. And to me, it's fascinating and interesting. The stories of his childhood, things I've never heard before. Well, that's probably not entirely true. I'm sure he told us some of those stories, back when we were growing up. We just weren't listening, because that kind of thing wasn't very important to us. Which was our loss.
I remember telling him, back when I visited him last June. He was working hard, to get it all together. And I told him. Don't worry about the lessons. Just tell the story. Just tell it like it was, with all the faults and failures. And all the good things, too. I knew it wouldn't be that way, though, after he got done. Bless the man's heart, he just can't help himself. Most of his stuff has always been laced with didacticism. The lessons that need to get through. In the book, almost every little tale has some sort of moral conclusion. But he sidestepped a whole lot of critical events, without really saying anything.
His grandfather, Christian Wagler, a deeply troubled man, shot himself in the head. That's completely glossed over in the book, to where Christian was sick a lot and the children (including my father's father) had to work in the fields a lot. They were told while working in the fields that their father had died. I mean, come on. Just tell the story. Christian was way more than just sick. He shot himself. And they buried him outside the graveyard. Why gloss that over? I don't know how you can write any honest story of where you come from, if you can't just tell it like it was. And let the readers make their own conclusions. He does include some decently touching scenes of how he met my Mom. And some details of their courtship.
And here, in his old age, Dad is still as strident as ever, about how right the Amish are. And how that is the only way to live, for sure at least for those who were born that way. And no, I'm not upset about that. I'm just saying how it is. He'll never change from that way of thinking, I guess. It all just is what it is.
He has ambitious plans, to produce a five-volume set. The First 20 Years is just that, and the first volume. I'm hoping he'll get the story written, at least to the point where I got here. After I was born, I could see for myself, how it was. I want to read all he's got to say, however sparsely, about what all happened before I was born. And I hope he gets all five volumes done. He probably will. He's a pretty tough old man.
So here it is. Dad's latest book. I'm happy he's producing. If you want to see the other side of my perspective, buy it. There's always more than one perspective to any story. And here's the opposite side of mine.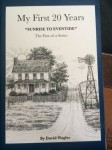 You can order your copy by sending $10.00 to:
Gospel Book Store, P.O. Box 320, Berlin, OH 44610.
Or order by phone: 330-893-2523.
Spring means the Amish around here are having Big Church. And here and there, as happens every spring and fall, they're ordaining ministers. And the young married men are looking nervous. I got to talking about all that with an Amish friend earlier this week. And he got to telling me a few tales.
"Yep," he said. "Over at my brother-in-law's church, they've made preacher last week, last fall, and last spring. It's a new district, and when they divided it, all the preachers happened to live on one side of the line. So that meant they had to ordain all new preachers." And he told me. His brother-in-law was in the lot, all three times. And it never hit him. Man, that would be nerve-wracking, I said. I can't even begin to grasp that kind of pressure.
"Oh, there's crazier things that have happened around here," my friend said. "Once in a while, they'll put the little slip of paper on the wrong page. They go all around and open every book. And the slip's not there, where it's supposed to be, in any book. So they have to start all over again, and go through all the books again. Can you imagine? You think you're off, free, and all of a sudden it's all coming around again." Nope, I can't imagine that, I said. That would be pretty brutal, for anyone to go through.
Like I said, it's been a real strange spring. And I can't tell you this for sure. Or maybe I can. There's some serious writing coming on, real soon. I'm not sure what it will all turn out to be. I'm not promising another book, or anything. And none of it is anything that anyone's gonna see, not for a while, anyway. But there's some serious writing coming on. That much I can say, because I can feel it stirring around down there, deep inside.
I don't know how it will all come out. And I don't know if any publisher will even be interested in it. But it's coming. Oh, yeah. It's coming. The hard stuff that I haven't managed to face, so far. Because I couldn't find a way to tell it. Father issues, big time. And relationship issues, big time, too, with a woman. All kinds of fires going on, in all kinds of "rooms." It's just so hard, to think of walking back through those rooms, and telling it like I felt it back then. But I'm ready pretty soon, I think. Ready to walk through those rooms. Ready to tell it like it all came down.
I don't know if I can ever get it told like I think I need to, though. And that's the scary part about even mentioning this much here. I know it's coming, the telling of it. But I just don't quite know if I'll ever throw it out to the publishing world. Part of it is fear. Part of it is just a big mixture of a big jumble of things. There's no way a second book will be anywhere near as successful as my first one was.
But I've found a place inside where none of that matters, as long as I'm satisfied with the writing that comes. And unless I am satisfied with what comes, no one's ever gonna see any of it anyway. I guess I'll worry about all that after the writing actually gets here. It's right at my doorstep. I'm fixing to invite it all in real soon.
Share