Naked and alone we came into exile. In her dark womb we did not
know our mother's face; from the prison of her flesh have we come
into the unspeakable and incommunicable prison of this earth.
—Thomas Wolfe
_______________
I didn't feel it coming on, much, as last Saturday ended. I was up late, as usual, getting a little writing done. (Yep, I've been getting a little random writing done, lately. One of these days (a vague term that could mean years), I'll have a few dozen pages to throw out there on the market, to see if some publisher wants what I got. It's all coming. It's just a matter of time.) And when midnight came, it hit me. It's a new day. Today is Mother's Day. And yeah, it was way late, and yeah, I'd had a few scotches. Maybe that's what made me all melancholy and reflective, all of sudden, at that hour. And I went back in my head and looked at it, what all Mother's Day was to me, from the time I was a child.
Childhood. What was that day like, way back then? As I recall, it was a day we recognized. I won't say we celebrated much. But we recognized it, in my Amish world. And I want to be real careful, here. The Amish world I knew as a child is no longer the same world today that it was back then. Not in the places where I grew up, not in the communities of Aylmer and Bloomfield. I look back, and my memories are what they are. Coming out of all that happened when it happened. Today, I think, both Aylmer and Bloomfield are much more relaxed about a lot of things. I can't speak firsthand, about all that much of it, at least not the living of it. I know I am certainly welcomed in a few places that used to be pretty hostile, years ago. There's more communication, I think, at least at some levels. And I hear it told, about how it is now, how things have changed a lot, in a lot of ways. And I try to imagine what it might have looked like, had today's Amish world been the Amish world I knew. It's impossible, of course. So I can only speak from what I saw, back decades ago. I can only speak from where I lived and what I felt.
And they observed Mother's Day, there in the Aylmer of my childhood. A special day for Mom. I'm trying to get a grip on my memories, of how that all happened. I can't quite say for sure, but I seem to remember we made little homemade cards for our Moms at school. Little sheets of white typing paper, folded in half a few times, to make it card-sized. And a drawing or two, always roughly colored by a child's hand. Happy Mother's Day. I love you, Mom. We gave her those little shreds of paper, with no real concept of what we were saying. No real grasp of the meaning of our words. We could write the words. I love you. But we never heard those words spoken, in our world. There was a big void there, between what you could write and what you could speak. I'm talking from a child's perspective, here. The Amish language is a simple language, and it doesn't have a whole lot of expressive "love" words in it. And it's only much later that you can see that void, and make some sense of it all.
And the years flow by when you are a child, and those years bring what they bring. It never was that big a deal to me, growing up, Mother's Day. Mom always smiled and made like it wasn't necessary at all, that we would honor her. And the thing of it is, once I grew out of my childhood world, I didn't honor her much at all. I chose to walk my own roads. And I chose to leave, in the middle of the night, chose to walk away from all the Amish were or meant to me. You do that, from where I was, and you don't realize how deeply you are hurting the people who love you the most. And especially, you don't realize what you're doing to your Mom.
And no, I'm not talking about guilt here. And I'm not talking about forgiveness. It's just that certain things, or certain dates, like Mother's Day, can trigger a river of thoughts, can make me pause, and look back on it all. And it's just sadness, mostly, that I feel, reliving some of those scenes. You focus on where you want to walk, when you're a troubled youth, like I was. And you don't think a whole lot about it, the ripples you cause in the lives of others. And in that period of my life, I can't remember that I ever acknowledged Mother's Day, to Mom. I probably did, offhand like, when I was around. And it was all a part of the deep pain I inflicted on her. Mom was just Mom. I didn't want to hurt her. But it didn't matter that much, if I did. In retrospect, all I really wanted was out.
And that's the second stage of my Mother's Day memories. Now, you fast-forward a little bit, from those years. To a time when all that dust had settled some. To a time when me and Nathan had left Bloomfield and the Amish for good. We were both a little skittish, back then, from all we had gone through, breaking away. But even from the first years, there were two things we did every year, like clockwork. We went home for Christmas, every Christmas, if only for a few days. And every year at Mother's Day, we sent a bouquet of roses to our Mother.
And, yeah, I gotta say. It was Nathan who always remembered, who brought it up to me, every year, a month or so out. In July, it was Mom's birthday. And Nathan always called me. July is coming up. Make sure you send her a card. And every year, too, he called me in May. It's Mother's Day, next weekend. I'll order the flowers delivered. I'll have them put both our names on the tag. And I always answered Nathan. Yes. Put my name on, too. I'll pay you for my share, next time I see you.
It was all a little strange, back then, when it came to the Amish and flowers. And I want to be real careful here, like I said. It might be different today, in Bloomfield, and probably is. But back then, it all was what it was. When we went home for Christmas every year, we always took Mom a special gift. The largest, reddest Poinsettia we could find, in any local store. We took Dad a gift, too. A box or two of chocolate covered cherries. And it was all OK, it seemed like, with the flower we brought to Mom. Maybe it's because the Poinsettia was alive, in a pot. Because there's something about dead, loud roses that seemed to not go over so well with Dad.
And this is how it was in the Amish world I came from. The preachers preached it many times. Not all of them preached that way, but enough of them did so you couldn't help but hear it. And they spoke with all the authority the Amish code of discipline could instill in them. When a wayward, rebellious child gives flowers to his mother, that means the child is feeling guilty in his heart. That's his only possible motive. And you think about that, what kind of a hard cold heart you'd have to have, to even claim such a thing. But claim it they did, that certain element of old time preachers in Bloomfield. It's a hard core Amish platform, right there. Your children, the ones who left, the rebellious ones, those children will send you flowers, sure. But those flowers don't really come from their hearts. If your son really felt that way, he'd come home and repent and behave. If your rebellious son sends you roses, just know the real reason he's doing it. He's feeling the guilt of all the wrong he's done.
It was so simplistic, that teaching. And so deeply and brutally wounding. I look back at the world my Mother lived in, a bleak and hopeless world like that. And I simply admire her all the more for her unwavering strength in the face of all she endured in life. Sons who got up and left in the middle of the night, without word or warning. A husband who uprooted his family and moved around again and again, and kept her isolated from her own family, back in Daviess. I look at all that, and once again, I marvel. Not from guilt, but simply from deep sadness and pity that she was trapped in a culture that could be so cold and colorless as to forbid her sons to send her roses. Not that we listened that well. For a lot of years there, we sent her roses anyway, Nathan and me.
And for my father, too, well, it all just was what it was. Back then, he was a highly prominent man, a leading intellectual, a writer among his people. And hard-core, hard-core Amish. I've wondered sometimes, about all that. If he had relaxed a little, and not insisted so firmly and harshly that we all remain Amish, would more of his children be Amish today? There's probably a pretty good possibility there might be. Not saying I would be. I just can't live that way. But still. He was a hard-core defender of the faith, all the way. If you considered any other path, back then, you might as well concede that you're going to hell. Because for anyone born Amish, there was no other path. That's what Dad believed, that's what he wrote, and that's what he insisted on pressing into the lives and minds of his children.
And I remember when he approached me about those roses we were sending Mom. I remember very clearly. I was home to visit for a few days. It was summer, as I recall, so it must have been a flying trip I made home on my own. Nathan wasn't with me. And Dad and I visited, just like we always did. And he got all stern, all of a sudden. It was like some sort of dark force just swept through him.
"I want you and Nathan to stop sending roses to Mom," he said. The edge of his voice was flat and hard and harsh. "If you can't come home and be obedient, as you know you should, you don't need to be sending her things like that for Mother's Day."
I was mostly pretty deferential, to Dad, after I left home, and came back to visit. Don't rock any boats. Try to keep things conversational, don't get into any real serious arguments. But that day, when I heard those words from him, I simply gaped. And I got real mad. No, I got livid. And I lit into the man like I rarely have, before or since. No. I spoke in quiet rage. You are wrong. I reject what you are saying. How can you be all harsh like that? Don't you even, ever tell me I can't send flowers to Mom. Don't you even do it. I reject what you are saying. It's not right. It's cold and hard and cruel. And you know it.
We left it at that, then. We settled back into normal, somehow. It was like a flame of stress flared up, then just kind of slunk away. Maybe we both knew what to expect from each other. I don't know. I still seethed inside, at his words. But from here, today, I can say this. Dad was a product of his Amish roots, and he embraced those roots with all the passion any Wagler could ever muster. And from what all he had ever seen, Mom's obedient sons didn't bring her roses. They never did that when they lived at home. Or after they got married Amish. Roses were supposed to grow in a garden, not be given as tokens of guilt or love or anything else.
That's how Dad saw it, I think. Her children only sent her roses from a worldly place. And it was a foreign thing to him, seeing the stems of cut flowers in a vase. We didn't do that, where I grew up. We didn't give gifts like that. Well, we did give roses to our girlfriends, I guess, now that I think of it. That was OK. But we never gave roses to our Moms. From where I am today, it's all so strange and tangled up, what was allowed and what wasn't.
Back to Dad, though, and who he was. It was a hard place, where he came from. I've often wondered what all the man saw, growing up, that I never knew he saw. Because he never spoke it, never wrote it. And for him, it seemed pretty natural, to forbid his sons to send flowers to their mother. It's what the preachers preached. I see that now, how he would feel he needed to support that Amish church he had so stridently defended all his life. So he told me what he told me. And my instinctive reaction was natural. Don't tell me I can't send roses to my Mom. I don't excuse him for what he told me, and I will not ever justify him for saying such a thing. Still, I'm struggling to understand just exactly where he was coming from.
There will never be any legitimate reason for any father to forbid his sons to send roses to their mother. Never. I don't care what culture you're in. And I don't care where the sons are coming from. It's a harsh and cold and cruel thing to do, by any standard. And you just don't do it.
It all was what it was, back then, I guess. And it wasn't all that long after Dad scolded me, a few years, maybe. Nathan told me, when we were talking. "You know Mom can't enjoy the flowers we send her. She gets too nerved up." And we talked about it, my brother and me. And I groaned. Good grief, I said. It's not right, that we can't. I mean, we are her sons. We can send her flowers, whenever we want to. "Yes, that's true," Nathan responded. "But what's the good of sending her roses, when we know she can't enjoy them? What's the good of that?"
And eventually, we got it hashed out. We'd keep sending her cards, for Mother's Day, and on her birthday. And a large red Poinsettia for Christmas would always be offered, each year. I remember how I kept thinking, and how I kept exclaiming. It's just not right. We are her sons. We can send her roses if we want to. And Nathan's calm answer. "It just is what it is. If we really care for her, we won't deliberately cause her any more stress in her life than she already has." And in the end, I simply could not argue with my brother's words.
And from here, today, I hear a variation of what Nathan spoke, again. It is what it is. It was then. And it is now. We did what we could, in our rough and uncouth ways, to show Mom we loved her. We sent a strange literal message into her world. Cut roses, that would never bloom again. And when not sending her those roses reflected our love more clearly, well, that's what we chose to do, too. We chose not to send her roses, then. It still haunts me a little bit, though, all of that. That little sliver of time was a barren desert in all our lives, I think.
From today, I look back on it all, and reflect. Mom never rejected our roses, even though they caused her more stress than they ever were worth. She never rejected our roses from the world she was trapped in. Because she loved us, as we were. She loved us from way deep inside, her two most wayward sons. And nothing is ever gonna take away that truth from the hearts of those sons.
But still. I have to say this, too, here at the end. A whole lot of things would be done a whole lot different, if life could be lived over. I know Dad would do things different, because he told me that more than a few times. He spoke those words to me, and his voice was heavy with regret.
And yeah, I would have done a whole lot of things a whole lot different, too, if I knew then what I know now.
**************************
OK. Moving on, then. There's been something I've been wanting to mention. But I never could, quite, until it all came together. And I will say this. The past fourteen months have been real up and down for me. The darkness finally caught up with me in March. But the thing is, there was always lots of good stuff going on, too, in my life. It's a tapestry, I guess. You live it all at the same time, but you can't write it simultaneously. It's impossible. You write what bubbles up, first. And the dark stuff is what bubbled up, mostly, in the past year.
Right there from the trenches, right when I was writing to all the world from all kinds of dark caves, right then, here came an email, oh, sometime early last year, I think. From my old friend in Germany. Dr. Sabrina Voeltz. She was just enquiring. She and her team were trying to get a conference going, next summer, in 2015. Plain People Conference. She wasn't sure the funding was going to come through, but if it did, would I consider being a keynote speaker? They would pay my travel and lodging expenses, and give a stipend on top of all that. She would be honored. Sabrina said, if I would consider coming over to speak, if it all worked out. And she was fairly confident it would. No promises, of course. But she thought it might, from what she was seeing.
You get a "feeler" email like that from an old friend in the academic world in Germany, and you just gape a bit at the impossibility of it all. Umm. Let me think. I'm driving to work every day, in Big Blue. Talking and selling pole buildings. Which I very much enjoy doing. But a paid trip back to Leuphana University, in northern Deutschland, to give a talk about my book? Oh, you bet. I'd like that very much. You bet I would.
And I didn't think that much about it last year, as life rolled at me. I had it in the back of my head, of course, that it might all happen. And a few months ago, I got the email from Sabrina. It's on. The conference is on. Book your flight. We will reimburse you. You are a keynote speaker, along with Dr. Donald Kraybill. My good friend Dr. Kraybill is the preeminent Anabaptist scholar in academia today. I think he's just now retiring from a long and distinguished career. And all I could think was, how in the world am I gonna be anywhere near as interesting as a learned man like that? A man who has stood and spoken to thousands and thousands of audiences. I haven't done any such thing.
But it doesn't matter, I guess. I am beyond honored, to be billed with Dr. Kraybill at any conference, anywhere in the world. And I'm looking forward to seeing my friend at the conference, too. I think what we have to say will complement each other.
And one last thing I just gotta say. The book took me to Germany, back in 2013. I wrote it all out, when it happened. It was one of the biggest adventures of my life. I'm thinking, though. The first time your book takes you to a foreign land like that, it might be (or most likely was) an aberration. The second time your book takes you to a place like that, well, I think I'm gonna start calling myself an international lecturer.
The journey of the book just keeps rolling right along. Down through some dark places and up over towering mountains. And every place between. I just keep walking. And I am grateful every day, for all of life.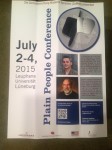 Share