As the present now
Will later be past.
The order is rapidly fading
And the first one now will later be last.
Cause the times, they are a-changing.
—Bob Dylan, lyrics
______________________
I don't know why or how these things happen to me. I mean, it's not like I'm out looking for anything unusual. And this week, it's the end of the year. So I had planned to meander around a bit on this post, reflecting on the past twelve months. And I still will. But when life comes at you in ways you weren't looking for, you write about life first, I reckon. So here goes.
It's been kind of slow at work, the last few weeks. Pretty much like it always is, over the holidays like that. Still, we keep regular hours, as much as we can. And this week, we were open Tuesday through Friday, like most of the businesses around us.
Wednesday. Late morning. An Amish guy walked into the door, and up to my counter. A local small time contractor. Probably a few years older than me, maybe sixty. I don't know. A nice guy. I'd seen him a few times before. He was always cheerful and friendly. I greeted him, and he told me what he needed. A bag of screws, to attach metal siding. No problem, I said. I asked for his business name, and he told me. I wrote up the invoice.
I've mentioned it before, a few times on my blog. I have a little poster taped to the back of my computer screen. The screen sits on the counter, at about eye level. The poster faces out, toward anyone standing across the counter from me. Most people never notice the poster. I'd say 80% or so. They never see and never ask. A few people notice, but don't ask. And then there's a very select few people who notice the poster, then ask about it. This Amish contractor on the Wednesday after Christmas was one of the very few select people who both saw and asked.
I saw him glance at the poster, then jolt a bit, startled. He peered sharply, right up close. We had been chatting along, quite amiably. He looked at me, then asked. "Is this you?" It is, I said. "Did you write this book?" I did, I said.
He chuckled, then spoke to me in his native tongue. "I guess you can speak Deutsch." Yah, I said. Ich konn gute Deutsch. Not quite the same PA Dutch as yours. You people talk real funny, from where I come from. He threw back his head and laughed hard, then wagged his finger at me. "Now, now," he admonished. "Now, now. Let's be careful, here."
I moved in for the sale, then. I have the book, right here, I said. I'll sell you a copy. I'll even sign it. You really should buy it. You'll find it very interesting. I think you'll enjoy it. Only fifteen bucks.
He chuckled again, and ignored my pitch. "I need some information on a sliding door," he said. "One of my customers needs one. I need to see what you have, and how your system works."
Not a problem at all, I told him. I walked out to where he was and led him over to the model display. And for the next ten minutes, we discussed sliding door hardware, and how to put it all together. He seemed satisfied, and told me he would come and buy the stuff when the time came. I handed him his loading slip for the screws he had bought and told him to take it out to the warehouse people. They would get him what he needed. And we came just that close to winding down. But no. He wasn't quite ready to go out to the warehouse, not just yet.
"Do you have a copy of that book around?" He asked, all conversational. Of course, I said. I fell over myself to get a copy of the book from the box by my desk. I asked for his name and his wife's name, and signed the book to them both. He handed me my fifteen bucks. I handed him the book.
Let me know what you think of it, I said. And he hedged a little. He sure didn't seem to be in any hurry to get anywhere. "Well, I don't know," he said. "I don't have a lot of time to read." And then he slid it right on in, the thing he had found hard to tell me.
"When I do have time to read in the evenings, I usually try to read my Bible," he said. Well, that seemed a little odd. An Amish man telling me he reads his Bible of an evening, when he has time. But he went on. "I need to read up for my sermons."
It struck me, then. The man was telling me he was a preacher. He wouldn't come right out and just say that. "I'm an Amish preacher." But he was telling me, in his own way, in his own code. Duh. How dense am I, here? Still, I just couldn't help but speak the obvious. Are you a preacher? I asked.
"I am," he said. "Well, actually, I was ordained a bishop a little over a year ago." Again, I couldn't help myself. I gaped openly at him. Here I had been applying my hardcore sales pressure, to sell my book to an Amish bishop. I don't get fazed by a lot, that way. But even to me, that seemed a little audacious. But I didn't know what I was doing when I did it. I would have been way more reserved, had I known who he was. Ah, well. It all was what it was, I guess.
I looked at him. He was smiling, just like he had smiled before he told me. And it flashed through me, the realization. He was still the same guy he was before. I leaned against the counter, comfortable now. And ready to chat. Instinctively, I knew this was a rare moment, what was happening. A rare moment in my life. This was not a place I knew, growing up. It just wouldn't have happened. Dad would never have stood there, chuckling and visiting with a guy who wrote a NY Times bestseller about how he grew up Amish. None of Dad's peers would have, either. It was just too hard a place, where they were coming from. All these thoughts flashed through my subconscious mind as I stood there and settled in to talk to a Lancaster County Amish bishop about my book. And about his people. And mine.
And he told me a little bit about who he was. His father was killed in an accident when the bishop was a boy. Somehow, the details of how it all happened were important for him to tell me. He told how it was, to grow up without a father.
I asked him all kinds of questions. And he spoke freely about what he thinks of the Amish culture, and the dangers facing it. Will it survive? I asked. He agreed with me that the outside pressures are now bigger than any the Amish have ever faced before. And he agreed with one of my pet theories. The iPhone is affecting Amish culture like few things ever have before. And he told me when I asked. He didn't really have much of an opinion about how and where it all will end up. He just didn't know.
It was time to wind down, then, after another twenty minutes or so. I would really be interested in hearing what you think about my book, if you get it read, I told him. "We'll see," he said. "We'll see if I get it read."
We smiled at each other and shook hands. He turned, then, and walked out, clutching his book. And I stood there and marveled that such a thing as this had happened. Right when I wasn't even remotely looking for it.
And I thought to myself, as he walked out the door. I'll bet Lancaster County is one of the very few places in the world where you'll find an Amish Bishop as open as this guy was.
**************
And now, back to our regularly scheduled programming.
The man crouched there in the bushes, off to the side of the road. Well, I guess you could call it a road, back in the day. It was a rough path, really, marked by the tracks of the wagons that passed over it. And the stagecoaches. And on this day, late in the afternoon, there was a coach coming along that road. The man in the bushes cupped his hand to his ear. And he heard it. The jangling of the horses, and the rattle of the coach wheels.
They'd get to where he was in another minute, there by a sharp turn in the road. Where the coach would have to slow way down. The man waited, hidden, tense. He pulled his bandanna up to cover the lower half of his face. Then he pulled his six gun from its holster by his side. The jangling and the clatter of wheels grew louder. And then the coach came swaying around the sharp bend, real slow, like it had to.
The bandit stepped from the bushes, right about then. In his right hand, he held his pistol. He waved his left hand high. Stop. The coach was loaded and sagging, he could see. The driver sat high on the seat up front, to the left. And for the first time since the bandit had done business this way, he saw there was another man seated beside the driver. Way up high, to the right of the coach.
The horses weren't going fast, around that curve. And the driver tugged hard at the reins, when he saw the waving man ahead of him. "Whoa," he shouted. "Easy now." The coach slowed, then stopped. The steaming horses stood there, quivering and sweating. The bandit smiled a secret smile. Now, to reap the harvest of loot from the passengers. Maybe there would even be a pay chest. He would take what wasn't his, just because he could. He stepped forward, and spoke to the driver and the man beside him. "Hands up!" The driver complied. The man beside him did not.
Things happened real fast, then. The bandit swiveled his pistol, to threaten the man beside the driver. But that man turned to him, and pointed something at the bandit. And he never heard the roar of the coach gun, because the buckshot reached his chest before the sound of the shotgun reached his ears. He collapsed there on that dirt road like an empty sack. He would never rob another stage coach again.
The driver slapped the reins and shouted at the horses. Get out of here. Might be other bad guys, hiding in the bushes. The horses strained into the harness, and the coach rocked as it picked up speed. The passengers peered curiously at the motionless heap on the ground. Someone's plans had sure gone wrong, looked like.
The man sitting beside the driver looked back as the coach pulled away. They would tell the sheriff in the next town what had happened. He'd send a posse out, to fetch the dead man. The journey would continue, regardless of what happened. That's what the man beside the driver thought to himself as he reloaded his smoking gun. It was a brutal thing, killing a man. Even a man who was threatening to kill you. But the journey would move on. The stagecoach rocked and swayed as the horses broke into a run.
Well. It's been a crazy kind of year. Not a walk to the gates of death, like last year was. Not that you'd notice, not that anyone knew, anyway. But still. It was a shotgun kind of year. There were all kinds of bandits skulking about. Ready and waiting to step out from the underbrush and rob me of whatever they could rob me from. I got a few choice things to call them. Thugs. Goons. Monsters of the mind.
The year was what it was, I guess. Looking back, there was some crap going on. But lots of good stuff, too.
Last year this time, I was in a shaky place, physically and emotionally. I'd just got home from the hospital. The Doctor Gods were screaming at me. You are an old, old man, when it comes to your heart. It will never be what it was. Never, it will never reach 100% strength again. And I did what I always do, when that kind of noise gets overwhelming. Just walk. Do what you're told to do. Be quiet. But walk, walk, walk. Oh. And prove them wrong.
And so I walked. And I walked the line. Oh, yes. Yes, I did. No salt or low salt on my food. Not a drop of alcohol, not for months and months. Then came March, and the heart ablation. Where they went right up my vein and snipped and seared the muscles that weren't behaving. I remember the "wilderness" I entered when they put me under. And the hard bright yellow skies of that world. I remember coming back up out of that world, back into this one, and how I felt no fear. And how the doctors told me, the next morning. My heart was back to one hundred percent strength. It had happened, the thing that they had told me never would.
I remember absorbing the news. And I remember the deep, deep gratitude that washed through me in waves. Thank you, Lord. You know where I've been. You know what I have seen and felt. And You know what my future will be. I don't, but I'm good with that. I'm very happy, just walking. Just show me the road you want me on.
And no, I still don't have my motorcycle. There were all kinds of issues, just getting my license. I had about reached the point where I figured the Lord was telling me to let go of that little dream. Then, right when all seemed lost, right after I had flunked the skills test on my first try, right then the doors finally opened. A very kind instructor held a special makeup class for all who had flunked the test the first time. Me and five other forlorn people met him on the course early the next Sunday morning. It was October, and it was cold. For the next four hours, we practiced intensely, doing only the five exercises we needed to pass. And by the time we were done, the man was going to pass us all, unless we dropped our bikes. None of us did. And he did. Pass us all, I mean. I walked out of there proudly, with my stamped permit.
Like I said, I still haven't bought a bike. Now it's winter, and I can't ride anyway. I figure to pick up a small one, maybe a 500, any brand, and ride the back roads around here until I get comfortable and familiar. Then work my way up to a bigger size, then maybe a Harley. We'll see. I'm looking a little rough, with my beard and long hair. Still not long enough for a pony tail, though. It's hard, to grow a real pony tail when you got curly hair. I run my fingers through it, now and then, to draw out the length. Down to my shoulder blades. But it just curls back up. It would make a pigtail pony tail. Who wants such a thing? I want to look rough and mean. And speaking of looking rough, I haven't seen any small children shrinking in fear behind their mothers when I come clanking around. By springtime, maybe, I'll look fierce enough for that. We'll see.
A brief update on the writing, and how it's going. I've been working on the opening fifty pages, very sporadically. That's what Chip, my agent, wants. Fifty pages or so, to shop around. It's been a bit of a challenge, ever since I got started. I would plunge in, crank out a thousand words, then walk away and not look at anything for a week. Or two weeks. Or heck. A month. And as I produced and procrastinated, I got to thinking, too.
It took me back, the writing. Took me back to the time and place of when I was working on my first book. I thought of the people who were around me then. I have pretty much lost touch with every single one of them, except Chip. I need some help, here, I thought to myself. This draft is pretty rough.
I have been Facebook friends with Susan Taylor, the lady who actually edited my book. Susan got my "voice" from the first instant. I give her a lot of credit that the book is what it is. She's a true professional, and we always got along beautifully. She was always so bubbly and idealistic. "You're part of the Tyndale family, now," she gushed. "Welcome." And I always grumped at her. Oh, stop it. I'm a country hick. You Chicago people are way too hifalutin' for me. We both laughed, then. That's how it went with us.
I knew she had retired from Tyndale. One day, I messaged her. Susan. Ira here. I'm working on my next book. I need your help, to get it right. A few days later, Susan called me at work. She sounded as bubbly and idealistic as ever. She lives in Ohio now, and she does freelance editing. I want you to edit my next book here, I told her. She would be delighted, she told me. But to freelance edit for Tyndale, you have to live in the same state they're in, for tax reasons. She now lived in Ohio, not Illinois.
I don't know that Tyndale will get this next book, I told Susan. Chip is going to shop it around, to anyone who wants to see it. I got no contacts at Tyndale anymore, anyway. I think the contacts I had moved on. But if they do get it, they'll just have to change that little policy. Because you will be the editor of whatever I write. That's going to be one of my conditions. And it's non-negotiable. "I'm ready," Susan told me.
I got the fifty pages written. It's rough. I sat there and fretted and poked around listlessly at the screen. Then I called Susan again. Would you take a quick look at what I have, before I send it off? I'll pay you whatever you charge for freelance work. I got some good stuff, here, but the scenes are not connected like they should be. Susan was delighted to oblige. So earlier this week, I sent her what I had. And now, I wait for her feedback. Then, it's rewriting, then hopefully getting my stuff to Chip. Then, we'll see what happens. It'll either fly, or it won't. I feel relatively ambivalent about it all.
I don't know. It just seems strange, to be working on another book. Somehow, it doesn't seem as urgent, this time. Last time, I kind of waltzed through the publishing world, unscathed. I don't look for that again. It's a brutal, brutal jungle out there. There are very few people in that world that I trust. I bite my tongue now. I will always be grateful for the guidance that was there for my first journey through that jungle. But I will never be a babe in the woods again.
And Christmas snuck right up on us, and now it's gone. And this year, I did things a little different, too. This year, the new me bought myself a few gifts. Which is odd. I usually pretty much ignore Christmas.
I've always wanted a coach gun. It's been on my bucket wish list for decades. One of those shotguns you see in westerns. Double barreled, with stubby 20 inch barrels and open hammers and double triggers. The real, raw thing.
Well. I got a little Christmas bonus this year, so I ordered one. A twelve-gauge coach gun with stubby barrels and open hammers and double triggers. A cheap knockoff from China. Still. A coach gun. And still. Great for home protection.
A few days before Christmas, here comes the call. My gun was in. The next day, over lunch, I drove to The Village Arms in Gap. Nice little gun shop. The nice man went into the back room and returned with a short box. It looked heavy. He sliced the tape that bound the box, and slid it open. And there it was. My coach gun.
After the background check, I paid the man and rushed back to the office. There, I assembled my new treasure. The gun was short, like I had envisioned. But it was way heavier than I ever figured it would be. That was OK. Heavy is good. Helps keep the recoil down.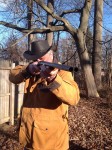 –Photo by Lewis Zook (a very brave man)
On Christmas Day, after a great feast at my brother Steve's house, a few of us walked down the hill through the woods to the field below. I was carrying my gun. And there, we test fired it. The recoil wasn't bad. I had figured it would kick like a mule. It didn't. Heaven help any road bandit who tries to hold up my stagecoach, I thought to myself. Or any thug who tries to rob my house at night.
And now, I look forward to what the New Year might bring. I got my coach gun. By summer, maybe I'll have my Harley. And by next year this time, who knows? Maybe I'll be riding shotgun with the Pagans.
Happy New Year to all my readers.
Share