"You were a knight," said Merlin. "Somewhere in the world
there is defeat for everyone. Some are destroyed by defeat,
and some made small and mean by victory. Greatness lives
in one who triumphs equally over defeat and victory."
—John Steinbeck
______________________________
It was a lifetime ago, seems like. And it wasn't the most logical thing I had ever done. Certainly not the most necessary. But it was something I had walked around and poked at and looked at from different angles for some time. It happened more than ten years ago, and it was the first time I had ever done such a thing. Back in 2007, toward the end of an extraordinarily messy and stressful year, I bought me a new truck.
It was a Dodge. And it was a big deal back then. A 2007 Dodge 1500. With a Hemi. Brand new. Fully loaded. With a sun roof. And a sliding rear window that opened with the push of a button. The color: A bold electric blue. Thus the name of my constant traveling companion and road partner since that day: Big Blue.
And it seems so strange in a lot of ways, looking back. Where in the world has the time gone? I remember telling a good friend, back when Big Blue was gleaming and young and new. I'll drive it for five years or so. Trade it off, then. It'll have some miles, but it'll have some value. I chuckle at those words now. It was a naïve thing to say. But I had never owned a brand-new truck before. Or a brand-new vehicle of any kind, really. Well, unless you count my new black buggy, back in Bloomfield. I mean, a motorized vehicle. I had never owned a new motor vehicle before. My head was spinning a little. And I didn't quite know what to expect.
I remember the night I drove it off the lot, after work. It was a Monday. I remember this from a couple of things that were going on around me about right then. I stopped at my brother Steve's house on the way home. Proudly pulled up. Come out and look at my new truck. Look how the mirrors fold out if you have a wide load. Ain't that the coolest thing? And everyone seemed excited and impressed.
And those first five years? Well, those shot right by as if propelled from a grenade launcher, is what happened. Whoosh. The days were gone, just like that. Then the weeks, then the months. And, yeah, a lot happened in those years.
Big Blue was simply a part of my persona, in my life and in the blog. We went on a lot of adventures together, me and that truck did. I never used it rough at all. Never abused it. Never so much as talked rough to it. I always changed the oil right on time. And the five-year mark, that would have been in 2012. The year after my book came out. I remember thinking about what I had told my friend, back when my truck was new. And I looked at my blue steed. It was just getting comfortable. Under a hundred thousand miles. Heck, it was still like new. And I figured back then. I'll drive it until it gives out. I'll run my truck into the ground.
And that truck was connected to me and my life like a thread. You think about it. Wherever I was at any given time of day or night, Big Blue was somewhere close by. Rental car trips excluded, of course. But still. The truck was my physical connection to wherever it was I wanted to go. For more than ten years. It's a little startling to look back over all that time from a perspective such as that.
My truck was my truck. An extension of me, of what I did, and who I was. I was quietly content. It never crossed my mind, either, that my next vehicle might not be a truck. I mean, I was a pickup guy. And that's as far as my brain went, when it came to what I was driving on the road.
Until last spring. And like a lot of things that come along and establish themselves in your mind and consciousness, I wasn't looking for anything when it got here. I was heading down to Florida to see Dad for a week. The Enterprise people tried to shake a little toy Hyundai on me, when I came in that morning to pick up my rental. That's what they had, and that's all they had, the guy claimed. A Hyundai Elantra. And I was just as adamant. No. That will not work. I will not drive a Hyundai all the way to Florida. They don't have any headroom. What else you got around here? There has to be something that will work. There has to be.
The nice Enterprise guy was pretty young. And he saw I was fired up, that I meant what I was saying. I will not drive a Hyundai. I will not do it. He was thinking to himself. Be that way. Still, he smiled politely. And he poked around on his computer. "I have a black Jeep Wrangler, here," he told me. "For a small upcharge." I interrupted instantly. I'll take it, I said.
Had this been a scene in a movie, there would have been muted thunder in the background as the nice young man pulled up out front in the black Wrangler. Or at least an orchestra would have been playing. Cool looking little vehicle there, I thought to myself. I walked out and got into the Jeep. And drove home to load my bags. It drove like a little tank. I could get used to this, I said to myself.
It turned out to be way cooler than anything I had imagined. I mean, I didn't know. So it's easy, not to have imagined it. A black Jeep is a black Jeep. It stands alone. A dark knight. Instantly recognizable. It's mean, lean, and wickedly cool. And I soon learned just from driving south and back, in those few days. It's a Jeep thing. You wave at other Jeeps.
I had a wonderful trip, down to Pinecraft, to see Dad. We had a blast, he and I. Just hung out and relaxed. You can eat what you want, when you want. And you don't have to do anything you don't want to do, I told him right up front. Just nip it in the bud, I figured, any kind of contention. When a man gets to be the age my father is, he's got the right to do pretty much what he wants. Enjoy life, I told him. There are no rules while I'm here with you. You don't have to take your pills if you don't want to, even. And if something happens, it happens. You can't live forever. (He took his pills right on time every day, because he didn't have to. He just decided to, on his own.)
My little black Jeep was a big hit wherever I went, down there with Dad that week. Everybody made a fuss. It was a blast to drive, locally and on the road. We just fit each other, the Jeep and me. And for the first time ever, my thoughts and desires strayed from my big blue truck. I didn't stay true to my Dodge Ram 1500, 2007 model. I sure didn't. My heart wandered. The thought kept running through my mind. I could live with a Jeep like this.
And by the time I got back home, the plan was anchored in my head. Somewhere in my future, there would be a black Jeep Wrangler. A two-door. This was firmly established. No hurry, though. All good things take time, I reckoned. So it would come when it came, the black Jeep. And I went back to living life as I had before. Last year was a little different. There were serious stressors, all around. I drank lots of scotch whiskey and fretted about whether my second book would sell on the open market. Until I didn't anymore, and it did.
Fast forward, then. To now. The New Year came at me. And I thought about things. Well, backing up, a little. Late last year, me and Big Blue had our unfortunate little accident. We spun around on the ice, like a mad cow. My truck has a small dent in it, now. And I got to thinking, early on, this year. It's time to get a few feelers out, to look for a Jeep. And not just any Jeep. A black Jeep Wrangler, two-door. I remembered, then. I have a good contact in the car business. Check with him. Let him keep an eye out for you.
I'm not sure when I first got to know Linford Berry. It was probably when my book came out, back in 2011. We were Facebook friends, so he may have been a blog reader before that, at least for a while. He lives down in Virginia, in good solid Mennonite country. Harrisonburg. And when I first met him, Linford was a pastor at a big old Mennonite church down in the area. I always had a little bit of a problem with that part of the equation. I'm not particularly fond of Mennonites. They make me skittish. It's so close to the place I came from, and whether real or imagined, I always feel silent, pulsing judgment from that brand of people.
Don't get me wrong. Next thing, I'll talk myself into a hole, here. I never had any kind of judgment problem with Linford. Never felt anything but complete acceptance from him. But still. I have minor issues with the church he was associated with. The Conservative Mennonites. And they are not bad people, as in evil. Certainly, I have a lot more in common with them than I have with mainstream Mennonites from Harrisonburg. Leftist crackpots, a lot of mainstream Mennos are. Mad with rage. A year ago, many of their women donned pussy hats and raised their fists and marched and cursed Trump. The people who did that will never live down their vile and shameful actions. Menno Simons must be spinning in his grave.
All right. That was a bunny trail. I met Linford a few times after my book came out. Once, when he was in the area for a conference, he looked me up and we had lunch. I never was quite sure what he told the people at the conference. "I'm having lunch with that backsliding reprobate, Ira Wagler, to see if I can talk some sense into him." Maybe he said that. If he did, he never let on. He was always completely accepting and open and very cordial to me. We had a fine time at lunch that day.
Linford dabbled in cars. That's how he made a living, I reckon. Preacher pay ain't all that great. And a few years ago, he quit his preacher job and went full time into his business, Mountain Valley Motors in Harrisonburg and Dayton. And he auctioneers, now, too. It was a little wild, to see him branch out into a whole new world and a whole new place. I cheered for him, though. I understand why people do that.
So, anyway. I messaged Linford, about the second day of the New Year. Hey. I'm wondering if you can help me. And I told him what I wanted. A black Jeep Wrangler. Recent model. Low miles. Two-door. Hard top. He had a few questions. I told him about what I wanted to spend. And I told him. There's no hurry at all. Just keep an eye out. If you see something I might want, let me know. And he said he would. OK, then. I had done what I could do. Now. Wait.
And I gotta say. It didn't take long at all. A little over a week, I think. Tell a car dealer you're looking for a certain model, and he'll lock on that scent like a bird dog. And the message came from Linford one day. A message, and some pictures. He had found something at an online auction. He thought I might be interested.
It was a Jeep Wrangler, of course. Black as coal. Two-door. Late model, 2015. Low miles, at 24,000. And it was loaded. There was a little bit of extra chrome on the mirrors and door handles and the grille. And fully automatic windows and locks. I had asked for those almost as an afterthought. Jeeps are stripped down, normally. Plain Jane. Manual locks. Crank the windows up and down by hand. I wanted something slightly more civilized. And now Linford was telling me. He had found it. And he spoke a price that was well within my range.
The online auction was going on right that moment. Right then. So a decision had to be made. Right then. I called Linford. And we talked about it. The price was good, well below market. Before hanging up, I told him. Go ahead. Get it. He said he would. And that's how we left it.
It's been ten years since I fretted about buying any vehicle like that. I needed to get a couple of things done. Call Allstate, and get the Jeep on my policy. And stop by PNC Bank just down the road. They know me there. I wanted a short-term loan, to get my Jeep bought. After I sold Big Blue, I'd shovel all that money right over. It's been years, since I looked into getting a loan of any kind. The ladies at PNC smiled when I walked in. They've known me for years, all through the journey of the first book. And I told them. I need to see someone about a loan for a Jeep. My friend Stephanie ushered me into her office. Less than half an hour later, I walked out of there with a check for the full amount of the purchase, for a little over three percent interest. I was pretty amazed at how simple the process was. And I figure to have all that money paid back well before it's due.
And then it was the logistics of getting my black Jeep home. Linford thought he could get it transported to his yard in a couple of weeks. He wanted to clean it up, make it smell like new, and change the oil. The days passed, and the Jeep still had not been delivered. It's winter, I told my friend. Whenever you get it, let me know. And last Friday, he got the Jeep home to his yard. It would be ready any time after Tuesday of this week, I was told. Well. I needed to get four hours south, to pick up my wheels. I looked at my options. Then I called Enterprise. Can I rent a vehicle, for one way only? Down to Harrisonburg? The nice young man allowed that I could. I reserved a car, for Wednesday. I'd head down in the afternoon, then drive home that evening. And so my plans were set.
They didn't stay set all that long. Sometimes, connections kick in, when you're not looking for them. I told the people at work. I'm heading down to pick up my Jeep. My boss, Reuben, asked how and I told him. I'm driving a rental car down, one way. He looked at me. "Why don't you let me fly you down in my plane?" He asked. "I'll do it for whatever the rental car would have cost. Just consider it a perk, for working here." That would be great, I said.
On Wednesday, shortly after noon, we drove Big Blue over to the Chester County Airport. A short time later, Reuben's jet-prop plane was high in the air, heading south. After a little more than an hour of flying, we landed at Shenandoah Valley Airport. A little place with a single runway. We waited there, in the General Aviation Terminal. Minutes later, a black Jeep whipped in and parked. There's my wheels, I told Reuben. We walked out. And there it was, all cleaned up and gleaming. My new black steed. I greeted Linford and introduced him to Reuben. We stood and chatted for a few minutes. Then Reuben walked back out to his plane for the flight home. Linford gave me the keys to the Jeep, and we drove the fifteen minutes to his office to fill out all the paperwork. And I signed over that loan check.
Linford has a real nice business going, there. He's the only car dealer I know that I would trust enough to do what I did. We chatted and caught up a bit, as I signed here and signed there. He asked how the next book is coming along. And I told him. It's a different road than the first book was. I'm just getting started, walking.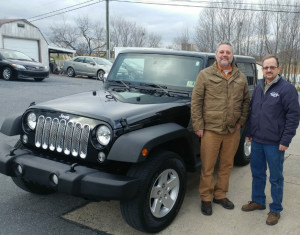 With Linford, as I'm ready to head on out.
He handed me a file with my paperwork, and we walked outside to the Jeep. The Dark Knight. That's the name I chose. It seemed fitting. Linford attached temporary tags and told me what to do when the title gets to me in the mail. And then we shook hands. I thanked him. Got into my black steed. Made final adjustments to the seat, and double-checked the mirrors. Shifted into gear and eased out the drive. And I crossed myself as we pulled onto the road. Lord, you are the giver of all gifts. Thank you for this blessing. Grant me safe travels on the road home.
I remember a little bit how it was, when I drove Big Blue off the lot, back in 2007. I was slogging through some tough times. The cold hard facts of life were raining down in torrents all around. Ten years ago, I was a little naïve about the human condition, about the utter depravity of every human heart. I was a little clueless about a lot of things. But somehow, there was always a tiny seed of faith that showed up from somewhere. And I can see so clearly in retrospect. It was always a gift, that tiny seed of faith. A gift, freely given.
And that day, the future stretched before me. Whatever it held, I was ready. I was cautiously optimistic in my new blue truck. Let come what may. Lord, I said. I've seen a lot of hard roads lately. And that's OK. But I'm just asking. Let there be good things.
And now, it is today. Ten years on. I've traded Big Blue for the Dark Knight. And I stand by my steed, ready to ride. I can't see into the future. But I'm eager and excited. There's a new day dawning. There's a new road rising. I look to the heavens with a grateful heart. And I believe, in faith.
There will be good things. There will be, because God is the giver of all of life. And all His gifts are good.
*******************************************************************
It's been a while. More than a decade. That distant roaring you hear is the sound of Eagles fans celebrating a very rare appearance at the Super Bowl a week from this Sunday. I'm a transplant here in Lancaster County. I don't care for any teams from Pennsylvania. But of the state's two NFL teams, I'll take the Eagles every time. The Steelers are total anathema to me. I despise that team with a passion.
Many years ago, president Kennedy spoke in halting German. "Ich bin ein Berliner." In that same spirit, I now say, "Ich bin ein Eagles fan." For one day, I will cheer for the Eagles to fly. On February 4, 2018.
And regardless of how tired everyone is of the vile Patriots (I am beyond weary of them), one fact remains. Love or hate Belichik and Brady, they are the greatest coach/QB combination the NFL has ever seen. Brady is without question the most talented quarterback in history. The numbers speak for themselves. The man is a phenomenon. Just as well as not, he could already have seven Super Bowl rings instead of five. Little Eli Manning got in the way twice. Brady surpasses all who played the position before him, including Joe Montana and Terry Bradshaw. We are witnesses to greatness on the football field such as has never been seen before.
Still. There is a time and a season to all things under the heavens. Nothing gold can stay. Brady is the aging warrior. He's been there many times before. He may win the battle, but this time, I think not. The Eagles have been underdogs so far, and they have been completely unintimidated. They will win their first Super Bowl, and it won't be all that close. Eagles 34-20.
Share