You can't go back home to your family, back home to your childhood, back
home to romantic love, back home to a young man's dreams of glory and of
fame, back home to exile,…away from all the strife and conflict of the
world, back home to the father you have lost and have been looking for…
—Thomas Wolfe
_____________________
The day came, it trickled in like most days do. The breaking silent dawn, the rising sun. On this day, there were blue skies with rafts of drifting clouds. It was a rare moment. I had seen only one such time before, that came anywhere close to this. It was Tuesday. May 12th, the day Broken Roads got released.
It had been a long time coming. I don't know what the average time is between first and second books. A year or two, probably, unless the second one gets forced out before. It took me nine years. A good long wait, that is, for a new dawn to come. It didn't really bother me much, that it took so long. I told myself. If it doesn't come, it doesn't come. I figured it would. Eventually. And eventually, it did. The days plodded along, the weeks crawled by. And the release date crept up, closer and closer. Until the big day came. There had been only one day approaching anything like this, ever before, in all my life. That was when Growing Up Amish got released on June 28, 2011. A Tuesday, nine years ago. I don't know. Maybe Tuesday is a special day to release a book. Seems like it was for me.
I looked back and thought about things a good bit. How it all happened last time. How things went, as the day approached. The second journey would be different than the first. But still. You do what has worked in the past when you can. I thought back to nine years ago and how it was. How I went to see my friend, Sam the Counselor. Just to talk through things, just to keep my head straight. This time, I wasn't sure any of that was necessary. Until the last full week was winding down, then it came to me. Go see Sam. You can't go wrong. So I called to see if an appointment might be available. I was not all that sure a slot could open on such short notice, but they made one for me. Monday morning. I could see Sam then. I'll be there, I promised.
Monday morning. I slept in a bit, then got up. Nice day, a little cloudy. I stuffed a couple of copies of Broken Roads into my messenger bag, and we were off. Amish Black II bucketed along over the backroads. Through Bridgeport, and on south. Down, down, through Willow Street, then on over to Conestoga. My appointment was at 9:30. I usually grab the opening slot at 8;00 or so, but beggars can't be choosers, not when they call in as late as I had. Norma smiled and welcomed me. I sat in one of the spindled chairs in the waiting area. A few minutes after 9:30, Sam came thumping down the stairs. He smiled and greeted me. We didn't shake hands, as we usually do. Covid. View every person with suspicion. I swear, that virus is going to make us all insane.
Sam and I settled in, our chairs naturally spaced more than six feet apart. I came, I told him, because you are safe. You always were. I'm here because my book is happening tomorrow. I held out a copy of Broken Roads. This book is releasing tomorrow. I'm ready, I think. Still, it goes better when I run things past you. I signed the book to him and Cathie, his wife. Here, I said. A gift. Thanks for everything you've done for me.
And we sat there and chatted, me and Sam. I told him. I remember years back, right when my marriage blew up, a year or so in. I was coming to see you regularly, every couple of weeks or so. You told me that maybe someday I'll write about what was going on right then. You said it would be quite a story. I scoffed at the idea. Nah. I'll never get to a place like that. And then I told Sam. I need to tell you, I did get to that place. You were right. I wrote the things you told me I might write one day. That stuff is all in this book. I remember how I scoffed at you. You were right. And we talked a bit about life in general in these strange "pandemic" times. Life has changed, and there ain't a thing you can do about it. It's a crazy world out there.
But you don't have to be afraid, I said to Sam. You can choose not to walk in fear. And we talked about what that might look like. I'm sure it's different for different people. We wandered far out into other fields as well, as we always do. And soon we had talked well past an hour. I stood, then, and took my leave. Sam thanked me again for the book. He'd let me know what he thought, he promised.
That day passed uneventfully, and night came. And it was heavy on my mind as I grappled for sleep that night. The book. Tomorrow the book would be released to the world. I couldn't stop it now if I wanted to. It felt more like, what is done is done. Let the heralds proclaim with trumpet fanfare from the rooftops. Here is Ira's new book. Broken Roads. Stop and check it out. I tossed and turned and pitched about. Then drifted off to sleep. And the dreams came sliding in, then. Broken dreams about a broken past.
I woke up early. Tossed about a bit, then got up. This was the day. It would have been so different in a sane and normal world. There would have been a book signing that evening, over at Plain and Fancy. And probably a little writeup in the paper. Maybe. The paper isn't what it was last time, back in 2011. Still. It would have been good, to have some notice locally. I'm not sure if that's going to get done.
I posted early on social media that morning. Today is the day I've been waiting for. My book. I posted a link to Amazon and asked my friends to repost. All through that day, I saw posts of my book. And then the messages started coming. Hey. My book got here. Shipped from Amazon.
I was really impressed with how precisely that had to be timed. Somewhere down the chain of responsibility, it was someone's job to make sure my book got shipped so it would be delivered on the date of actual release. That didn't happen across the board, I know. But it happened a good bit. I was impressed. And people started posting after they had read it. The feedback was mostly positive. Some of the early reviews on Amazon have been brutal. I glanced at them and didn't think of them much. And I'll mention it right here. I could sure use some reviews on Amazon. If you haven't done it, I'd appreciate if you would. No obligation, of course.
I got a few messages that day from the publishing team. The people I worked with. They congratulated me. It's a big deal, to get a book published. And it felt good that these people recognized that. And I've thought about it a good bit. Of all the "art" you can create, writing is the easiest medium in which to get known. I think it is. It's almost impossible in music. And painting, well, wait until after you're dead, then maybe your art's worth real money. Only a writer can hole up in a "flat," as the British would call it, and write in the evenings while working full time. A writer has a better shot at actually getting published and heard. Well. Mostly, it's that way. There's always exceptions, of course.
It's been about two weeks, now. A few days more than that. I wasn't sure how involved the Hachette people would get with the marketing. So far, so good. They got some little outside PR firm lining up some good interviews. I've done half a dozen or so. They've been fun. Took me back to the old Growing Up Amish days, it did. Take a break at work. Half an hour here, fifteen minutes there. I enjoy the talking, mostly. You let the host lead, go where he or she nudges you.
It looks like one lonely book signing event might still be held. Well, there may be others. But just one for now. This summer, in mid-July, there will be an ex-Amish reunion in Old Bloomfield. Saturday and Sunday, the 18th and 19th. Anyone who was ever Amish in Bloomfield is invited. That was the week of the Davis County Fair. I had planned to rent a booth at the Fair on Friday, July 17th. And then Covid interrupted, of course. The Fair got canceled. It is what it is. Right now, I'm looking at renting the Get-ToGather Room on the north side of the square on Friday, July 17th, from maybe 12:30 to 4:00. Or something like that. Bring your book, or buy one there. I'm planning on it. If anything changes, I'll note that in my next blog.
A few words about the virus. Not much. It does little good to rant. There will be plenty of time later to dissect what really happened. I am currently most disappointed at pastors who obstinately refuse to reopen their churches. They stand with outstretched arms, not to shepherd their flocks, and not to lead. But to deny entry to the church. Can't let the church gather without the pastor. That would be disaster. It's mind-boggling. I never dreamed I'd see the day. Those pastors should start their own little support group. Pastors on a Power Trip. Open your freakin' churches. Your people are ready to explode from the tension.
Back to a more pleasant present. My book got officially released on Tuesday, May 12th. That's a big deal for me. I did a few interviews and got a few more coming up. And just this week, I got a real good write-up in two online publications. Both were written interviews. The first was in The Christian Post. The second was my good friend Erik Wesner's blog, Amish America.
And through it all, the struggle continues for some semblance of the old traditions. There is Covid, there's my book release, there are riots in the streets, and there is the terrifying noise you hear when the world is crumpling to ashes on every side. Through the darkness comes a bright little sliver of light. My nephew, Clifford Wagler, is getting married. He's the youngest son of my brother and his wife, Stephen and Wilma Wagler. Clifford was always a bit shy until he met this one particular, lovely girl. Esther King, that's her name. The two of them have been inseparable for over a year, now. Their wedding is planned for late June. Less than a month.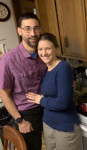 A few weeks ago, Clifford and Esther brought me supper one Sunday night. It was nice, that they paid a bit of attention to the crotchety old uncle. Esther had cooked up a delicious meal, and afterward, we went for a ride in Amish Black II. Life rolls on through everything. I mean, so far, it has. It is beautiful to see a young couple walking forward with all the hope and faith and optimism that young couples have. Congratulations from the extended family, Clifford and Esther. We wish you every blessing.
Share