Let us hear the vast and casual sound of life in these
old peoples: their greetings in the street, the voices
of the housewives and the merchants…
—Thomas Wolfe
_______________
I've been to Holmes County, Ohio three times now. It's always a great experience. The only problem is there's no direct way to get there from here. There are a couple of generally accepted routes, but they are both long, weary roads. You can go up through Pittsburgh, and take your chances with the maze of turnoffs and twist backs. I've heard horror stories of people wandering for hours, trying to find the way out. Or you can go out to Wheeling, WV and head up north on Highway 250. A little two-lane road with hairpin curves for the first twenty miles or so. Like I said, I enjoy Holmes a lot. I just don't enjoy getting there.
When my good friend John Schmid called me late last year to invite me to Benton Days, I immediately agreed to go. I attended the inaugural event two years ago, and it was a fine old time. This time, John said, you can bring your books. Set up a little table off to the side, and sell and sign them. We'll advertise that you'll be here, and people can bring their copies, too. It all seemed like a good plan. It would be fun to do Benton Days, then spend Saturday hanging out with John, like we did last time. The man knows everyone in Holmes. And everyone knows him. Just tagging along with him makes you important. After agreeing to go, I promptly stored the date in the back of my mind and didn't think about it much.
And that was that, until John called me one morning a few months ago. "Ahem," he said. "I know you're coming out for Benton Days. And I was really looking forward to hanging out with you Saturday. But there's this guy right in your area who wants me to come and sing at his event that Saturday evening. I told him I can't. I've got company. But he just kept bugging me. And kept upping the price he'd pay. It's reached the level now that I just can't hardly refuse. But I wanted to check with you first. How offended would you be?"
Very, I said. Just kidding. I'm disappointed, of course. But you are in the market to go do stuff like this. You have a prison ministry to support. That's your first priority. Go ahead. I'm sure there's plenty of other friends out there I can hang with. Or I might just head home Saturday afternoon. I'll play it by ear. And John sighed, half in frustration, half in relief. "OK. Thanks."
And here I'll tell everyone that my friend John Schmid can be bought. Which is exactly as it should be. Book him for your event sometime, while he's still affordable. He's a super entertainer and a first rate singer.
A few weeks later, I got a call from Eli "Small" Hochstetler, the owner of Gospel Light Book Store in Berlin. (Yes, the man's nickname is Small. It's even on his business cards.) "Hey." The words popped out of him. The man is a bundle of energy. "John tells me you're coming out for Benton Days. How would you like to do a book signing at my store on Saturday morning?" You bet, I said. I'd be delighted. "Then lock it in, plan on it," Small said.
Well. John must have put that bug in his ear, I figured. To assuage his guilt. (All right, John, I'm done busting on you now.) Whatever the reason, I was glad for another shot at signing books in Holmes County. It would be fun. This time, Small claimed, he'd publicize it a bit more. Try to get a good crowd.
Book signings are a bit less frequent now than they were last summer and fall. Growing Up Amish has been moving on the market for a year, now. That's a long time, for a book. So I'm grateful for any opportunity to get out and sign a few copies. But I'm a little skittish, too. The Amish communities out there now know about the book. Not all Amish people have read it, of course. I could only hope for that. But in most places, they have at least heard of the title. And the author. And in most places, they have firmed up their positions, one way or the other. In many communities, especially in the Midwest, the verdict comes down pretty harsh. The man is guilty. Don't read the book. It's full of bitterness and lies.
And so I'm a little careful about just showing up anywhere. I won't walk into a place where I know there will be only hostility. What sense is there in that? Nothing good can come from it. And as Benton Days and Small's book signing approached, I figured there might be some resistance in Holmes County. I couldn't put my finger on it. I couldn't point to any particular reason. But in such a vast community, well, inevitably some people would not see it like I wrote it.
And as the date approached, Small got busy with his promotion. I would not be the only author there. He also scheduled Marlene Miller, an Amish lady who lives in the county. Decades ago, Marlene joined the Amish from the outside, and married and raised a family. Our journeys went in exactly opposite directions. Last year, Marlene published her book, Grace Leads Me Home. It has sold quite well in the region. So Small got us both lined up. On this side, a lady who joined the Amish from the English. On this side, a guy who left and never looked back. And he also nudged a local reporter to write about the event. A very nice article appeared in the local shopper early that week.
And sure enough, a few days before the signing, a call from a local Amish guy, a preacher whose name I can't remember and wouldn't write here if I did. The man had read the article. He was not happy with Small. Seemed outraged, even. "Why are you having Ira Wagler out to sign his book?" The man demanded.
"What do you mean?" Small asked, startled.
"That book is full of lies," the man declared firmly. "You should not let Ira Wagler sign books in your store."
"All right then," Small said. "Can you give me a few examples of the lies?" And then Small asked a very basic, simple question. "Have you read the book?"
"No," the man replied. "But it's full of lies."
And there you have it. The purely reflexive reaction that often emerges when one's world view is threatened. I can't blame the guy. I understand completely why he said what he said. Why he feels as he feels. I come from where he is. And his reaction is certainly not unique to the Amish, or plain people in general. When you're not quite confident of your position, attack the messenger who challenges it. Or even just describes it honestly. Doesn't matter if you haven't even read or listened to his message. He's wrong, just because of where he's coming from.
Friday morning. Time to head out. I went down to pick up my rental car, a compact. Weekend price: $85.00. I'd burn that much more in Big Blue, going to Holmes and back. The nice Enterprise man smiled. Oh, yes. I have a Corolla for you this time. He went out, and minutes later pulled up with the car at the front door. I stared.
The car was black. I have never before driven a black rental car. Nothing at all wrong with that color. But still, I grumbled a bit.
A black car, I said. People are gonna think I'm a Mennonite.
I'll give the nice Enterprise man a lot of credit. He never blinked an eye. "It's got New Jersey plates," he said. "I don't think anyone's going to mistake you for a Mennonite."
He had me there. But I don't know which is worse, I thought to myself. Being mistaken for a Mennonite, or a New Jerseyan. (I know "New Jerseyan" is not a word, but that's what I thought, so that's the word I'm using.) Nothing against all you nice people from New Jersey. It's just that, well, when I see New Jersey plates on a vehicle on the road, certain assumptions come to mind. Crazy drivers, for instance.
I packed the Corolla at my house and took off west. And it was one fine little car, except for the color and the license plates, front and back. I noticed that other drivers respected, or should I say, avoided me. This might not be a bad thing, after all. I took toll road west, then I-70 toward Wheeling.
And right around 4 o'clock or so, I approached Berlin, Ohio. Just outside the town limits, my iPhone went dead. No service. One more thing I detest about Holmes. I'm unwired. Totally on my own, with no outside connection. I don't know why AT&T can't plant a tower somewhere. Ten minutes later, I arrived in Benton. A blip on the road now. But the old store front still remains. Converted into some sort of community center. And the old hotel on the corner, now converted to private housing. I'm always fascinated by those old hotels. The vibrant life that once centered around them in little towns like Benton. All of it gone now. All of it lost to the memories of most of the living.
And the place was all set up for the festivities, just like it was two years ago. The side street blocked off. A large tent canopy in place, with many tables. The food stands stood ready to serve chicken and potato salad. All was still, at the moment. In about an hour, they would come, the people.
It was a beautiful evening, and there's no way to describe it in detail without droning on and on. The music stage was set up at one end of the tent, on a trailer. John dug up a little folding table and some chairs, for me to set up with my books. I parked off to one side, on the grass. And the evening just came down. A good-sized crowd milled about. John and his boys performed his Johnny Cash repertoire. There were tons of great food. And I sat at my little table as many readers stopped by to meet me, to chat, and occasionally buy a book.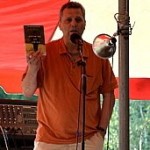 Speaking on stage. The seniors looked at me dully.
They were there to hear John sing, not to listen to
some guy hawking his book.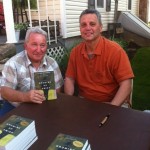 Ralph Miller made the 2-hour trip from Plain City
to meet me and buy a book.
And then it was over. Since John and his wife Lydia were leaving early the next morning for Lancaster, PA, I stayed with my friends, Paul and Kathy Marner. They had a guest room in the basement with a king sized bed. And they seemed very honored to host me as their guest. And that was Day One.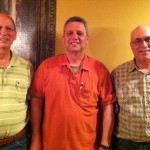 With Crist Miller and Paul Marner. Both old Aylmer connections.
I was ten years old, the last time I saw Crist.
The next morning I followed Paul to the local greasy spoon, where we chowed on a hearty breakfast. And then I went on over to the Gospel Book Store. Small met me enthusiastically, smiling. He had everything set up. Two tables. Marlene was already there. We shook hands. Hey, let's have a good day, signing books.
And the day came down at hyper speed, as all such days do. You look forward to it, then it arrives, then it unfolds and then it's gone. There were a few moments when no one was around. When no person stood there, to get a book signed. That's just how it is, unless you are Stephen King or Glenn Beck or someone of that stature. But mostly, people trickled in. Walked up, smiling. And either handed me their copy of the book to sign, or bought a copy to get signed. Most of them wanted to linger and talk. And I heard things that day that made me grateful. Very thankful for my own journey. There are many people out there whose journeys make my own seem like a mild stroll through peaceful fields. And I'm not exaggerating. They came, their stories spilled from them as they talked and talked. Thank you for writing this. What you wrote is really how it is. It was high time someone told it.
I smiled and listened and talked. And signed books. Time passed. I kept glancing at the entrance. Looking for someone. An hour, then two. It was eleven o'clock. I figured she wasn't showing up. She'd stood me up. And then I saw her with her sister, kind of sneaking in and standing off to the side. I excused myself from the person who was talking to me and rushed around the crowd. Walked up to her and lifted her off the floor in one great big hug.
Susan Taylor, the Tyndale editor who actually edited my book, had come to see me. I was beyond delighted. I had not seen her since that time more than two years ago when I flew out to Chicago for a day to picture-board what was supposed to be my book. Sure, we'd chatted many times over the phone. And emailed many times. We had a few small spats, even. But here she was. And I was practically beside myself. She wasn't representing Tyndale, she just came on her own. But still, she was the first person from Tyndale to ever show up at any of my events. Noises were made before, but they were just noises. Nothing ever materialized. Susan actually followed through. I led her and her sister Linda to the table and seated them beside me. And told anyone who would listen. This is the lady who edited my book. Right here. She came to see me.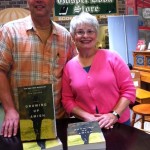 After it was over, we went to lunch at a nearby "Amish" restaurant. Susan and I reminisced about all the things we had experienced together. And I got to know Linda, too. She lives about an hour away, and Susan had traveled out from Chicago to see both of us. And I had something else to discuss with Susan. I'm stuck. Not working on the sequel at all. I know the story line. I know what needs to be told. But I just can't get back there in my head, to relive it. So I'm just writing my blog. Susan didn't seem overly concerned.
"When the time is right, it will come," she said. "It will come." I told her it might be a while. "Don't worry," she said. "It will come."
And then she smiled mischievously. "We're all just family at Tyndale. As I've always told you. Do you believe that now?"
The dear woman, bless her cheerful idealistic heart. That's what she'd told me, the first time we ever talked on the phone, way back. We're just like one big family here. I was, of course, extremely suspicious of such a claim and told her so. There's no such thing as being in a publisher's family, when you're writing a book, I grumped at her. What happens if I don't produce? Do I get kicked out of the family? Throughout the whole process, Susan always laughed cheerfully and insisted that Tyndale was just like one big family.
And now she was trying to pin me down, to get me to concede. It wouldn't work. Nah, I laughed. You've always claimed that. But I'm still as dubious as I ever was. You're all Chicago people. Tyndale is a major publisher, a major corporation, a major player. I don't know what I'm even doing around you people. Except by some miracle you published my book. Which was very cool. But I don't quite fit into the "Tyndale family." (Except as a black sheep, maybe. But I didn't say that, just thought it later.)
"Oh, you're hopeless," she said, laughing.
Yeah, yeah, I know, I said. But you have to understand. I try to be who I say I am. All I want to do is live my life, and write my stuff.
After lunch we returned to the book store, where Small gave Susan a tour of his store and a couple of John Schmid CDs. And then it was time for them to leave. Susan had driven 8-plus hours one way to see a friend.
I don't know when the sequel will come. Maybe sooner, maybe later. But when it does come, it will spill out in great waves. Overwritten and rough, like last time. And I don't care where Susan is at the time. She might be retired by then. Wherever she is, I will track her down and beg her to edit the manuscript.
I had half-planned to head out that afternoon for home. Stop somewhere and sleep, then get home in good time on Sunday. But John had been right; there were plenty of friends who were happy to hang out with me. Marvin Miller (Patrick's Dad) called me just as I was leaving the book store. "Meet me at Schrock's of Walnut Creek," he said. "I have some Amish friends I'd like you to meet. They'd love to chat with you."
Every Amish community has its own unique atmosphere. Lancaster is fast and mostly friendly. Holmes County is way laid back and friendly. It's pretty much assumed that you can and will speak PA Dutch, doesn't matter how English you look. Everyone talks in a drawling cadence absolutely unique to the area.
And Marvin and I had a great time. Just hanging out with his Amish friends and visiting. The afternoon wound down, and we ended the day at a campfire cookout with a group of people I now consider my friends.
Holmes County has its share of judgmental people, too, I have to say. I can see judgment in someone's face from fifty feet away. I can sense it in your talk, your questions. I can see it in your eyes. And I can sense it in your spirit.
On Friday night, at Benton Days, one man sat at my little table early, before the crowds came. He tracked down my lineage. "You're David Wagler's son?" Yes. "You wrote this book?" Yes. "What's it about?" Growing up Amish.
He was skeptical. "Are you married?" I should have just said no. I said that, then added, just for effect. I'm divorced. It threw him for a serious loop. "Oh, my. Is there any chance you might still get together?" No, she has remarried. No chance. "Are you in a relationship with a woman?" It was none of his business, and I should have told him so. But I said no.
Then the big gun, that pious .50 caliber question. "Are you a Christian?" He was a bit older. So I stayed respectful. Yes. What is it with these Holmes County people? This wasn't the first time I'd heard that from one of them. Don't they know, can't they grasp how sanctimonious it sounds, a question like that?
He bought a book, then, and said he'd read it. His wasn't the only judgment I felt in Holmes, though. It came from the eyes and from the conversations of a few more people. That night and the next day, too.
I want to be careful here. The judgment comes mostly from one particular group, but they're not all like that. I met a guy from that group who was so open and honest and accepting that I will look him up the next time I go. But in the five-plus years I've written on this blog, the most judgmental spirit I have ever encountered has come from the New Order Amish of Holmes County, Ohio. And I have a few words for them, the judgmental ones.
I'm a flawed man. I know that and freely admit it. I've seen and lived some pretty brutal stuff. I've been down there so low, it doesn't matter what anyone else thinks. I can say it like I see it. Honestly. And I'll tell you this, for what it's worth. If you're always busy openly judging others, there's not a whole lot of room left in your hearts for much of anything else. That's just the way it is.
It's a choice, really, to be hyper-focused on judging others. I'd hate to live like that. And I won't live like that.
You don't have to, either.
Share