"There comes a time in a man's life when he hears the call of the sea.
If the man has a brain in his head, he will hang up the phone immediately."
–Dave Barry
___________
Come on down, they told me again this year. It'll be better than ever. Yeah, yeah, I thought. Not that I needed any convincing. I'll be there. But it will be better, they said. This year, we rented a house right on the beach. Walk out the back door, and there's the ocean.
And the date snuck up on me, like it always does. You plan out a year ahead, and what you're planning is a year away. A long time. But then the weeks pass, and the months. And last week I sat up and took notice. Beach Week was upon me. On Saturday evening, I packed up and got ready to leave the next day.
This year, they got the house from Sunday to Sunday, not Saturdays like always before. That was different. And this year, as Janice promised, the house was literally on the beach. She had located it online on the way home from last year's excursion. And booked it right there on the spot. Sure, it cost a few bucks more. But it would be worth it, she claimed. All the others in the group clamored in as well. Yes, yes, it would be worth it.
As I've stated many times before, I'm no beach hound. I totally don't get how people can waste days and days, stretched out on big towels in the sand, soaking up the sun. I mean, there's a whole lot of other things that are way more attractive to me. But ever since my first Beach Week two years ago, I have returned faithfully. Not because of the location, but because of the people. My friends. I'd hang out with them anywhere. In the mountains, in the city, wherever. And, of course, "wherever" includes the beach.
Other than the beach house itself, I figured this year would be different anyway. Because the last two years, my head was pretty much screwed up in one way or another. The first year, I was working on the book. Wrapping up a monthly submission. And that month, it was the Sarah story. So my mind was in a far place all that week, mostly. And somehow, it worked, to get it written with all the noise around me. I thought it might not, but it did. And when I got home from that first excursion, I emailed that chunk of writing to my Tyndale people the following Monday morning. And what you read in the book is pretty much how I wrote it at the beach.
Last year, I was just a mess, emotionally. It wasn't just during Beach Week, it was the general state of mind I was in. Looking back, that came from the book as well. It had been out there a few months and was plunging about quite madly. I was sitting there, holding my breath in disbelief, hoping it would hang in there for a while before sinking into oblivion. It was all a bit of a tense time. And I have to say, I wasn't that sociable last year at the beach.
And this year, well, there's lots of different kinds of noises in my head. Concerning the book and life and a few other things, like a possible sequel. But this year, as the day approached, I made some promises to myself. This year, there were some things I would do, every day. No matter what else got done or didn't.
I would read. Strange as it may sound, I haven't read more than a handful of books in the last few years. Been too busy, writing. Sure, I read my favorite news and opinion sites on the web every day. But that's mostly short stuff, essays and such, that take a few minutes to work through. Reading a book takes time and commitment. And I've been slacking on those, a lot. So I packed a book that has been on my list for a couple of years. Memoirs of a Superfluous Man, by Albert Jay Nock. The most learned social critic of his generation, Mr. Nock never enjoyed much popularity in his lifetime. Because he wrote it as he saw it, and he saw it through eyes that refused to worship or acknowledge the "goodness" of the state. He saw both World Wars and judged them for what they were. He wrote what he saw and what I consider the truth against all the prevailing tides of his times. I have long admired the man and figured to read his opus at the beach.
And by late Saturday night, I had it all stashed away, all the stuff I figured I needed for the week. And more. When I travel over the road, I always pack heavy. It's easy to pile stuff in a suitcase. Better to have more than you need then to have to run out and buy what you left behind. That's my philosophy.
Sunday morning. I woke up early, before six. Like a regular work day. On Sundays, I usually sleep in until 8:30 or so, then get up and go to church. But this Sunday would be spent on the road, not in church. I'd loaded some of my bags the night before. I showered and threw the rest of my stuff into my truck. Headed on over to Wilma's house.
Wilma, my good friend, and a close friend to Janice, was traveling down to Beach Week with me for the second year. Last year was her first. She enjoyed the time very much. Last year, I drove my truck down. And this year, she offered to take her little car, providing we could pack all our stuff in it. A Corolla. That's what she has. A cool little car. Gets a heck of a lot better gas mileage than Big Blue. I pulled in at 6:45. We loaded her stuff and mine, in the back seat and in the trunk. The car could have held a bit more, But not much. By seven, we hit the road, with me behind the wheel.
This Sunday to Sunday rental deal wasn't half bad, we decided, as we cruised the lightly traveled roads. Almost empty, they were, compared to what they would have been the day before, on a Saturday. We stopped once, for a break and for some gas, halfway down. We both like to travel the same way. If you're going somewhere, hit the road until you get there.
And by 2:30, we arrived in Nag's Head, NC. Janice and her friends Brian and Melanie had arrived a bit before. They were waiting for us at Awful Arthur's, a famous Nag's Head hangout. We wouldn't get the keys to our house until after 3 PM. So we figured we might as well eat a bit. It's a great feeling, an indescribable feeling, to loaf around like that, waiting for a full week of vacation to begin. After eating, we stopped at Awful's gift shop and picked up a few mementos. Then on to our Beach House.
We followed Janice and Brian and Melanie and soon pulled up to a long, lean, tall house on stilts. Three stories high. Let's explore first, before the others get here, and pick out our bedrooms. As the older, crotchety, grumpy guy, I'm always allowed a good deal of leeway to pick a bedroom in a corner somewhere, far away from any late night partying. I last until midnight, usually, maybe a bit later sometimes. But then I want to go off to a quiet place. On the second floor up front I found the perfect room. Here I stake my flag, I said. And the others, too, rushed about and claimed their rooms. The latecomers, my nephew Steven and his friends from South Carolina, would be left with whatever remained.
The first and second floors contained bedrooms, game rooms, lounge areas, and more bedrooms. The third floor, though, that's what took our breath away. A large open room with full kitchen in one corner. Off to one side, a twenty-foot long table, hewed from a solid slab of thick varnished wood. And there were folding glass wood-framed doors that opened to the deck. Open or closed, you could see the ocean from the dining room. Hear the crashing incessant waves. We stood there in awe for a few moments, then rushed to unload our stuff. Lugged all our bags and groceries to the first floor. But we didn't have to drag anything upstairs. Because this beach house had an elevator. Small, very slow-moving, but there. We piled our stuff in, and distributed it about on the appropriate floors. And soon enough, the others all showed up, the group that we would hang with this week.
My nephew Steven Marner drove his large van from South Carolina. Loaded with a week's worth of luggage, and loaded with friends. I knew most of them, but a few new faces appeared this year. We shook hands and introductions were made. Laid back people, all of them. An hour later, after we'd all unpacked, we lounged about upstairs in the main floor.
And I drifted among them, my friends from South Carolina, old and new. And I heard their lazy drawling talk, and marveled. They sat out there on the deck, comfortable and deliberate. Lit their cigarettes, sipped their drinks, and just talked. Visited is another word for it. They just visited. The threads of their conversations flowed here and there, utterly unguided, with no particular goal. Such a thing is unheard of where I come from. Sure, we talk of this and that, the little things. But everyone is in some sort of rush to keep pace with a hectic schedule. And our talk reflects that. Short, abrupt, terse, is what we are. I sensed no such undercurrent in their words or gestures, those South Carolina rednecks. None. They were here, in this beach house, settling in for the week. And they were relaxed, in no hurry whatsoever to go anywhere or to do anything. I thought of where I'd come from, and how it was like that back there, at least the visiting part. And I envied them.
And from that slow, unhurried rhythm, the week just launched itself. Everyone just chilled. On Monday, I set out on my first walk along the beach. To the south pier, exactly 1.2 miles away. Trudged along the soft sand, barefoot, in shorts, T shirt and camo cap. My legs sure felt it, the first few days. Walking 2-1/2 miles in the sand is like walking five miles on pavement, I'm thinking. The beach was sparsely settled, mostly. It's like that after Labor Day, I figured. Little groups huddled here and there, people sprawled out on large towels. And the occasional lonely fisherman, casting out far beyond the break, hopefully waiting for a nibble. In all my time on the beach in the past three years, I have never seen a single fisherman hold up as much as a single tiny fish. That first morning, I wondered if they were just standing there to be standing there, mourning the loss of summer.
I settled into my reading that first day, too. Albert Jay Nock's masterpiece. As I'd figured, I was instantly drawn by the subdued brilliance of his prose, then immersed in the breadth and depth of his knowledge. Very few social critics in all of history have really seen things the way they are. Nock is one of those very few. Quietly persistent, this book is still in print and still being read two generations after his death. It will be read for many generations more. And no more than that needs to be said, I think.
And the days just kind of rolled by. We bummed about, each doing "what was right in his own eyes." We checked out the local tourist traps, where everything was half price. Every evening, the ladies cooked up the lone formal meal for dinner. We dined on grilled steaks, chicken, seafood. And we loafed to our hearts' content. The musical among us sang and strummed their guitars. On Wednesday night, we had our traditional Mennonite hymn sing. Janice didn't forget the hymnals this time. Fred played the guitar and Greg, a newcomer, picked his banjo as we sat in a semi-circle and sang a great many of the old favorites. We finished with a rousing 3-group sing-around of "All the Way." We all made joyful noises, those who could sing and those of us who couldn't. The house rocked with our great roaring. I don't think this house hears many hymn singings like that.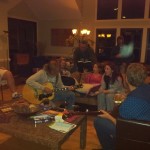 Thursday night was poker night. A quick refresher lesson for me, and off we rolled. I lasted for two hours before giving away my last lonely little chip. I lost exactly ten bucks, which is less than it costs to see a movie these days, and I had a lot more fun. Of course, the wine and spirits flowed freely every afternoon and evening. This is the beach. We were safe in a beach house. And not once did I see or hear a single person in our group get over loud or out of control. Not even close to it. It was all calm, happy, relaxed, paced.
It was an entirely different experience from other years, to be right on the beach like that. To look out the living room windows and see the incessant rolling waves. And to hear them crashing against the shore. It was wild, beautiful, and calming. I grasped the fullness of all that late one night, early in the week. After midnight, and people had drifted off to bed. I puttered about the kitchen, getting a drink of water. About then, my nephew Steven wandered in and sat down with his iPad to check his email. You up? I asked. How about sitting out on the deck with a nightcap? He agreed instantly. And we mixed some sort of concoction in a couple of glasses, and sat outside on the third floor deck in the darkness. Just chatting, catching up. Less than two hundred feet away, the white capped waves roiled and roared. It was almost surreal, the setting. And the minutes rolled away as we just hung out for more than an hour. Late night, good company, good drinks. No worry about getting up to meet any schedule the next day. That's the magic of Beach Week. And this year, it was the magic of the beach itself.
Yesterday morning, during my beach walk, I strolled up to a grizzled old man, standing there stolidly, holding his fishing rod and reel. Looked like he'd been out on the beach for a while. He nodded and said hi. I stopped. How's the fishing? "No so good," he said. His answer made little sense to me. Do you ever catch a thing? I asked. "Yup. But this week it's too windy." Of course. That explains it. I stood and chatted for a few minutes. He claimed that on a good day, presumably when the wind was calm, he sometimes caught as many as a dozen fish. In one day. I'm sure you do, I thought. I'm sure you do, I said. I left him then, still standing, immovable, leaning into the strong winds.
And with all the week's walking, reading, and general times of great merriment, I hardly got a scrap of writing done. I barely cobbled this blog together in time for posting. And this week, that's just perfectly fine with me. I am where I am and it is what it is. It's a different dimension, down here by the sea.
And in this different dimension, down here by the sea, a few things became very clear to me this week. I've known these things instinctively, just never took the time to process them. Now I have. There will never be a so-called "sequel" to my book until I reach that state of mind where it doesn't matter what anyone else thinks. Or what anyone's expectations are. Not anyone, anywhere. Not in my readers' world. And not in my publisher's world. Once I reach that distant point, once I can see the cresting ocean waves in my head, once I can stand at the shore fishing, it doesn't matter if it's too windy, it doesn't matter if it makes no sense to anyone else, then, and only then, it will come, the writing of my story. I'm not there yet, and won't be there for a while. But I know now where I need to be.
And that was Beach Week for one more year.
*******************************************
Housekeeping note. On Friday evening, Sept. 28th, I will be doing a book talk at Grove City College in Grove City, PA. The book talk is scheduled for 6:30 in the Moreledge Great Room of Rathburn Hall. The event is free and open to the public. I'll be happy to sign the book you bring, or the book you buy there. For more information, contact the people at the college switchboard at 724-458-2000.
Share