All you zombies hide your faces.
All you people in the street,
All you sittin' in high places.
The rain's gonna' fall on you.
Hooters, lyrics: "All you Zombies…"
____________________________
They do it every year, like clockwork. Always just before Easter. Always so utterly predictable, always in the most serious scholarly manner, and always, despite a great charade of earnestly searching for objective truth, always the same tired preordained conclusions. I don't know why they even bother anymore.
Always, in some major magazine, the cover story. "Was Jesus real?" or some such mindless question. Or "Did Jesus really exist?" The long vacuous interviews with Rev. Dr. So-and-So, who of course graduated with honors from the Princeton Divinity School, or some similar high falutin' place. And the good Rev. Doctor always spouts the same muddled psychobabble that passes for knowledge these days in the esteemed institutions of higher learning. The bemused expression, the ever so slightly lifted eyebrow, that one could be so obtuse as to believe that anyone, ever, had risen from the dead. Of course, he generously concedes, one can always admire the life of Jesus (while not admitting that he for sure existed) and the beautiful lessons He taught. One can glean some comfort from that. And, of course, the untaught, the unwashed, must always cling to their old outdated fables.
But what with science and all, we can now measure the age of skeletal remains right down to within half a million years. Anyone, even a pea-brain, can rest assured that no one has ever risen from the dead.
They've got it down to a formula. That they can harvest again and again, every year. But this year, it was different. This year, they didn't serve up the mindless Rev. Doctors, at least, not so one would notice. This year, they went right for the jugular. Right for the perceived evil, at its source. But they weren't concerned about the real evil. They were only concerned about tearing down an ancient enemy, an enemy that has been badly bloodied of late.
This year, they went after the Pope. In one of the most vicious coordinated secular attacks against established religion that I have ever witnessed. Day after day, for more than a week, leading up to Easter. Calls for the Pope to resign. Accusations that he had known of and covered up the terrible priest/child sex abuse scandals for decades.
The New York Times led the attack. Joined by many malcontents, including some ex-Catholics. And the entire world, it seemed, hammered savagely and relentlessly at the foundation of a venerable institution almost two thousand years old.
I'm not Catholic. Not particularly a fan of the current Pope, either. The Church has endured its scandals over the decades, centuries, and millennia. And I have issues with some of its foundational doctrines.
But I respect the institution (If any of my Bob Jones professors are reading this, just pick yourselves up off the floor). I respect the Catholic Church because it has stood like a bulwark against the shifting tides of political correctness. It has stridently called abortion what it is, murder. It has insisted on the traditional concept of marriage. And it has respect for all human life, even the lives of murderers. Although misguided in its economic philosophy, it has spoken out for the poor and the oppressed world wide.
On these issues, and others, the Church has not budged. And has made itself the target and bitter enemy of modern utopians. Secularists who are succeeding in forging the world to conform to their bleak visions. Forces that hate and despise the Church and all it for which it stands.
And this latest coordinated attack was preplanned. Long ago. To unfold during Christianity's holiest week. To embarrass and hound, to accuse the Pope of the vilest of acts, that of covering up the abuse of innocent children.
From what I've read, and I have no reason to disbelieve it, the Pope, back when he was a Cardinal, worked tirelessly to bring to justice the abusive priests. And to cleanse the Church of this evil. The accusers knew this. Deliberately ignored it. And bayed for his blood.
The Church is damaged. Peggy Noonan (a practicing Catholic), in her chatty, oh so reasoned and sweet Washington Beltway narrative, thinks it will take a least a generation for the damage to be healed. I was quite irritated at Ms. Noonan a year or so ago, when she lauded Mr. Obama and criticized Sarah Palin. Quit reading her stuff for awhile. How obtuse can she get? But on this point, I think she's right.
But the Church will endure. It has survived political intrigue and scandals off and on for almost its entire existence. We always think our current times are worse than any others, ever before. But they usually aren't.
The Pope has not stepped down. He won't. Viva Pope!
About the same time the Pope was viscously attacked from all sides, a poor little ragtag militia group in Michigan was surrounded and arrested by federal thugs. Eight befuddled hillbillies, staring in bewilderment at the camera.
They are being charged with seditious acts. Whatever that means. Planning to kill cops, or some such thing. Words, mostly. Which ain't a whole lot.
It's a farce. And it's a sham. The little group was infiltrated by some nutcase lowlife criminal informant who was pressed into service. An agent provocateur who rabble- roused them to say and do things they would not have otherwise said or done. It was entrapment. The Feds sent in dozens of agents and spent probably a million bucks to nab them. The idea that this bedraggled little "militia" was even a remote threat to the federal government is not only ludicrous; it's sad. And scary for all of us.
Now a federal judge has denied bail. These poor hicks are in serious trouble. They will be railroaded into plea bargains and will likely spend decades, if not the rest of their lives, in prison.
I've thought about it. Who would make the best next door neighbors? The "dangerous" militia guys? Or the jack booted federal thugs who arrested them? It's not even close.
Welcome to Amerika. This is not justice. This is tyranny. It's intimidation. A warning for all the rest of us out there. We'd better cower and keep our mouths shut. Not complain too much about government. Or they'll come after us.
It just ain't right. But it's the world we live in. An increasingly dark and frightening world.
And that, my friends, is probably the last rant you'll see from me for awhile. It was on my mind this week, during the tension of the approaching Tyndale trip. I had to write something.
On Thursday morning, after an extremely restless night, I got up at around three o'clock. Showered, dressed, threw a duffle bag and my briefcase into Big Blue and headed for the PHI airport. I hate cities and I hate airports. But for this trip, and at that hour, it was no problem.
I passed through the gauntlet of TSA thugs, er, workers, with minimal hassles. What a colossal waste of resources, our airport security apparatus. My flight took off on time, and by shortly after nine, we touched down in Chicago.
There, I was met by Susan Taylor, the editor assigned to my book. Less than forty minutes later, we arrived at Tyndale House in Carol Stream. A huge office complex, with an attached warehouse.
Susan led me to the third floor office of Carol Traver, Tyndale's senior non fiction acquisition editor. And there she was. The lady who had made it all possible for me. It seemed like we already knew each other, having chatted on the phone numerous times. Carol then gave me an extensive tour of the Tyndale complex.
I don't remember all their names, but I met a lot of very friendly people. All were most gracious and seemed genuinely pleased to meet me. Some few even mentioned that they read my blog. I absorbed it all. Not many get a guided tour like I was getting.
And then it was time to get to work. Carol, Susan and I set up in a conference room. For the next five hours, we worked our way through my life. From birth. They were experts at extracting memories, incidents, scenes. Carol mapped it all out on large easel paper. Picture boarding.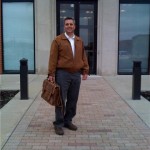 Outside Tyndale's main entrance.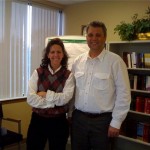 With Carol Traver. Whether I succeed or fail, this is the lady
who made it all possible.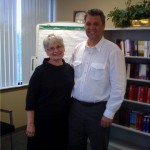 With Susan Taylor, the editor who will be working with me.
It was intense. Draining. And a lot of fun. By 4:30 or so, we wrapped it up. The all important easel paper picture board was carefully folded and placed in my briefcase.
Later, they took me out to eat at a lovely little Irish pub. And then to my room at the Hampton. This morning a stretch limo, driven by a Ukrainian with a heavy accent, took me back to O'Hare and my flight out. Only the second limo ride of my life.
My flight back went right on time. Three hours ago, I walked into my home. Back again. After a whirlwind trip.
I'm exhausted. It seems surreal, everything that just came down. But it was good. I think I'm as ready as I'll ever be.
Share