In my eager mind, the great shining vistas of distant horizons gleamed
and beckoned. A world that would fulfill the deep yearning, the nebulous
shifting dreams of a hungry, driven youth. And it would be mine, all of it,
to pluck from the forbidden tree and taste and eat…
—Ira Wagler: Growing Up Amish
___________________________
It's not quite the same. A lot of water has flowed under the bridge since that night almost exactly thirty-four years ago when I got up and walked away from the only world I had ever known. And it wasn't that big a deal back then, even, if you look at where I was going. To a desolate ranch in the Sand Hills of Nebraska. Nah, the big deal wasn't where I was going. It was where I was coming from.
And that's pretty much how I feel about tomorrow, when I'll head out to places I have never seen before, places I have rarely imagined, even in my dreams. Because they were just so far out there, especially to a guy who's pretty set in his ways, and finally content staying close to familiar boundaries. I look back at that seventeen-year-old kid clutching a black duffle bag, walking determinedly out the drive and down the road into the darkness. And I feel some of that old stirring within me. There's a new world coming right up. A new road rising before me leading to new places, new things, new experiences. The thing is, I'm not seventeen anymore. I'm fifty-one.
It's such a minor thing, to so many. A hop and skip over the pond, to all the experienced world travelers who have seen places I will never see, and done things I will never do. It's not minor to me, though. It's a big, big deal. I have never been to Europe. And it's a little scary, to think of stepping out that far from the world I know. I'm pretty provincial, when it comes right down to it. Pretty happy to stay within a comfortable range of my little home in New Holland, PA, and to live life there as it comes at me.
Everything has come together well for this foray, I have to say. I'm packed and ready. How I got to this point is a bit of a mystery. There was so much I didn't know about traveling overseas. Like a child in the woods, I just kind of stumbled along in good faith. And people told me things. Hey, you have to get online and fill in your passport info, for your plane ticket. Hey, you have to buy your Swiss Rail Pass here, in the US. You can't get it over there. And on and on, seemed like. I think I have it all together now. I better have. There's no more time for unpleasant discoveries.
I loathe flying. And it's not just the TSA goons. It's the compressed, recycled air on a seven-plus hour overnight plane ride that makes me flinch. I wish there were a bridge or tunnel to Europe. I'd drive whatever time it took in my truck to get there. But, of course, such a thing exists only in a fantasy world. In the real world, there are only two options. Plane or ship. And last time I looked, ship travel was way too slow and expensive. So the plane it is. A big, big plane with three rows of seats. I've never been in such a place. I'll cross myself when I step onto that thing. Guarantee you that.
And, of course, right on cue, I came down with a savage head cold last Friday. I felt it creeping in and tried to pretend it wasn't happening. I rarely, rarely catch a cold. Maybe once a year. Or less. Never had one, all winter. But now I do. I hunkered down and gobbled pharmaceutical pills by the handful, stuff I normally abhor. When you gotta breathe, you gotta breathe. I'll take what it takes, to do that. I ingested huge amounts of vitamins and Superfood, and drank shots of Super Tonic, a home-brewed mixture of awful tasting stuff that my old friend Anna Beiler Lapp gave me. Sour and bitter, oh, yes, it was. But she claimed it would burn out the germs, and from the taste of it, I find no reason whatsoever to doubt her claims. That, and the fact that the stuff actually worked.
And other than the cold, which has receded a good bit, I'd say my state of mind is this. I'm quietly nervous and very excited. I'm going to Europe. It's just mind-boggling to me. It's really happening. Way back when, I wrote Sabrina. When it gets close, I'll contact you, to see what the weather's like over there and what clothes I should pack. We've been emailing back and forth. Seems like they've had a late cold spring, just like we've had here. Step aside, global warming. Global cooling is more like it. The weather alarmists know that, which is why they've quietly been shifting their talk to terms like "climate change." But that's a bunny trail. What I meant to say is that northern Germany is having a cold, late spring.
It's always an honor, to be asked to come and speak at any University. At the local level, and at the international level. It really is. And I'll leave it at that, because to me that's not the most important thing. It's the people I've met and will meet, it's the experience of just living life as it comes at you and walking forward into it, that's what all this means to me. If you focus too much on the reason you are somewhere, you'll lose your gratitude for just being there. The honor will pass soon after it comes. They all do. And it detracts from the experience if you focus on the honor, instead of just living it. Sure, it's a big deal. And I will always recognize that. But it's not the the most important thing, in this moment or in any other. I try to keep a firm grasp on that perspective, always.
It's looking like the trip will come down in two very distinct phases. Week one and week two. My time with Sabrina and her University students is pretty much scheduled. They're basically taking care of me, putting me up in a hotel. There will be people there, to tell me what's going on and when. And to show me the town and the surrounding areas. I'll know what's going on. I'll do the book talks, and take part in a couple of classroom discussions. A few people at that little spot in the world will know who I am, and I'm feeling their welcome before I even head out. I'm very much looking forward to meeting them. I'm looking forward to hanging out with friends.
Next Thursday is Ascension Day, a holy day I grew up to respect. And Sabrina told me, it's a national holiday in Germany. That day, she suggested, they could show me around the area. And the next day I would leave for Switzerland. Except she arranged one more stop, before I got there. At Johannes Gutenberg University in Mainz. Would I consider it? She had asked me. They won't be able to come up with a stipend for your talk, but they'd love to have you, and they'd put you up for the night in a motel. Well, let me think. An offer to speak about my book in the town where the printing press of the western world was born? I'd pay for that privilege. Of course, yes, I emailed her. And earlier this week, they sent me the poster, to show me that it was no dream, that I was really going there.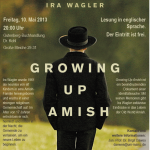 And so that's scheduled. Germany is pretty much all scheduled, all the way to the day I leave it. For Switzerland. And there, there is no schedule at all. I'll go from a comfortable place to an unknown one. That makes me a little nervous. It's a world I've never seen before. And I'm walking into it, almost blind. I know one family that I'll be spending a day with. Otherwise, I'm a wanderer with no plans, a stranger in a strange land. With no guidebook, either. Yeah, I know places I want to see. I have my Swiss Rail Pass. But I have secured no lodging, because I don't want to commit to any place at any time. I'll get there when I get there, and it will be what it is.
Last weekend I was chatting with my good friend, John Schmid, who was in the area to sing at the annual Gospel Express fundraiser. I don't usually go around such big crowds, but John was there this year, so I went. Afterward, we talked and he asked about my plans in Switzerland. I'm just meandering, I told him. Don't really have any connections. Besides, I don't want to bother people. If I bug them, they'll feel obligated to put me up. John laughed. "That's not how I see it," he said. "You're a little more shy than I am. I usually just figure people are going to be glad to see me. And put up with me." I laughed, too. Yeah, we are different that way, I said. I didn't think about it until later, but I should have told him. You sing to them when you get there. You got your songs to offer. I got no songs.
But I've thought a good bit about what he said. So I guess I'll throw this out there, to see what happens. If you know anyone in Switzerland who would be willing to meet and chat with me for a bit, over coffee or a meal, or even put me up for a night, tell them to contact me at my email address, the one on the Contact Me page. Don't send me their email address for me to contact them. I'm a little shyer than John. I don't figure people are necessarily going to be eager to put up with me. So I ain't gonna bug nobody. I'll accept invitations, that's pretty much it. At least the ones I can.
From what I hear, it's pretty expensive to get connected online over there. It's not like here, where there's free wireless in every motel and cafe. So I'll have to see how that works out. I hope to post pics on Facebook now and then, from where I am. And, of course, check my email. (I do have several emergency contacts in Switzerland, friends of friends. So if anyone gets an email from me claiming I've been robbed and need money, that means I've been hacked. Ignore it.) And I seriously doubt I'll post a blog from there in two weeks. I'll be writing, but I think it'll work best to wait until I get back to post on here again. So it might be three or four weeks. We'll see.
Tonight feels a little like the night before I walked out the lane at two in the morning with a duffle bag, thirty-four years ago. I got my bags packed. (Well, I'm working on it, I mean.) I'm as ready as I'll ever be, I suppose. There's a big difference from that first departure, though. I'm not sneaking out in the darkness. I'm leaving in broad daylight instead. And I'm telling the world before I go. But still, I can feel a bit of what was inside that seventeen-year-old kid back then.
And tonight I'm feeling something more, something I can't say I've ever felt before. If I did, it was a long, long time ago. A couple of days ago, I was at work on a busy morning, trying to get stuff done before I leave. My cell phone rang. Unknown number, from Canada. I answered. It was my father, calling from Aylmer. I got up and walked out to the warehouse, so we could talk in private.
He was just calling to see when I'm leaving for Germany, Dad said. Oh. I said. I'm leaving Saturday evening, flying all night. I'll get over to Hamburg around mid day on Sunday. And we just talked, visited a bit. He asked about the book, how it was doing. It's taking me to Germany, I told him. He seemed impressed.
"Do you think they'll understand your German?" he asked. I doubt it, I said. I'll try it on them. We'll see what happens. We both chuckled together. And chatted a bit more. "When are you coming up to see us?" He asked. Sometime in June, I told him. I want to come over a weekend. We closed it down, then. "Well, I hope you have a safe trip to Germany," he said, almost wistfully.
I thanked him for calling, and we hung up. And I just stood there. Absorbed the moment, absorbed the emotions going on inside me. I'm still absorbing that moment when my father wished me well as I was leaving on a journey he could never take because of who he chose to be. All my life, I have yearned to hear such words of support from him as I was going to places he never went. And now he spoke them. It's like I'm stepping onto a new road, a road I've never seen before.
I've been to a lot of places in my life. Set out on a lot of journeys where you just walked to keep walking. Traumatic excursions, some of them, of every imaginable type. Beautiful and breathtaking, others of them, on roads that led to destinations I could never have imagined. And on this road, at this moment, I know not what journeys may yet come.
But I do know there will never be another departure quite like this one.
Share