Daviess County. The land of my father's blood.
And my mother's. The land that harbored in its
soil the hidden saga of my family's history…
Ira Wagler: Growing Up Amish
___________________________
I haven't really spent that much time there. Probably less than three years, total, when you combine all my numerous and sporadic stints in the area. And three years ain't a whole lot. Not when my fiftieth birthday looms ever imminent.
But in a deep and undeniable sense, Daviess County is home. My ancestral home. The place that holds so much of my family's history. The place that harbors more Waglers than any other area in the world, probably. And from my mother's side, the Yoders (a far more common Amish surname, in most communities). The place where the vast sprawling web of relatives, most of them strangers to me, were born and where they have lived and forged the great untold stories of their own. Stories I will never fully know.
It's a distinct place, certainly. A land of rolling hills and narrow graveled roads, dotted here and there with ancient graveyards. With its own very unique Amish culture, a very unique Amish people. A land that reflects the woven tapestry of their lives, like they were spread in vivid colors on some great Renaissance painting. The faces of the men, angular, sharp, intelligent. Broad, flat and plain. And the women standing silently by, hunched and tired, their wrinkled faces speaking the tales they cannot form in words, and perhaps not even in their minds. Tales known only in their hearts. The mothers of sons strong and confident. And daughters, lithe and tall and vibrantly beautiful.
They've been there in Daviess all their lives, all of them. Their faces reflect the steady slog of decades of generational toil, the waves of experience that mirror all of life. And simple unquestioning acceptance of all that life might hold. The plower plowing. The sower sowing. The reaper reaping. Until the end of each individual journey, or until the end of time.
Those are the faces of Daviess, the land of my father's blood.
I wonder sometimes, how it would have been, had he not decided to leave. Unilaterally, like he did. To take his fledgling family and strike out for unknown lands. For a better place. I don't know how that would have worked out, to have been raised in Daviess. Or who I would have turned out to be. In a sense, I've always been kind of thankful that he left. Not because I think ill of Daviess, far from it. I am very proud of my roots. But because of the wanderlust that simmered in my father, my sheltered Amish world was flung open far wider than it ever could have been, had he stayed.
Had he not left, his children probably would have. So he made that difficult choice for us. So we didn't have to. Or then again, maybe not. Maybe we would have stayed. Who can tell? All of this is mere speculation. Fascinating to consider, at least to me. But speculation, nonetheless.
I headed out Thursday morning, August 4th. My good friend, Glen Graber, founder of Graber Post Buildings, had arranged for a two-day book signing. For Friday and Saturday, August 5th and 6th. Always vastly optimistic, Glen had contacted Tyndale and purchased several hundred copies of my book. Friday's signing would be in the foyer of his business. Saturday's would be at a large local Amish-themed restaurant, The Gasthof. And since neither place stocked my book, well, in the future they would. Because there was no way Glen was getting rid of them all at the signings.
I love Big Blue, my truck. But not for long trips like this. Guzzles way too much fuel. Plus, I don't want to rack up the miles. So I rented a little mid-sized vehicle from my friends at Enterprise. They've supplied a lot of vehicles for my various wanderings in the past. This time, they came up with a Dodge Caliber. Cool little car, kind of bullet-shaped, a rumrunner's car, complete with satellite radio.
It's a long slog to Daviess, from Lancaster, PA. And tiring. A good 12-hour trip. Two people could run right through. And one person could, too. I've done it in the past. But this time, I figured not to push things. I stopped around Indianapolis that evening. Get some rest. Head on in Friday morning.
I arrived at Graber Post around 10:30 or so. I walked in, and things were bustling. Graber Post is one of, if not the, largest supplier of pole building materials in the country. I had not visited the place for five or six years. It had expanded. Vastly. I walked up to the receptionist and introduced myself. She smiled. Oh, yes. They were expecting me. And then two guys walked into the foyer, carrying a folding table. They were setting up for my book signing.
From the second floor offices, my friend Glen hollered down. Come on up. I walked into his office and we chatted for a few minutes. Then I went back downstairs, to help the guys set up. In short order, we had the table, complete with burgundy cover, loaded with my books. On the front foyer window, two massive posters announced the book signing to all who walked in.
And as soon as we were set up, they came. Mostly employees, at least early on. Many already had their copies. I smiled and talked and signed books. Around 12:30. my nephew John Wagler and my brother Nathan pulled in. They had traveled from Bloomfield, Iowa, to attend. John had stopped at Worthington, IN, some 40 miles north, and picked up his sister Mary Ann, and her husband Jason Stutzman. The four of them walked in smiling, and I greeted them joyfully. A small family reunion, that's what we had there.
Promptly at 1, my aunt and uncles arrived. Mom's siblings. I had asked Glen to invite them. He did. Personally. Sarah and Ben and William (and Mom) are the only surviving members of Mom's family. Sarah and William (or Bill, as he is known), have lost their spouses. Ben is battling cancer that almost took him last winter in Florida.
I don't know them that well. Never have. And in recent years, I have struggled with the reasons why. They were cut off from my family. Because they were not Amish. So in some small way, at my little book signing, I wanted to honor them. And they came.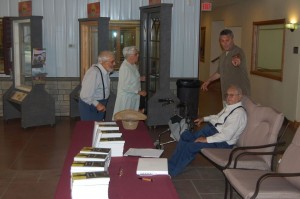 My kin arriving. From R. Uncle Ben (seated), Aunt Sarah, Uncle Bill
I met them, along with Nathan and John. We had set up some comfortable, cushioned chairs, behind the table, right beside mine. We helped them in, and seated them. And there they sat, as people drifted in and out. They smiled. Chatted. Visited with the customers. I beamed with pride. They had come to honor me. I was honored instead by their presence.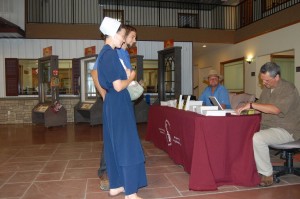 First books signed. Mary Ann (my niece) and Jason Stutzman
And the hours passed. People came and went. Introduced themselves, a lot of them, as old acquaintances I had not seen in decades. I smiled and admitted I had no clue. They smiled back and gave me their books to sign. And by 4 PM, I had signed 101 books. And then it was over.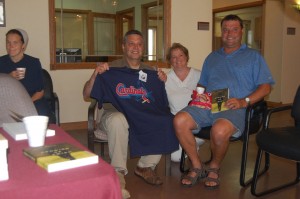 Gift from my blog fan and friend, Beth Russo, who drove over
from St. Louis with her husband, Scot. Uh, I'm not a Cards fan,
Beth, but thanks for the lovely T-shirt.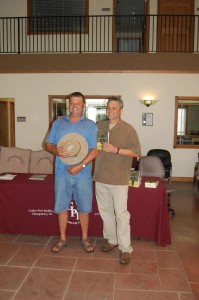 The end of Friday's signing. Nathan and Ira
Nathan and John and I helped dismantle the table and the displays. And then we headed out to Glen's farm, and the cabin where he houses his guests. Glen and his friend "Goody" had been busy for a few hours. Cooking and concocting various delicious mixes. Fresh salsa, very mild, they claimed, but a bit spicy to my taste. But oh so delectable.
We sat around and chilled, while Glen stirred some kind of meat on the stove. Goody, who lives next door and plays the role of caretaker when not at his full-time job, offered to take my relatives on a tour of the "farm," which is actually a wildlife sanctuary, at least until opening day of hunting season. I had toured the place before, so I stayed behind with Glen while the others took off with Goody on some sort of Obama-approved battery powered vehicle that can claw up and down the hills.
They returned, and we sat down to a delicious feast. Glen and Goody can cook, I'll give them that. After dinner, my old friend Ron (Ritter) Stoll dropped by with a friend, and we sat around and chilled some more.
And we rehashed all the old stories about Daviess. The history, the people, their quirks, the church spats and splits, and the wild Amish Daviess youth of the past. Crazy, unrecorded stories. Daviess, Glen and Ritter claimed, did not deserve its sordid reputation. And in the next breath, off they rolled, recounting some wild tale so fantastic that it could only be true. I've never heard such stories in any other Amish community. Some day, someone will have to write a book, based solely on Daviess and its history. It's all just flat out fascinating. And somewhat disturbing, much of it.
Nathan, John and I slept in the cabin that night. The next morning, we headed out to a special place, a place we wanted to tour before the 12 Noon book signing at The Gasthof. The farm on which my mother was born and raised. A few miles north and east of Montgomery.
Through a mutual friend, I had asked permission to come and tour the place. The farm's two small houses are currently occupied by two Amish families. Young couples, with small children. One couple lives in the original house, recently remodeled. The other couple lives in the "Daudy house," which was erected some decades ago for my grandfather, John Yoder. I may have been on the farm as a child with my parents. I can't remember. But most likely I was not, because my father shunned my mother's family. Because they had left the Amish church. That side of the family was off-limits to us.
The farm consisted of a rather small set of buildings. Set on a hill. A ramshackle old barn. An old milk house. A tiny feed shed. A newer machinery shop. And of course, the main house, complete with a water pump out front, the same one my mother would have used as a child.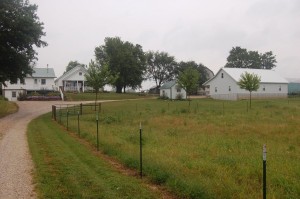 My mother's childhood home. "Daudy" house on left.
The skies wept with rain that morning. Which was significant and profoundly symbolic, perhaps. But it sure made it awfully unhandy, to really check out the place.
We walked into the house, wide-eyed. The small living room, complete with the original trim around windows and doors. The room in which my parents would have sat, on their dates. We walked up into the unremodeled upstairs rooms. Where the children would have slept. Unchanged, the rooms were, since that time. Small, impossibly crowded for six or seven siblings. But that's the way they would have lived, seventy-five years ago.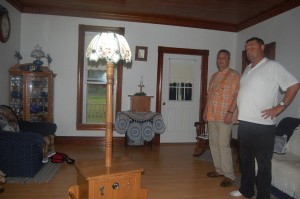 Living room, which we figure was a courting room for our parents.
It was impossible to absorb the enormity of it all in a few short minutes. We walked through the house and the outbuildings, took pictures, and chatted with our hosts. It was a fine and shining moment, one that we will always treasure.
The rain drizzled steadily, so it was over all too soon. And so we headed over to The Gasthof a bit early. The huge restaurant where I first worked as a waiter more than twenty years ago. Now returning with my book. A homecoming of sorts.
We lugged in a case of books and set up at a very nice spot just inside the main entrance. And soon the people came, and milled about. Amish. Beachy Amish. Mennonites. English. More people than I could have dared to hope would show up. Old friends. The Wagler family, the people who gave me shelter and support all those years ago. Dean Wagler and his wife Wanda walked in. Dean looked a bit dubious at the fact that I'd written about him in the book. Even one of the old gang of six showed up. Vern Herschberger drove up from his home in Tennessee for the signing. He tried to sidle past the table, but I recognized him and yelled his name. We had not seen each other in 30 years. We shook hands and hugged, reconnecting like old true friends.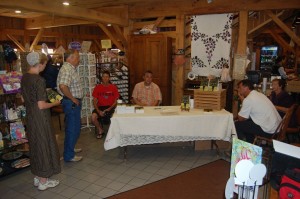 Characters from the book. From L, Wanda and Dean Wagler,
Vern Herschberger, Ira, Nathan
It was a grand old time. And all too soon, it too was all over. John, Nathan, Vern and I grabbed a quick bite from the Gasthof's well stocked buffet. Chatted about old times, rehashed old memories. And then we all headed out for our respective homes. I drove four hours to the Dayton, Ohio, area before stopping at a Holiday Inn for the night.
As a son of a son of Daviess, going "home" was all I could have imagined. And more.
A few words on how the book is moving out there. I'm getting a lot of emails from readers all across the country. Sporadically. Some days one. Some days five. And I mean from all across the country. California. Idaho. Louisiana. Montana. The eastern seaboard. And many points between. Even one or two from my old Aylmer haunts in Ontario. They bought the book at Walmart or Costco, a lot of them. On a whim. And they had been moved enough to go to my site, find my contact information, and write me. I'm always grateful and flattered. I try to respond with a short message to each one, but I am falling behind even on that.
The book has been out for right at six weeks. The Tyndale people have been quite vague about the number published, and so forth. Because it takes a few months for real numbers, real sales, to shake out. Then a few weeks ago, Growing Up Amish came in at #45 on the August ECPA's Christian Bestsellers List (ECPA=Evangelical Christian Publishers Association). The Top 50 books make the list. Obviously a big thrill for me. I'm honored and, yeah, a bit humbled.
But then, two days ago, something far larger came down, something just flat out wild. On Wednesday evening, I had just arrived home from work when my phone rang. It was Carol Traver of Tyndale. Throughout the entire writing and editing and publishing process, I can almost count on one hand the number of times I got a call from Carol. I mean, she's the senior nonfiction acquisition editor at Tyndale. So when she calls, there must be something really big coming down. Either some dreadful disaster (Your book's not selling. Sorry, Bud.), or some fantastic milestone.
It was something really big. A fantastic milestone. This Sunday, Growing Up Amish will debut at #31 on the New York Times eBook bestseller list. In the nonfiction category, of course. The top 35 make this list. So I just barely squeaked in, toward the bottom.
I probably haven't really absorbed it yet. Not fully. It'll take a while, I think. My book will be listed in The New York Times. The Holy Grail. At least for authors. Any way you look at it, that is rarefied air for a hick country ex-Amish redneck. It just is. Ain't no other way to put it. But the journey never stops, it just veers onto different paths. And right now, I'm enjoying the ride on this path.
This blog, along with all its faithful readers, is one reason the book is where it is. Or that it even exists at all. Thanks for your support, all of you. And now, let's get the real print copy of the book on the real New York Times bestseller list. Hey, what chance was there of even getting to this point? With all of you out there spreading the word, one more distant mountain can be conquered.
Share