I am thankful for the mess to clean after a party because
it means I have been surrounded by friends.
—Nancie J. Carmody
_________________
It felt like it was time this year again. I've reached a couple of milestones this summer. So, I figured, why not? It's been more than three years. So a few months ago, I sent word to a bunch of my friends. Garage party at my house on August 27th.
A garage party. People look at you kind of sideways, with a funny expression. What in the world is a garage party? Well, it is what it sounds like. A party in a garage.
Some purists (consisting of some of my nephews and me. Well, OK. Mostly me.) claim the garage may not be attached to the house. Gotta be a free standing structure, the more ramshackle the better. The interior, too, must not be too tidy. Actually, the dumpier, the better. Makes a far more comfortable setting for guests just to hang out and be themselves without pretensions.
I have a detached garage on my little lot. A concrete block structure, with a large addition on one end. There's a huge garage door, big enough to drive a dump truck through, which was what it was actually used for, way back when. The last guy who lived on the place painted cars in the garage. He framed out a couple of bays with dark old hewn oak beams. And strung up some black plastic tarps, here and there. It's all a bit creaky and haphazard, but it works. I don't use the garage for much of anything. Tinker a bit now and then. And in winter, when a blizzard looms, I'll park Big Blue inside for the night. With all the junk stacked about, I can barely fit him in.
The last party came down in late summer of 2007, around my birthday. My world had imploded a few short months before, and I was living alone for the first time in seven years. So I'm not sure why I had that party. Probably because I was in a stunned frame of mind, and wanted to hang out with a few good friends. They came, and we did hang out. And it was OK, even though I don't remember much of that evening.
Since then, the summers have come and gone, and I've had neither the energy nor the inclination to host another garage party. Some of my friends hedged about and mentioned the fact that it had been a while, and I nodded and smiled. Yeah, I should, I guess. But I never followed through. And so it went, for the past three summers.
But then, a few months back, I got to thinking. Maybe it was time to host another garage party. I mentioned the possibility to Patrick, my boss at work, who immediately and enthusiastically endorsed the idea. This year I had some unusual things to celebrate.
First off, there was the book. Released on July 1st, my dream for so long. Now a reality. Seemed like that was reason enough. But there was still one more. My birthday would come in late August. And this birthday would be a milestone.
The Big 5-0. Fifty years old. It all seems so odd and so impossible. When you're fifty, you're supposed to be bent a bit, looking tired and worn. Or maybe that was the old 50. I sure don't feel it. Old, I mean. And so I took the plunge, settled on a date. August 27th. Saturday night. Garage party, at Ira's house.
It's always an eclectic group, that gets invited. A few artsy friends. A co-worker or two. A couple of couples from church. And friends from here and there, loosely connected by the fact that they know me, and generally claim to be delighted to attend my parties. I invited about twenty people. And pretty much to a person, they all promised to come.
And so it was established, a few months back. The date set, the invitations sent. And then it was placed on the back burner, the whole thing. I didn't worry about it much. Or even think about it, really. The day would come soon enough. Besides, with July came the once-in-a-lifetime excitement of seeing my first book hit the market. That was a big deal, and it pretty much absorbed all my attention for that month, and well into the next.
And then, about three weeks ago, I wandered out to the garage to survey the situation. It was pretty messy. A few tattered remnants from my last party four years ago lay strewn about. A dusty stack of paper plates. Plastic cups. Tables and chairs stacked against the wall. Dust and dirt everywhere. The little padded bar with decrepit bar stools I'd bought years ago for fifty bucks stood against a wall, forlorn and dirty. This was going to take some work, to get ready. And so, that Saturday morning, I dug in and began to muck out my garage.
I swept and dusted. Piles of trash accumulated in my old metal garbage can. I swept the walls clean of spider webs. Washed down the bar and a few deck chairs strewn about. You don't use something for three years, it deteriorates on its own. After a couple of Saturday afternoons of labor, the garage began to approach passable status. Clean, but not too clean. Gotta have a little dust, or my guests might feel uncomfortable. After all, this is a garage. An old garage.
The weeks passed. My birthday arrived. I celebrated, somewhat subdued. But not freaked. My fortieth birthday caused a lot more angst than did my fiftieth.
And late that week, a small dark speck appeared in the Atlantic. Relentlessly approached our shores. Irene. And as Saturday arrived, so the hype from the media escalated. I fretted. Should I cancel? What if torrents of rain descended, and the power went off, right during the festivities? It all seemed so impossible, and so surreal. Pick out a Saturday evening two months ago for a little social gathering, and now a hurricane was bearing down, right on that night. Just unbelievable.
I decided to go ahead with the garage party. This would separate the adventurous from the timid. The rain wasn't scheduled to arrive until late that evening anyway. Why let something like a little hurricane throttle my plans? Well, maybe not little. But maybe not as ferocious as predicted, either.
On Friday night, I went shopping. Paper plates, rolls, condiments, juice. And three dozen sausages from Stoltzfus Meats in Intercourse. Among the very best Lancaster has to offer, when it comes to meat. And of course, charcoal for the grill. One ironclad rule for any garage party: NO gas grills. Charcoal only. Not only does the meat taste better, it's also all about the tradition of production. Lighting and nursing the charcoal to just the proper degree of heat.
Saturday came, and I uneasily watched the Weather Channel and checked the headlines on Drudge. From all the hyper-ventilating, one could surely believe that doom and destruction such as the earth has never seen was about to be unleashed upon the land. Including my land. Oh, well. According to estimates, the hard rains would not come until late that night. I putzed about, running last minute errands, filled my coolers with ice, and added the final touches to my garage décor. And scattered wood chips on the concrete floor.
Early afternoon. A few spitting showers came and went. Unsettled skies roiled above. Around 3, my friends Dominic and Jamie Haskin arrived from their home in West Virginia. I hang out at their place at least three times a year, and this was the first time they reciprocated. They would sleep in my empty upstairs apartment. I greeted them, took them upstairs to show them the place, and then we settled in the garage, just hanging and catching up.
By 5:30, others began trickling in, carrying various delicacies in covered dishes and bottles of wine and other refreshments. I fired up the grill and let the charcoal burn to a glowing orange. Shortly after 6, the sausages were carefully laid out. I hovered over the grill, turning the sausages every few minutes. And by 6:30, the crowd was assembled and ready to eat.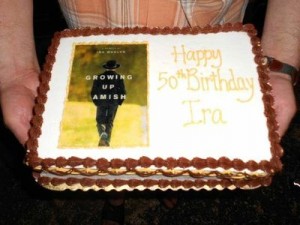 A very cool birthday cake. Thanks to Steve and Ada Beiler.
And a delicious feast it was. Potato salad, at least two varieties. Pasta salad. Regular salad. Two tomato pies (I'd never heard of such a thing, but they were quite tasty). And of course, sausages. Regular. Apple-flavored. And cheese-stuffed. It was soon clear to me that there was enough food on the table to feed far more people than were present. But that's all part of the plan. I love left-overs.
It was almost magical, how the old garage morphed into a smoky little country pub. Classic 70s and 80s music boomed from the decrepit old speakers on the ancient radio, left mounted on the wall by the previous owner. People milled about. Eating. Laughing. Talking. After dinner, we lounged about, many with cigars and drinks. A rousing game of Hi-Lo broke out on my rickety bar, with much shouting and groaning, followed by loud accusations of shady dealing. All in good fun, of course. I briefly joined the action and was promptly shorn of many quarters, after which I made some loud accusations of my own. I fled the game then and mingled, chatting here and there, making sure everyone was relaxed and comfortable. And so the evening rolled along, at what seemed like hyper-speed.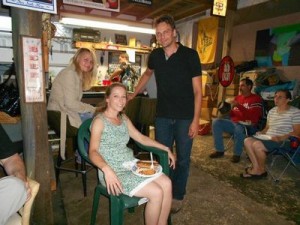 Sharing conversation and food. From L, Sarah, Wilma, Freiman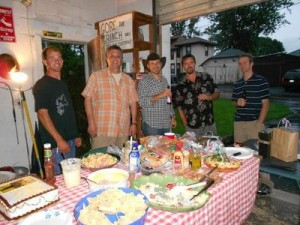 Some of the guys loafing after dinner. Lots of food left.
I should have invited more people.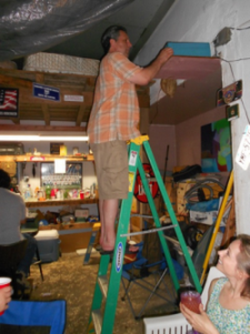 Adjusting the volume on the radio.
And all too soon, guests came up to me, thanked me for the enjoyable evening, and drifted off. Around 11, Irene's rain began spitting sideways from the skies in earnest. By 11:30, I had walked Dominic and Jamie to their upstairs apartment, and carried the remnants of leftover food into the house to place in the fridge. Then I sat at my computer, perusing Facebook. Posted a picture I had taken earlier with my Iphone. Midnight came, then passed. And shortly after that, the lights flickered, struggled back to life once or twice, and then the house went dark. And stayed dark. I sat there in the black and utter silence.
Irene had unleashed her displeasure with a vengeance. My power would not return until 3 PM Sunday. But at least she arrived too late to spoil my party.
A quick update on the book. In my last post, I mentioned that Growing Up Amish had broken into the New York Times eBook bestseller list. And how great that was. Well, the next week, it bounced off the list. Stumbled a bit.
But then, it bounced right back on again. So, for the second time, I'm gratefully announcing my book has been listed on the NYT eBook nonfiction bestseller list. At number 33, this weekend. Thanks to all of you. Some day I may die a pauper. But no one can ever take that milestone from me. Ever.
The folks at Tyndale seem mildly impressed. Excited, even. So much so that they tweaked the cover. I think it's pretty cool. And I think that even if you already own a copy of the book, you should run out and buy this edition.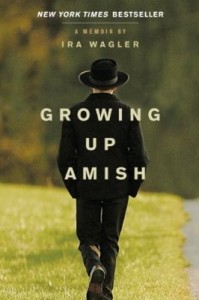 Share