"We are the sons of our father, and we shall follow the
print of his foot forever."
—Thomas Wolfe
______________
I went back again to Daviess last week.
There's never time, really, when the unexpected news arrives. And one can't always make it. But when the word came early last week, I knew that I would go to Uncle Ben Yoder's funeral in Daviess.
Only three of Mom's siblings have remained with us for some years now. William. Sarah. And Ben, who almost expired last winter in Florida, due to complications from cancer. But he pulled out of it, and got a lot better. Even returned home to Daviess. I last saw him at my book signing there in August. He seemed to get around pretty well. But we all knew the time of his passing likely would not be long.
He passed away in the early morning hours on Tuesday, Nov. 8th. The funeral would be on Friday, the 11th. My sister Rachel sent me the texts with the news. I didn't have time to go, really. I mean, I've taken off a lot of days for my book promotions this year. And next week, over Thanksgiving, I'll be gone for a full week. But still, I thought, how many of Mom's siblings have I ever honored thus? Only one, that I could think of. Aunt Anna, a few years back. But that was it.
So I decided to go. To simply take the time. This time. You can't always make it, to every funeral. And no one gets offended if you don't. Or shouldn't, anyway. But this one was important in so many ways. Both to me, and my siblings.
We never knew Mom's side of the family. Not really. We knew who they were, and chatted with them in passing. Ben was always the quiet one. Never had much to say, one way or another. If you had a conversation with him, you'd have to do the talking. He would answer your questions, but rarely ask questions of his own. I'm not sure where this silent trait came from. Maybe from the Yoder side. If so, that silence sure never got passed on to us from our mother. Not to that level, at least. We've always made ourselves heard, always clamored about, whether or not anyone was listening.
I don't fly, not unless I absolutely have to. Not because I'm scared or anything. I've flown dozens of times in the past. But it's a matter of principle. Barring extraordinary circumstances, I won't walk the TSA "security" gauntlet, won't let the goons bark and paw at me as if I were a dangerous criminal. That whole system has no legitimate purpose, and I refuse to accept it as anything other than brute government intimidation on a massive scale. So I just don't fly. I'll drive two days instead. And once they bring that same level of lawless intimidation to all our roads, which they are doing now in several states, I don't know what I'll do. Go back to a horse and buggy, maybe.
And so I set out on Thursday morning, early. Didn't rent a car this time, but drove Big Blue instead. I don't mind the low gas mileage so much, but I do mind all those miles accumulated in a matter of a few days. But this time, for some reason, I decided to let them pile up. What's the use of having a truck, if you don't take it on a road trip once in a while? It's twelve hours, to Daviess. A long, long drag. I settled in and zoned out, and by six o'clock that evening, arrived at my friend Glen Graber's guest cabin outside Odon.
Weddings and funerals. That's when most families gather, when they rarely do so otherwise. For my family, though, it's more the funerals. Because of the Amish thing. Depending on the community in which the wedding is coming down, you can't invite your non-Amish relatives. Like Aylmer. And Bloomfield. And in those places, you can't attend the weddings of your non-Amish kin. It's verboten. But funerals are different. Open to all who will come. And the Amish from both those communities can attend non-Amish funerals as well. So funerals it usually is, when my own clan gathers.
I cleaned up a bit, changed clothes, and drove on over to the viewing. The church yard was packed out. About then Titus and Ruth arrived from Bloomfield. I lifted him from the van and onto his wheelchair and we headed in. I was surprised and pleased that six of my siblings had made the trip. Joseph and Iva from Mays Lick, Kentucky. Maggie and Jesse and his wife Lynda from South Carolina. Naomi and Alvin from Arkansas. Rachel from Kansas. Titus and Ruth from Bloomfield. And me. A pretty decent showing, from Ida Mae Yoder's family. We greeted each other joyfully, surprised that so many of us had come.
Ben's family and their families seemed very glad to see us. We mingled and visited with each other and with many relatives who were total strangers. In such a place and time, at least in Daviess, it always goes the same.
Some nice lady I have never seen before (or certainly can't remember seeing before) approaches and excitedly exclaims my name. I smile and shake her hand. Oh, it's good to see you, she gushes. I smile. And then I simply say, I'm sorry, but I have no idea who you are. Are you my cousin? It's best to just confront it, I figure. Get the awkwardness right out there. So we can both laugh. This happened a lot that night and the next day. Eventually I placed a few faces with a few names. Don't know if I'll remember them, though, the next time. Probably not.
After the funeral service was over late Friday morning, we all gathered in the church hall for a meal. One thing I'll say about Daviess; those people sure know how to cook and bake. Simple, scrumptious food. Daviess is home to the finest cherry pies in the world. Far better than any I have ever tasted in any other Amish community, including Lancaster County. And I should know. Mom used to bake them. And they had those pies there, at the funeral meal. Same texture, same taste, two generations after Mom's time. In Daviess, they know how to preserve and carry on the good traditions.
Around mid afternoon, Joseph, Naomi, and Titus all departed for their respective homes with their respective spouses. That left four of us siblings. Maggie, Jesse (and Lynda), Rachel and me. Jesse allowed he wanted to go see some relatives. He used to live in Daviess, and knows his way around. So, with one of my sisters riding shotgun, I tagged along behind him in my truck.
After a few stops, we pulled up and parked beside the plot of ground that holds more Waglers per square foot than any other in the world, probably. The "Stoll" grave yard, a few miles north and east of Montgomery. I probably had been there decades ago, but don't remember. Here rests a host of relatives from both sides of my family, including my grandfather and great-grandfather.
The story of my great-grandfather, Christian Wagler, was unknown to me until I was an adult. Unspoken, the story was, except in whispers that I could not hear. But mostly just unspoken, as a blackened blot on the family name.
He killed himself. At age thirty-six. Shot himself in the head with a gun. They still know the exact spot where it happened, or close to it. Used to be the Gerome Raber farm, back years ago. I don't know who owns it now. Supposedly, Christian, who had a history of severe mental problems, took the rifle and told his oldest son he was walking out behind the barn to shoot some sparrows. And when the son heard the rifle's crack, he ran out to check. The scene that greeted him has never been accurately described; it remains a horror buried way deep down there, in the annals of my family's history.
We've always heard that Christian was buried outside the grave yard fence. That's what they did, back then. Still do, in some Amish communities, when someone takes his own life. But there is a lot of dispute today, as to whether that really happened. Whatever the case, Christian now rests well within the boundaries of the grave yard fence. Not exactly in the middle or anything, but certainly inside the fence. So either the tale was never true, or the fence has been moved since his day. Who can know? Or who really cares, one way or another, except his descendents?
The story of my grandfather, Joseph K. Wagler, was told and retold in my childhood. A deacon in the Amish church, a stern dark grim man. (Not sure if I'd even want to meet either Joseph K. or Christian in person). But well respected, from all I've ever heard. He too, passed in a most untimely fashion. While pitching oat bundles into the threshing machine on a hot summer day, he collapsed and slid off the wagon.
The events are recounted only from memory. No one wrote down the specific details, unless someone's diary might yet surface and bring them to light one day. So there is some dispute even now as to how exactly how it all came down. The accepted version: they carried him to a nearby tree and laid him in the shade. He passed away there on that spot. Another version from an eyewitness claims they carried him into the coolness of the nearby milk house. And that's where he died. Who knows? Does it matter?
We strolled leisurely through the Stoll grave yard and stood by their headstones, these two men so connected to my past. I exist because of their seed. Genealogies never meant much to me, growing up. Or mattered much, one way or another. But lately, I have grasped and accepted the importance of knowing and connecting to my roots. Who I am. Where I came from. Why I am the way I am.
After dropping the ladies at the motel in Montgomery to get some rest, Jesse and I boarded Big Blue and took off. This time, we headed out to explore the territory our father knew as a child. Familiar with the area, Jesse told me where to turn and where to go. First stop, the farm where my parents lived as a young married couple, after my father returned from CO service after WWII.
A few miles north of Montgomery. The house is newer, built since my parents lived there. The outbuildings sag in a state of sad disrepair. The old barn torn down, only the foundations remain. Another outbuilding, a shabby structure minus a roof, will not long survive. We got out and wandered around a bit. Tried to imagine how it was, all those years ago, on this ground that my father worked from dawn to dusk. And my mother, bent and toiling in the garden in the mid morning sunlight, her young small children tagging along by her side.
On then, almost straight east as the crow flies. To the farm where my father grew up. On the way, we approached the crossroad where he went to school. Parson's Corner. It was a public school back then. The Amish bought the property decades ago. I believe the school has been in continuous use ever since my father attended there as a youth. That is a remarkable thing.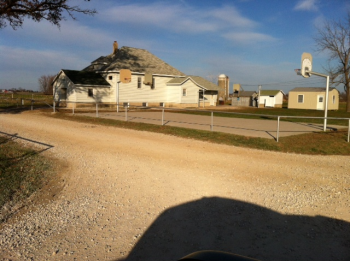 And then back south, less than half a mile. And there, on the left, the farm. Where he was born and raised. Almost ninety years ago. The old house was torn down and a new one built in the year I was born. 1961. The great old barn still stands, and a few other ramshackle outbuildings. We got out and walked around the windswept barnyard.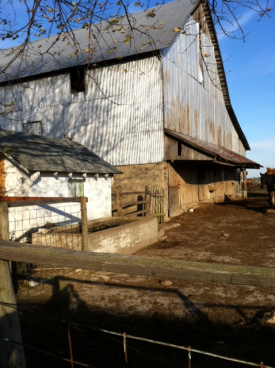 This, too, is a remarkable thing. To stand where your father stood as a child. To see what he saw then, in that same frozen moment, as the late afternoon shadows crept in. To see the very spot beside the old barn where the threshing machine was set up on the day his father died. And the old milk house, where the raggedy barefoot boy poured foaming milk from dented pails into large sweated metal cans settled in the water tank, and slopped some to the cats. This is where he was born, where he lived and grew, where he formed into the man he was.
We stood there, strangers in a strange place, and absorbed the moment. My own history, at least for many years, was one long trail of constant, restless movement. Of running to and fro, here and there, to no particular destination. This spot, this place, stands as a symbol of something strong and resilient. Something from long, long ago. Something that has remained.
This is Daviess. The land my father fled many decades ago, when the wanderlust struck him. The land he left behind. The land that lies buried in the ancestral memory, the land that calls me back again and again.
But we are strangers to this land, my father's sons and daughters. And, except for some few rare and fleeting moments, there can be no return.
Share