There is the bridge we crossed…and the creek. There is a field
of wheat, a hedge, a dusty road, an apple orchard, and the
sweet wild tangle of a wood upon a hill…And there is six o'clock
across the fields again…We shall not come again, we never
shall come back again…
—Thomas Wolfe
______________
It had the makings of a classic gathering from the moment the plan was conceived. The younger elements of the clan, all my nephews and nieces and their families, were invited back to Bloomfield for Thanksgiving.
My nephew, John Wagler, lives a few miles north of Bloomfield, with his wife Dorothy and their children. John left the Amish church years ago, but did what I could not do. He remained in the area. Nurtured the construction business he had launched as a young Amish man, kept it going. And developed it into the primary metal roofing business in the tri-state area. He met and married Dorothy (or Dort, as she is known), and planted roots just outside the fringes of the area where he was raised. Bought a farm and built a fine log home. All outside the fold of the Bloomfield Amish church structure.
Months ago, he emailed me. He was inviting all his cousins, all my nieces and nephews, to his home for Thanksgiving. Would I consider attending as well? Of course, I said yes. My brother Nathan lives in the area and works for John. So a couple of the uncles would be there as well, to celebrate with their kin. And to keep the younger guys, our nephews, straightened out.
I had to return to Bloomfield sometime, I knew. At some point, after the book was out. I had to return. Just to see the land again, the community that now seems so strange and foreign, and those few of my old friends who remained.
And it wasn't long after the date was set that John and Nathan were making noises about having a book signing in Bloomfield. It would work, they claimed. The English people would come. Maybe not the Amish, but the English would. I thought about it. It should work. Then John texted me the number to the Get-Togather Room, an old store front on the north side of the town square that had been converted to a community place. One could rent it, John said. I called the number and spoke to Pam, the nice lady who takes care of the scheduling. Yes, she said. The Room was available around Thanksgiving. The cost would be $35.00 for three hours. So I got it scheduled, then rescheduled to Friday afternoon, the day after Thanksgiving. From noon to 3 PM.
And then I put the whole thing on the back burner. Didn't think about it much. The time would come when it came. As it did, soon enough. I had half a case of books at home. I ordered two more for the trip. A total of around 93 copies. That should be enough for any book signing.
I planned to start out on Sunday, before Thanksgiving. Meander my way west past Indianapolis, stop for the night, then cruise on in to Bloomfield on Monday. When I went to Enterprise to pick up my rental car on Saturday morning, the nice lady kindly mentioned that she had a couple of new Dodge Chargers on the lot for just a few bucks more than the compact model I had reserved. My choice of colors. Black or cool-orange. My ears perked up. Dodge Charger. I'll take the orange one. The nice lady seemed pleased.
She brought it up to the front, and it was one cool car. A mean-looking powerhouse rum-runner's wheels. I practically drooled. This would be a good trip. I wouldn't be running moonshine, though. I'd be running books.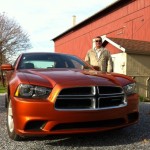 The Book-runner.
For an 8-day road trip, I pack a lot. Throw everything I might remotely need into a large red suitcase and a couple of duffle bags. That night, I began packing the Charger. Lugged out my cases of books. The cool glossy sign of my book cover. And the next morning, by 8:00 or so, I was pulsing down the road in one of the coolest cars I've ever driven. Unbelievable power. And unbelievable fuel mileage. On that trip, I averaged better than 30 mpg. The fuel gauge didn't go down, hardly. It just sat there, unmoving.
Bloomfield has a brand new two-story motel. A national chain, no less. Cobblestone Inn and Suites. I don't know why anyone would have built such a thing in that town, but there it was. And John had negotiated some reduced rates for the "Wagler group." By Monday afternoon, I was unpacked and settled in a clean new room with a king-sized bed.
Out then, for the evening at John's house, halfway up to Ottumwa. The boy (to an uncle, a nephew is always a "boy") has done well for himself. Very well. Some years ago, he built a big beautiful log home on his wooded farm, toward the center. And lately he's added a big new wing off to one side, with a tower out the top. A garage below, bedrooms on the second floor, then the tower. The view from the tower is breathtaking. I'm thinking John might be "hunting" deer from the warm comfort of his own house in the not too distant future.
A few guests had already trickled in, John's siblings. More would arrive Tuesday. And the rush would come Wednesday. I hung out that night at the house, chatting with John and his brother Glen, and their brother-in-law, Josh. Nathan had slipped off to the Des Moines airport to pick up his girlfriend Juanita, a lovely lady he met a few years ago in Canada. They arrived around 9, welcomed by clamorous shouts.
On Tuesday, I putzed around. Nathan and I drove out to see Titus. He was in the office of his truss factory, Midwest Truss, stressed and busy. For the first time in their history, they are running behind in filling orders. Which is a good thing, to have all that work. Titus manages the place, and logs a full day of work every day. Better that way than sitting around, twiddling your thumbs. Better too busy than too slow.
That afternoon, I stopped by the offices of the local weekly paper. The Bloomfield Democrat. There, I met Scott Spurgeon and his father Gary. The local press. The week before, Scott and I had talked on the phone for about an hour. He had read the book, and promised to do a write-up on it. He would announce my Friday book-signing to the Bloomfield world. To both the English and the Amish.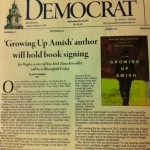 The new edition of the paper arrived at Scott's office around 4:30. He beamed as he handed me a copy. And there it was, on the front page, top left corner. The first spot that catches your eye. "Growing Up Amish" author will hold book signing. Scott had kept his promise. The article was informative, well written, and accurate. I couldn't have asked for better publicity. I bought ten copies, thanked him profusely, and left. That night I hung out at John's home with the ever growing crowd of guests.
On Wednesday morning, I drove to West Grove to see Mrs. C, the lady who ran Chuck's Café decades ago. The café is gone now, leveled back sometime in the 1990s. But their home is still there, the same place where I used to watch a bit of football, now and then, as a young Amish man. Mrs. C, now 80 years old, but looking much younger, welcomed me with a big hug. She beamed and beamed. She had read the book, and seemed very proud that she and her family played an important role in it.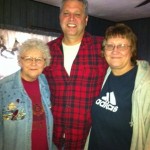 With Mrs. C and her daughter, Linda Clark.
And then I headed on out on the gravel road to the old home place. The farm two miles north of West Grove. My nephews Glen and Mervin, and their brother-in-law, Jason Stutzman awaited me. They had agreed to walk back with me to the northern pasture where I had buried the Stud. To visit his grave with me.
The old rickety wooden bridge that spanned the Fox River is gone now, too. Washed away, many years ago. In its place, a brand new modern concrete bridge. They even changed the curve of the road; it now sweeps way north and slices into the rich black bottom fields I used to plow.
The mud-spattered Dodge muttered and bumped along the rutted lane as I approached the old homestead. A tattered cluster of buildings nestled into the hills. The place has been crumpling for decades. It was far from a tidy operation back when I farmed. But compared to its current condition, it was pretty much picture perfect back then, neat as a pin. Some Amish man and his family from Wisconsin bought the place and moved in six or eight years ago. The guy apparently has an issue with simple maintenance. Might be against his religion, or something. Seems like a shame, but it's his place now, and he can do what he wants.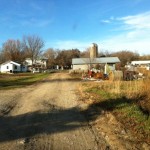 Approaching the "tattered cluster."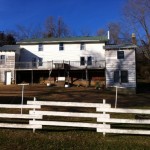 The old house is in bad shape.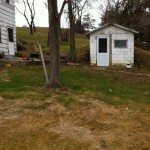 The old washhouse, where Mom was working when Nathan walked out and left.
Few emotions surfaced as I approached the tattered buildings. Those were all pretty much burned out of me last year when I immersed myself and went "way deep down" to relive the scenes so I could write them for the book.
I thought I remembered the draw where the Stud was buried, and Glen claimed he could lead me to the spot. We set out, tramping up the old lane to the north, navigating a number of single-strand electric fences that somehow had sprouted in haphazard and completely random patterns through the fields. Around the first draw, then down to the dry creek at the bottom of the hill, dodging the wicked electric wires. And then Glen walked right up to it. The post I sank beside my horse as the sun went down on that long ago night.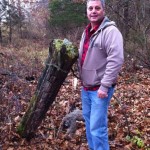 It leaned dangerously, right over the Stud's body. Weathered with age, the top covered with moss, a few raggedy remnants of his halter still clinging to the top. And there I stood, on that spot, where I had buried my horse twenty-five years ago.
On the way back, we walked over to the old pond. Where we used to play hockey on the cold winter nights, way back. Where Sarah and I sat on the bank, where she wove that ring. I stood at the spot where we sat. The pond is a mud hole now, and no grass grows on the banks that produced the woven ring all those years ago. The ring that I still have today.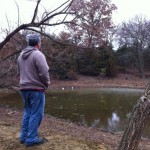 The spot where we sat.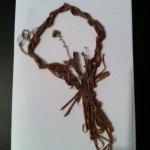 The woven ring.
John had cooked up a huge pork feast for that evening, but Nathan, Juanita and I headed out for a meal with Titus and Ruth. And their boys, Robert and Thomas. They all welcomed us. Ruth bustled about, preparing a large pot of milk-based bean soup. The same recipe Mom used, way back. Laced with bacon, bits of greens like celery. It smelled simply mouth-watering, and, smothered in corn bread and covered with ketchup, it tasted even better. Exactly as I remembered it.
We later joined the huge crowd at John's house. They could not all make it, his cousins, but a good many did. From all over. Canada. Indiana. Missouri. Kansas. Minnesota. And maybe a few other places I'm missing. My sister Rhoda and her husband Marvin even showed up that night, with their children. I had not seen them since the book was published. We greeted each other joyfully. It was a loud, boisterous crowd.
Thanksgiving Day arrived, and it was all it could have been. A great many people from diverse places, from various degrees of "plainness" to flat-out "English" like myself, all assembled in peace. Around sixty people, total. And children, children everywhere. This is how it should be, how it should have always been. This was my family. My blood. Eating, feasting and enjoying the company of each other.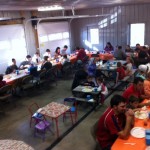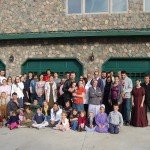 After the Thanksgiving feast, the group photo.
John had set up a vast U of tables in his new garage. There was smoked turkey. All the fixings. And some of the finest pies I've ever tasted. Including my old favorite, raisin cream. The Lancaster people, those of shoo-fly fame, could learn a thing or two about pies from the Midwest Amish. The garage echoed with the clamor of our feast. And of our joy. That afternoon, people relaxed. A van load of us, including John and Marvin and Rhoda, took a tour of the old Bloomfield community. Somehow we ended up at our old home place again. It was probably the first time Marvin and I stood together on that soil since the days we farmed it long ago.
The day passed at hyper speed, as all such days do. I went to bed late that night, slightly stressed about my book signing the next day. Would many people show up?
The next morning at 9:30, Nathan, Juanita, my nephew Reuben Wagler and I met at the Get-Togather Room. Surveyed the situation. A smaller room up front, where we would set up the table with the books. And a much larger room in back. And in the back storage room, a host of tables and chairs. We set up tables in the back, for people to sit and visit. And my book table up front, decked with a tablecloth I borrowed from the very kind lady who operated the flower shop a few doors west. I lugged in my books. Two-plus cases. A total of 91 copies (from the original 93, I had given Scott Spurgeon and one of his workers a copy each). Set them up. I then ran out to buy some incidental stuff I needed while the others raced back home to fetch a large coffee urn and Styrofoam cups. They had decided we needed coffee for my readers.
We were all back and settled in and set up by 11:45. Five minutes later two ladies strolled in. They were the first. From that point on, for the next 90 minutes, the little front room was crammed with people. Some brought their own copies for me to sign. Most wanted to buy a signed copy. Nathan sat beside me at the table and took the cash and made change. I smiled and signed books and thanked each person for showing up. It was all very intense and it was all very good. The stuff memories are made of.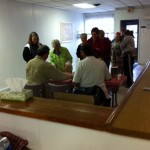 The rush is on.
I had rented the Get-Togather Room for three hours. The minutes rolled by, then an hour. People came and some hung around and some left. All clutching books they had purchased, books I had signed. In the back room and behind the old counter to the right, my nephews and nieces milled about, talking, drinking coffee, visiting, absorbing it all. And chatting with those who hung around for a while. Scott Spurgeon, the news guy, lurked about with his camera, taking pictures for a follow-up article in his newspaper. It was a bustling, flowing scene, and I could catch only snippets of it, because I was too busy signing books and chatting briefly with those who had come to see me.
The crowds kept pressing in, and grabbing my books at an alarming rate. And right at the 90-minute mark, halfway through, the last book was sold and gone. Every box was empty, the table was bare. This was truly a remarkable and unprecedented thing. At least for me, it was. I had not expected such a turnout.
But there was a backup plan. I dug into my briefcase and got out a batch of promotional cards Tyndale had printed up for previous signings. With many profuse apologies, I signed and gave out those cards and told people to please purchase the book locally. At Wal Mart in Ottumwa. Which is chronically out of my books, from all the tales I heard. And the Welcome Center in Bloomfield stocked it, too. Try there. Most people took it in stride. One or two, though, were visibly disappointed and upset. Stalked out silently. What could I say? Who could have seen this coming? I was hugely mortified. A big book signing, right in my old home town. Bloomfield. And I had run out of books, for crying out loud. I would have been upset, too. Inexcusable.
But it was what it was. I greeted each new customer with a smile and many apologies, and signed and handed out the promotional cards.
I always keep a tally of books signed at every event. As three o'clock rolled around, I totaled the tally. I had signed 135 books. And 42 promotional cards. By far the most autographs I had ever signed at any previous event. By far.
Many of the old timers who used to hang out at Chuck's Café have passed on. They were old back then, and the years have taken their toll. But some remain. And a good many of them showed up. I don't know who was the proudest. Me or them. Probably me.
Of the old-timers I used to hang out with, Chuck Leonard showed up. The man of Chuck's Café fame. And his daughters, Linda and Margie. And even Bill Gibson walked in, the man who ran the old feed store in West Grove, way back. I didn't recognize him until I heard him speak. I proudly signed his book.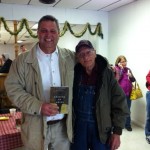 With Chuck Leonard, of Chuck's Cafe
And one other important character from my past walked in. DeWayne Cason, and his wife, Debbie. Debbie arrived first, with her daughter, Amy, and Amy's husband. I greeted them, and practically demanded to see DeWayne. Debbie made some calls. Assured me that he was coming shortly. And soon enough, he walked in. The man who had dropped me off at the Ottumwa bus station, the first time I left home at seventeen. We hugged. And picked up right where we had left off, with our bantering chatter, almost thirty years ago. It was a very special moment among a host of special moments.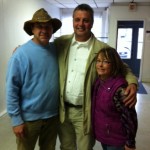 With DeWayne and Debbie Cason.
Ed Yoder, too, drifted in with his family. A good friend that I have not seen for decades. Actually, we became good friends through this blog and on Facebook. The last time I remember seeing Ed, I was holding him upside down in our barn after church one Sunday. He was an exceptionally mean little kid. And he was messing around in our milking barn that Sunday after church, doing some sort of mischief that I no longer remember. So I grabbed him and held him upside down and scolded him severely. We both laugh about it now. Ed, as an ex-Amish guy who fled Bloomfield at age 16, traveled the long ragged path so similar to my own. Took off on a few side trails that I somehow avoided. Today he is settled in Illinois, with his lovely wife and children. It was good to meet him after all those years, and to reminisce together about the old days in Bloomfield. Unfortunately, the one lone photo of us together did not turn out well, so there is no visual evidence of my claims.
And right at 3 PM, we wrapped it up. Cleaned up the place. It was over. My Bloomfield book signing. A smashing success. I felt exhausted. And exhilerated. Mostly, anyway.
Often, a writer is given no honor in his home town, at least not from the people about whom he wrote. And that was certainly the case for me in this return. Not a single Amish person from the Bloomfield community came to the signing. Not one. Which wasn't that surprising, really. The Bloomfield Amish are hunkered down. In denial. That was their choice, not to come. And that's fine. They are free to act as they see fit. But their absence also speaks strongly about their reactions to the book.
It shouldn't bug me. I know. The rejection apparent in their collective reaction. But it does, some. I'll admit that freely. I guess I'm so far removed from their world that I no longer can grasp what it's really like. At least not in any rational sense.
History, I believe, will judge my book kindly. As one of the first, if not the first, honest stories from someone who had emerged from inside the Amish culture that was ever picked up and published by a major player like Tyndale. The story was honestly told. And respectfully told, without bitterness. At least, I tried hard to make it so.
But that, of course, was not enough. It never is.
Always, there is the manufacture of offense. Always, the obstinate refusal to look honestly into the mirror. Always, the cultural flaws, the human failures of the past are ignored as if they never happened. And heaven help the one who remembers and speaks of them to the world.
I'd like to shake them, the Bloomfield Amish. (And the Aylmer Amish, too, come to think of it.) Shout in their faces. But I won't shake them. I won't shout in their faces, either, at least not literally. I'll speak to them on this blog, though. And I have a few things to say.
The book should not be feared. It's simply my story, from what I saw and felt and experienced. From my perspective. I have never claimed it to be anything other than that. Everyone's journey is different. This was mine.
In your hearts, you know that I held back on a whole lot of hurtful stuff. Prurient stuff. Embarrassing stuff. And even some really bad stuff. I really did hold back. Because the really bad stuff was never a part of my own experience. Because I respect the good things in the culture, the good things that are so much a part of who the Amish really are. I always will respect those good things. And deeply admire them as the rare qualities they are.
Stop. Focus on what I just said. Just this once, instead of honing in like a laser on all my perceived offenses. Try it. Try being honest. You will experience vast new dimensions of freedom such as you have never known.
The book is what it is. And it will be what it will be, in the future.
I sprinkled a lot of pictures, or photos, on this blog. Far more than I normally do. They show the actual spots where things came down, and some of the actual people that were in my world way back in my Amish days in Bloomfield. And one might ask, as some have. Why weren't those photos included in the book? A valid question. But I think back to something my father told me years ago, when I was grumbling to him about the fact that the Amish have no pictures of their people, or of their past.
"You don't need pictures, not if your writing's good," he said. "The words paint the pictures for the reader."
I've thought about his words many times since he spoke them. And what he said is true, at least to some extent. I won't say never, but I don't think you will ever see any pictures of places or people in any books I might write in the future. The words will produce those in your mind. This blog is the proper place for real pictures, to reinforce the mental images you have already formed.
And that, pictures and all, was my return to Bloomfield. A journey I will always remember fondly in my heart. Wildly successful in many meaningful ways, an utter failure in others. I don't know when I'll make it back again. I don't expect to ever see the old house on the homestead again. Word is that the guy from Wisconsin who now lives there is making noises about tearing it down and building a new one. I don't blame him. The house is literally falling apart. In some of the more populated areas of the country, like Lancaster County, it would be condemned as uninhabitable. And to be truthful, most if not all of the buildings on that farm should be bulldozed. Just leveled out. That's how dilapidated they are. The deterioration has reached a point that is painful to see.
Next time I come around to the old home farm, it will no longer be the place I have known. The place I left so many times, the place that drew me back like a magnet again and again. That place is gone. Just….gone. It's hard to grasp. The end of one era has passed. Another has begun.
The tides of time roll on, the seasons and the years. As they always have, and always will. Absorbing the new generations, the new blood that rises to replace that which was before. But the land remains, silent and enduring, until the end of time. And it will always harbor in its soil the remnants of memories of long ago. Memories of all those who settled upon it, and the woven tapestries of their lives. Even if they lingered there for only the briefest of moments in the long slog of the human march through time and history.
The memories remain, rooted in the land. Memories that will all too soon be lost, in the dark fog of time and history. Unless someone writes them.
Share