After they are gone, all they have left unsaid will
remain unsaid forever…
—Ira Wagler, At Dusk in Winter
___________________________
It's certainly been nothing to complain about, the winter so far. Mild weather, almost no snow. A cold snap now and then. But manageable. By this time, in the last two years, we had been blasted with several massive snow storms. I really detest snow. And we'll get at least one good whacking at some point, I'm sure.
I should head on down to Sarasota, and hang out with the Pine Craft crowd for a week or two. Especially now that my parents arrived there right around the New Year. They plan to stay for three months.
I'm happy for them. Dad just turned 90 in December. They need to be where it's warm. And Pine Craft is the perfect place. He likes to putz around and visit with people. He even got a little battery powered cart, to trundle around on. His knee has been bad for decades. Gotten worse, as the years encroached. So it's hard for him to walk. The little cart should do wonders for his mobility. And, of course, he' still cranking out his writings and keeping tabs on his numerous business affairs.
Mom is pretty much out of it, from Alzheimer's. She sits and smiles. And smiles and smiles some more. Maybe she's enjoying, absorbing her surroundings. Maybe not. And maybe it's pointless to look too closely at the past. But still, I can't help but say a few things like I see them.
She never got to enjoy the warmth of Sarasota sunshine in winter back when it would have mattered. Back when she could have lived it, when she could have really soaked in the joy of it. When she could have spent the days with her sister Rachel, and her brothers, Ben and William. And their extended families. Back twenty or even ten years ago.
Because back then, my parents lived in Bloomfield. And it's against the church rules there, to travel to Florida for a few months or even a few weeks of leisure in winter. Because that's too worldly. Because there can't be any benefit in idleness, in simply hanging around every day. No benefit in visiting with others from far-flung communities. And so they forbid it. Ban traveling to Florida in winter.
It's certainly not unique to Bloomfield. I want to say that clearly, to be fair. I'm not picking on my old home turf just for spite. I'm not. But it's the only frame of reference that I have. The only scenario I can speak to, from what I saw. The rule is very common, in the many small communities dotted about the Midwest. In all their various flavors of church Ordnungs. In all their plainness, and all their strict living. You do not go to Florida for the winter, or even for a week or two. You just don't.
I don't know what they expect their elderly people to do, in those communities that forbid such travel. They sit around, the old people, snowed in, shivering from the cold. Stoking the kitchen fire all day and half the night. And for some of them in those many communities, visitors are scarce. A few rare treasured moments of distraction, over all too soon.
And they settle in for the winter, the old people, and at least some few quietly slip into depression. They have to. There's simply no other recourse. All because church rules forbid them to travel to a happier clime. Like Pine Craft. Where they could see and meet and visit with all sorts of people. From all sorts of Amish communities, across the land.
A few years ago, my parents moved to May's Lick, Kentucky. Along with my oldest brother, Joseph and his family. May's Lick is more advanced in many ways, with more relaxed guidelines. And if you live in May's Lick, you are allowed to spend the winter months in Florida.
Which is a beautiful thing, for my parents. Each year, Dad can't wait to head down as winter approaches. Sadly, Mom was already about 85% gone when they moved to May's Lick. And now she is allowed to travel south with Dad for the winter. Now. Now, when she has little if any grasp of what's going on. And I don't care what anyone says, nothing about any of all that makes a lick of sense.
And I think of her, this woman who is my mother. Of who she was, as a young girl. Of what she saw and felt. And of all that she endured in her 88 years on this earth. Perhaps she's happier now, in this state, than she's ever been. Who can know? She has seen so much and endured so much. From the weariness of decades of toil. From her husband. And from certain sons. And still, there she is, smiling and smiling through the dense fog that has enveloped her. Who can really know how much she absorbs from all of life as it flows around her?
In August, when I was in Daviess for that book signing, we toured my mother's childhood home. My brother Nathan and my nephew John Wagler and me. We were accompanied by some friends who had arranged the visit with the farm's current owners. I wrote a bit about that when it happened. But I didn't have the time or space to write it all.
The two young Amish couples who now live there were extremely friendly. Took us all about the outbuildings, and the house. And as things were winding down, one of the young men said they have one more thing to show us. Something they figured we would be interested in seeing. And he told us a story.
A few years back, or whenever it was they were fixing to move onto the place, they remodeled the house Mom grew up in. Whacked out some walls, changed the kitchen, and so forth. In the process, they tore off a lot of the trim around the bases of the rooms. And a lot of other lumber, too. Old wood. All of which was piled up outside to burn. And after a goodly pile had accumulated, they lit the thing. Flames devoured the wood, and it all went up in smoke.
The fire burned until it burned itself out. All the old wood was gone, except for a few small remnants that had burned off and fallen far enough away from the flames to survive. And I don't know why, but one of the men picked up one of those charred little remnants. Maybe he meant to pitch it onto the glowing embers that remained. But before tossing it away, to be lost forever, he happened to glance down, to look at the back of the old piece of trim. And on that tiny remnant, there was some handwriting. In pencil. Written in 1939. By my mother, when she was a young girl of sixteen.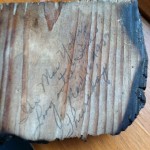 I look at that, and I marvel. And I wonder. What was it like that Thursday in November, back in 1939? Sixteen. She was sixteen. Was it morning when she wrote that? Or later, in the cold dreariness of a Daviess winter afternoon? Did she sneak that writing in, on a stack of trim? Or did she do it openly, as her father smiled? Did her siblings, too, perhaps write their names on that same piece of trim, now lost in smoke? What was going on around her, as she took those few seconds to scrawl some lines on some wood? Did her mother chide her, and tell her to get to stop goofing off, to get busy with the housework? And a thousand other things. I wonder. I'll never know, but still, here is this frozen moment in time, preserved for all of history. But more importantly, preserved for all her children. And her children's children, and beyond.
Any way you look at it, the fact that this little piece of trim survived the twin ravages of time and fire is nothing short of a miracle. I believe that. I really do. Look at it. Charred on two sides, almost the flames took it. Should have taken it, by any measurable standards of mathematical randomness. Taken it away forever. In which case we would have been none the wiser, because we would have never known. But against the longest odds, here it is.
Nathan and I gaped. Then drooled. And the kind young man motioned to me. And spoke.
"It's yours," he said. "Take it and keep it. It belongs to your family."
Awed, we thanked him. And I brought it back home with me. And since I have no children, and have pretty much zero prospects of ever having any, I gave the little treasure to my brother, Stephen. He has sons to carry on the Wagler name. Including his oldest son, named after me, because he was born on my birthday twenty-eight years ago. Which is the only reason he was forever saddled with a name like that.
Ira Lee Wagler, when it gets passed on down to you, preserve and value this treasure for what it is.
Alrighty, then. How about the Super Bowl? It should be a great one, but it's hard to think that it could match either of the League Championship games last Sunday. Both were classics, ending in abrupt, absolute heartbreak for the losing teams. And with one slightly different outcome, one slightly different bounce of the ball at any given time in either game, the Harbaugh brothers could just as well be facing off across the field come a week Sunday.
I'm for Eli, and the Giants. I take seriously the business of despising certain teams in sports, and the Patriots are right up there close to the top of my hate list. Not that I don't respect them. I do. A lot. Bellichek and Brady are among the very best at what they do. Not just now. But in all of the history of football.
Much of my intense dislike for the Pats was forever cemented a few years ago, on that 18-game win streak. When they went undefeated, all the way to the fourth quarter of the Super Bowl. In many of the regular season games that year, the Patriots blew out their opponents. Didn't respect them. Brady kept throwing touchdowns when the score was 45-10, or some such ridiculous thing, in the fourth quarter.
When you reach the top of such a rare place, the peak of a mountain that very few have seen, you better have some class. Some respect for where you are. And realize how fleeting it all is, and how soon it will all be gone. Sure, there's all sorts of excuses. Football is football, and teams should play to the best of their abilities all the way through. That's lame, though. When a team is beaten, pull back a bit. Don't push faces into the mud when you don't need to. That year, Brady and his bunch of bullies did just that. Pushed faces into the mud.
And Eli and his boys took them down. In the closing moments, in spectacular dramatic fashion. It was a beautiful thing to see. Ruthless arrogance shocked and humbled by the harsh reality of the final score. Pretty much the whole world cheered, except for maybe a tiny region around Boston. That was definitely the most satisfying Super Bowl in my memory. Just to see it happen. To see the football gods smile and serve some justice.
This time, the Giants will be more respected. But probably still underdogs. I hope it's a good game. I'd settle for a yawner, though, as long as it's the Giants winning in a total blowout.
Share