For the wild tempest breaks above us, the wild fury
beats about us, the wild hunger feeds upon us—and
we are houseless, doorless, unassuaged, and driven
on forever…
—Thomas Wolfe
______________
Wednesday of last week seemed like another ordinary morning at the office. But not for long. Early on, a phone call from a guy I didn't know who asked for me. An older guy, from the sound of it. He wanted to check before he came out to see me. In a somewhat quavering voice, he introduced himself. He lived in Lancaster. Had just finished my book. Then he'd discovered that I'm local. That I worked at Graber. Would it be OK if he stopped by for just a bit that morning?
Of course, I said. I got a few minutes for anyone who stops by. Bring your book, and I'll be happy to sign it for you. Thanks, he said. I'll be out later this morning.
An hour or so later, he walked in, smiling. "Is Ira here?" he asked. Yep, that's me. And he walked up to my counter and shook my hand. He was old, in his eighties, I would have guessed, stooped and bent.
His name was Chester Haverstick, and he lived in Lancaster. He'd picked up my book a few days before. After reading it, he discovered the author was local. Worked in the general area. And then, he thought, let's see if I can get hold of the guy. That's when he had looked up the Graber number in the phone book and called me earlier. And he had driven out to see me by himself.
He had been around for a long time, from the look of the seams on his weathered face. But it's been a long time since I have been around someone who exuded such a deep, deep level of quiet peace. He was simply joyful. Happy. You could see it in his bearing. You could see it in his smile. And it shone from his eyes.
"That was a lot of turmoil you went through," he said. "I had to think back to what my Sunday School teacher told me years ago. It's all about love, not the law."
It is, I agreed. It is about love. He leaned in to hear my words.
"Isn't Jesus just great?" He beamed. He is indeed, I said.
Chester had self-published a little book about his life. He had come to talk about mine, but also to give me his book, aptly titled "My Life." Would I like a copy? Absolutely, I said. If you sign it first.
He had forgotten to bring my book for me to sign. His primary purpose was to bring his book to me, I think. Which was totally fine. He opened the front cover of his book, and I gave him a pen. Slowly he scrawled his name in impossibly fine script. Don't forget to date it, I said. So he did that as well. Beaming, he handed me the hard cover book. I thanked him. And we chatted for a few more minutes.
"I can't believe I'm talking to you," he said several times. Then, "How old do you think I am?" That's always a dangerous question, coming from anyone. But I figured to play it safe. Oh, I'd say about seventy, I said. He beamed again and pointed up. Higher. Nope, I said. I'm not guessing again.
"I'm 94 years old," he said, beaming some more. I'm honored, I replied. I'm honored that you came to see me, and I'm honored that you brought me a copy of your book. After chatting for a few more minutes, I told him I'd have to get back to work. We shook hands, and he turned and walked out. Still smiling, just quietly joyful. How remarkable, I thought. He's probably my oldest fan. I can't quite see ever getting that old, but if I do, I want to be as happy and content and joyful as my new friend Chester Haverstick.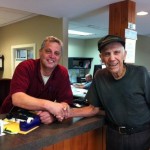 And things moved along at the office, like any normal morning. An Amish guy called and ordered four sheets of metal roofing, twelve feet long. A driver would stop in shortly and pick them up, he said after I gave him the total price. The phones rang, but during the intervals, I thought a good bit about the old man who had driven out to see me that morning. How cool it was, that he did that. And I thought about his quiet joy. Absorbed it.
About then, a young man walked in. Mid-twenties, I'd say. Clean cut, with a well-trimmed little beard. I greeted him. He had come to pick up those four sheets of metal for the Amish guy. I took his check and printed out his invoice. He smiled at me. Then his eyes caught the little poster I have taped up about my book. Instantly he became alert.
"Did you write this?" Yes, I did. "Are you a Christian?" Yes, I am.
He leaned in against the counter, his intense eyes looking right through me. "Tell me, what does it mean to be a follower of Jesus?" It was a challenge, really, in the form of a question.
Well, what do you do with a question like that? I wasn't prepared mentally to engage in any debates, especially in my relaxed state of mind after Chester's visit. Whatever answer I gave would be wrong. There was no way I was going to get it right. But I engaged.
It's love, mostly, I said. The love that Christ gave, to love others like that. And to meet them where they are, as He did.
He was friendly enough, and stayed friendly. It's just that he was so adversarial. Of course, I had flunked the test. And he launched right in to tell me how it really is. Repentance. And yes, judgment of sin. Love is fine and all. But it takes more than love.
Look, I said. That's all fine. Sure it takes repentance. And sure, we judge sin. But I'll tell you this. You don't talk down to people. If you don't get right out there and right down there and meet people where they are, as they are, your message will be lost. That's just how it is.
"Would you have time to meet some evening?" he asked. Sure, I have time. But I won't, I told him. Tell you what, though. You buy my book and read it, then I'll meet you to talk. Then you'll know where I'm coming from.
He considered my offer for a moment. "I got so much reading to do already," he hedged. But you have time to meet with me to "talk," I thought. Which really boiled down to he didn't want to meet to listen to me talk. He wanted to meet so I could listen to him. No deal, I said. Get the book and read it, then I'll meet to talk.
"How much time do you spend reading the Word every day?" he asked suddenly. Another bunny trail, another trap. What difference would that make? Whatever I said, it wouldn't be enough. Besides, how much time do I need to spend each day, to reach his level of salvation? Fifteen minutes? An hour? Three? Half a day? Full time all day, maybe? When do you reach the point of being saved from having been lost, from how much time you spend in the Word? Or how much time must you spend in the Word to keep yourself saved? Maybe that's what he was after.
He left then, still wanting to meet to talk. When you read the book, I said. But he did take a business card, and I scrawled my blog address on it. He'd check it out, he claimed. Maybe he did. Maybe he didn't. And maybe he's checking out this post. He drove out to the yard to load, and I kind of sat back and thought about it. I was tense from the exchange. Fifteen minutes later, I suddenly sensed that he had not loaded and left yet. I walked out to the warehouse, and sure enough, he had one of my Amish yard guys trapped. He was leaning in and talking intensely. His truck sat there, unloaded. I ambled up to them. Look, my guys have work to do. You need to get your truck loaded. Looking a bit sheepish, he backed off then. His metal sheets were loaded, and he tied them down and left.
After he drove away, my Amish yard guy muttered, "Some people think they are the only Christians." Yes. I agreed. Some people do.
And there you have it. The contrast of two totally opposite encounters, less than an hour apart. From two totally different personalities forged from life and experience, and the lack thereof. The old guy. And the young guy. I've thought a lot about them both since that day came down.
From the old man, I felt calmness and joy. He left me energized and exhilarated. From the young man, I felt deflated and accused. And he left me drained.
As a Christian, I walk out there on the edge of things a good bit, at least that's how many others see it. But I don't shrink from what I know or from what I have lived and seen and felt. Or from telling it. I respect the broad spectrum of those who follow Christ, including many in the Amish church. And all the way out to the fringes of the "mad" preachers thundering on the street corners in the cities and towns across this land. The Lord's vineyards are scattered everywhere. And He calls His children to proclaim Him in vastly different forums over all the world.
I'll stand by what I said that day, though. You don't talk down to people. When the gospel is preached from above, it can only be heard from below as an ultimatum based on fear, which is all so paralyzing and hopeless. It is best lived, face to face and eye to eye, often with few words. I don't care where you are or who you are. I won't speak to you from "above." I simply will not do it. I will meet you where you are, as you are, it doesn't matter where that is. That's the only way I know to share Christ's love. Because the first time I grasped and understood it, that's how it was shared with me.
And when I think of the young guy who accosted me in the office that day, I wonder. What's eating at him, that he has to prove his way is the right one, the only one? That his beliefs, his thinking (or that of his group) surpasses all others in the Christian world. Why are they like that? What drives them, what drives him, to proselytize so aggressively? Where does all that energy come from? Day after day, week after week, on and on, until it all folds in upon itself. Which it will, one day. Something's eating at him. Something inside him is not at peace.
It's the raw passion of youth, I suppose. I'm not judging him (well, maybe a little). I'm not condemning him. And I wish him well. But his life would be so much calmer if he could just settle in a bit, and see the real peace that is there, if only he could accept some very simple truths. To him, and to all like him, I'll throw out a little challenge of my own.
Claim what you claim to know, without all the drama. Stop it, with your demands for this and that, for others to prove themselves to your standards. Or to prove your superiority. Because when it comes to the finished work of Christ, it's all done. All of it. There is nothing we can do to deserve it. There is nothing we can do to earn it. Nothing. You will never grasp what true freedom really is until you grasp that simple concept.
You don't have to take my word for it. But just try it. It's impossible for me to describe the joy of letting go of all that baggage.
****************************************
Next Friday morning, I plan to head out early, hit the road. To Buffalo, New York. There, I will pick up my niece, Janice Marner, at the airport. And we'll cross the border into Canada and head on up to Aylmer. Janice, who works for Waste Management as a high-level executive in their management's consolidation team, has taken time from her hectic schedule to travel up with me to see her Grandma. I'm delighted for her company. We plan to arrive late Friday and leave late Sunday night.
And it's looking like my brother Titus and his family, and maybe my brother Nathan might be there right over that time as well. So we'll have a little reunion. But we're all going to see Mom. I'm not quite sure what that's going to be like. She's the focal point that draws us. Back to the site of our childhood world.
I want to see that childhood world, too, as much as possible. I want to drive around the old Aylmer settlement a bit. Maybe take a quick tour of the old home place and the old schoolhouse. We'll see.
After my last post about Mom, things got a little, well, scary early the following week. I got a call from my sisters. Mom was shutting down. Kidney failure. And by Tuesday evening, I was pretty much on hair trigger alert, ready to head out on short notice. But somehow, as always up to this point, she pulled out of it. By Friday, she was functioning as normal. Those are tough people, of tough stock, her generation. And so she's pretty much back to normal, or what passes for normal for her these days.
And it was all nip and tuck for a bit, but last Saturday evening, the great annual Ira Wagler Garage Party came down. I had randomly picked the date, August 4th, about two months ago. Invited more than thirty people. I wanted them all to attend, but of course, not all of them could make it. I ended up with 25 or so guests.
They started trickling in around 5 or so. My friends, Dominic and Jamie Haskin from West Virginia drove up. And many locals, from every imaginable level and background. When I throw a party, my garage is a safe place for all. Neutral. Like Switzerland. Doesn't matter who you are, or where you've been. If you're invited to my party, you have safe passage. We just hang out, chill out, and enjoy the evening and the company of each other.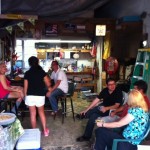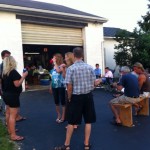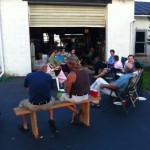 I grilled Stoltzfus Farm Meats sausages, as usual. On charcoal. I provided the meat, the sausage rolls, and the condiments. And a case of premium beer. All guests were encouraged to bring a salad or dessert. And they all came through, as usual. It was a magnificent feast. The evening arrived and unfolded, and then it was over. For one more year.
The book reviews have been sporadic lately, but a few weeks ago, my Google alert snagged an interesting one. From Mennonite World Review, a mainstream Mennonite publication. I've never been associated with the mainstream Mennonites. And I've always been a bit leery of them. Not as individuals, the ones I know are quite jolly and genuine and accepting. But I'm leery of them as a group. They tend to run around and spout the latest left-wing gibberish, be it global warming or "social justice" (a code word for Marxism), gun control and a myriad of other pet project fiascoes like Obamacare and "Green" energy. The intelligentsia, especially, tend to hold such views. Seems like they're always burdened with torturous guilt for the perceived collective current and historical sins of the West. And always calling for some magical government solution, for sure some state intervention to make it all better again. Which basically means the state plunders from the productive at gunpoint and dispenses the loot as it pleases.
And it astounds me, when I think of it historically. That they've strayed so far from the legacy of their founding patriarch, Menno Simons. That their ancestral memories are so darkened to the brutal persecution their people endured way back, their history of blood and death by fire and water and the sword. Inflicted by the state. And now, they turn to the state. Trust the state, the most murderous entity in all of human history. It makes no sense to me. I'm talking about certain "progressive" segments of the mainstream Mennonites, here. Not the more conservative groups.
So when I saw the link to this review, I opened it with some trepidation. They're gonna whack me. I just knew it. I was very pleasantly wrong. The guy really nailed it. He made many pertinent observations. He obviously understood my background. Knew where I'd come from. But it was his closing paragraph that floored me.
"Wagler writes that one must make peace with the past. But his main passion is for freedom." Yes. It is. My main passion is for freedom. Freedom from all oppression, be it religious or secular. Freedom from any oppressive church. And freedom from the state, which by its nature can only be oppressive and corrupt.
And then the reviewer concluded in closing: "For that ideal he is as effective a writer as was his father for traditional Amish ways. Despite the pains of breaking away, the apple does not fall far from the tree."
Sure, this was one reviewer, out of hundreds. And most or all of those hundreds might dispute the point. But no matter. Even from one lone perspective, it is an honor to be compared like that, to be judged as effective a writer in my world as my father was in his.
There is no higher compliment.
Share