I've seen fire and I've seen rain
I've seen sunny days that I thought would never end
I've seen lonely times when I could not find a friend
But I always thought that I'd see you again.
James Taylor, lyrics
_________________
It's a long old drag to drive in one day. I know, because I've done it before a time or two. And as the day approached, I got a little edgy. Janice was flying in to Buffalo from LA at midnight. And she was depending on me to stop and pick her up. So by Wednesday, I'd decided. I would leave late Thursday afternoon for Aylmer. Stop and sleep somewhere in upstate New York, and pick Janice up before half the next day had passed. That way, we could cross the border into Canada and get to our destination in good time.
So at 2 PM on Thursday, I left work and drove over to my good buddies at Enterprise to pick up my rental. A Corolla, the nice man told me. Hmm. And I asked what I always do. Do you happen to have a Charger on the lot? The nice man punched at his keyboard. "As a matter of fact, yes, a gray one. Brand new, only 5,000 miles on it." How much extra? "Sixty bucks for the weekend." I'll take it, I said. A Charger. There's no better car, when it comes to power and smooth driving. And a gray one, yet. A most inoffensive color, for where I was going.
By four, I was loaded, and hit the road. Luggage. And passport. You gotta have a passport now, to cross the border into Canada. Which didn't use to be, for most of my life, and still shouldn't be. It's the US that demands that, for you to get back in. More paperwork, more fuss and hassle, more stress, arbitrarily dictated by the state. I cruised out around Harrisburg and north on Rt. 11, then Rt. 15. The Charger pulsed along quietly. Handled beautifully. Around 7, I approached Corning, New York. A couple of hours from the Buffalo airport, according to my GPS. I'll look around here. Find a motel. Settle in for the night, and get going in good time in the morning.
I settled on the local Ramada Inn. Which is below my normal standards. But the gas station guy across the street claimed it was clean. And it had a nice little lounge attached. I like a motel with a lounge, because you can settle in, eat, have a drink, and get to your room, all at the same place. I was immediately irked when my room card refused to open the door. I drove all the way around to the front office, and "ahemmed" at the clerk. She was apologetic, and fixed the card. It worked this time. I drug in my stuff. The room smelled very musty. Apparently the gas station guy across the street owns shares or something, I thought. But hey, I can make it one night. After dining in the lounge, I settled in. Janice texted that her connecting flight in Vegas was delayed. She might not arrive in Buffalo until the wee hours. I should be there by late morning, I texted back.
I wasn't. Because my wakeup call failed. Yeah, I know. Use the alarm on my iPhone. I should have. But if you can't trust a motel's wakeup call, you can't trust the motel chain. I will never stay at Ramada again, unless there is no other better option. I woke up a little after 9. More than a half hour late. Horrified, I bounced out of bed, and rushed about. Showered, threw my stuff into the Charger. Scolded the desk clerk, when I stopped by to get my receipt. She was apologetic. Sure. That helps a lot. Apologize. That won't get my time back. And off I drove on the interstate west, the Charger pulsing along.
An hour in. I'll call Janice, I thought. Let her know I'll be late. I called her on my iPhone. No ring. I checked. No service. Ahh. That's all I need now. No phone, and running almost an hour late. It was like it used to be, way back. You run blind, and get there when you get there. And then my GPS guided me off the interstate. What the heck was this? Do I trust it? Off we went, onto two-lane state roads. Winding through small towns, stopping at lights. Gah. Janice would be fretting. I checked the phone. Still no service. I would have no service for the rest of the trip into Canada and back.
The GPS eventually guided me back onto the interstate, and a frantic half hour later, at noon, I pulled up to the Holiday Inn where Janice was staying. I walked into the lobby, approached the clerk. My niece is staying here. I'm running late. I have no cell phone service. She was totally professional. "What's her name?" Janice Marner. She dialed the room number and handed me the phone. I didn't see the number. Like I said, she was professional. The room phone rang. No answer. Janice claimed later it didn't ring at all. Then the clerk asked me for Janice's cell number. I pulled it up on my iPhone, and she dialed it on her phone, and handed me the receiver. It rang, and to my huge relief, Janice answered. I'm here, I said. My cell service is dead. Where are you? I'm running late. I'm so sorry.
And Janice laughed and scolded me good naturedly. "That's an iPhone for you. Meet me around the back. And by the way, I didn't check in until 3:30, so I'm good." I thanked the professional Holiday Inn clerk and rushed out and drove around the back. A few minutes later, she called my name. Janice, coming toward me with her roller luggage. I ran to meet her, and we hugged. I'm so irritated and upset, I said. It's all been going wrong, so far this morning. I loaded her luggage and we were on our way.
Janice is Janice. My niece, my sister Maggie's daughter. She will forever be, oh, eighteen to twenty years old, in my mind. No matter that she's an executive in a national company. She will always be Janice to me. And it's been probably fifteen years since we've gone on a road trip together. Me and Nathan and Dorothy and Janice used to pack up and take off, way back. We haven't done that in a very long time.
But now we were, Janice and me. We chattered in English and PA Dutch, right along, as the Charger cruised over the road. She snapped many pictures as we approached the border. I detest borders of any kind. Countries should not have borders, or should at least be much more relaxed about the flow of travel over them. But then, of course, they couldn't keep us all frightened of the latest boogeyman, or extract tribute from us. That's what borders are really for, in my opinion. That, and war. That day, the Canadian border guy was very relaxed. What did we have with us? Oh, I said, I got a bunch of books along. He glanced at our passports and waved us through. Janice wanted to see Niagra Falls. Stop by for a few minutes. Of course, I said. She had last seen the Falls when she was seven or eight. And I hadn't seen the Falls in forty years or so.
We pulled off the interstate and cruised down the little two-lane highway into Niagra. It's a beautiful road, bordered by neat little parks and a butterfly sanctuary. We passed the large flower clock, still exactly the same it was way back. The little town was packed with tourists, and it took a while to get to the public parking lot. An attendant waved us out back to a little booth. Two guys lounged there. I pulled up. How much? I asked. We're only staying an hour or so. "Twenty bucks," said the attendant. "But we have parking way out in the back for $5, and a shuttle will take…"
"Give him the twenty," Janice interrupted. "No shuttle." The guy looked startled. She doesn't like shuttles, I explained dutifully, handing him the money. "Yes, sir," he said. And we parked in a little field and got out to walk to the street alongside the Falls.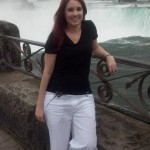 Janice at the Falls.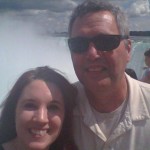 Self portrait, from Janice's phone.
It looked about the same as it did 40 years ago, except for some massive hotels that had sprouted. The Falls themselves were as powerful and breathtaking as ever. The old rusting hulk of a ship still sits there, stuck in the rocks, exactly as it has been for decades. We walked up to the fence at different points, and took pictures. Less than an hour later, we hit the road to Tillsonburg.
Canada is a cool country, just different from what I'm used to. It seems strange that I was born there. The money is colored. The roads are good, generally, and all signs are in English and French. And people drive like maniacs, at least on the main roads. By shortly after 5, we approached the town. Now for a motel. It's tough, to find a good motel in small Ontario towns. Tillsonburg has a Howard Johnson's, which was converted from a Super 8. Any motel converted from a Super 8 is not something that particularly attracts me. Janice was simply appalled. "No way we're staying there," she said firmly. On the south side of town, we drove by a big old mill, which had been remodeled into an inn. Milltales Inn. It looked quite unique. "Let's check it out," Janice said. So we did. The nice man took us upstairs, and we were astounded. Every room was paneled in different wood. Oak, Maple, Pine, and so forth. Every room was spotless. And yes, they were usually booked, but they did have two rooms available for two nights. We didn't blink, but signed up immediately. After refreshing ourselves a bit, we headed on out to my sister Rosemary's farm in the Aylmer community. Where Mom was staying.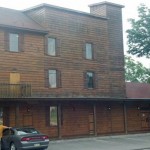 Milltales Inn.
I had no qualms at all about returning to Aylmer. No stirrings of fear or restlessness. Not from the people there, not from the area. I was a little tense about seeing Mom, though. I had never seen her when she didn't speak my name. We drove north from Highway 3, then west past my old home place. Then right at the next crossroad. And the farm loomed before us. We drove in and parked.
They were expecting us. Rosemary and her husband Joe Gascho had invited all their children home for supper that evening. (The children who live in Aylmer, I mean. They have children scattered in many places, and not all of them remain Amish.) They had not yet arrived, so we were in good time. We walked in, greeted my sister and her youngest daughter, Edna. And there she sat beside the kitchen stove, reclining in her wheelchair, her lap covered with a light quilt. Mom. I can't remember if her eyes were closed. She seemed impossibly small, shrunken. I walked up to her and took her hand. Mom. It's me. Ira. Her sunken face lit into a smile, but it was not a smile of recognition. Her vacant eyes stared past me at nothing. Still, she stirred. Spoke a few incoherent words. I stood there and held her hand.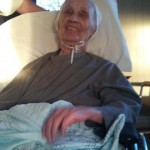 Mom.
She didn't know me. But other than a brief second of shock at her emaciated condition, I was OK. Guess I'd steeled myself mentally. I sat and chatted with Rosemary. Because of an injury to one leg, she can't walk at the moment. But she sat at the kitchen table, peeling peaches or some such thing for supper. Janice immediately stepped in to help Edna get ready for the evening crowd. A few minutes later, Dad walked in from their little house next door. Both are connected by a deck and walkway, so they can push Mom back and forth on her wheelchair. Dad greeted me with a handshake. We chatted for a few moments. And Janice walked up and he greeted her joyfully. She's a spitting image of her mother in her youth, and Dad always sees his daughter when he sees and talks to Janice.
Titus and Ruth had arrived a bit earlier, and were resting in a side bedroom. Soon he rolled out in his chair, and we greeted each other. It was good to see my brother again. We sat and visited as we waited for Rosemary's children to arrive.
The food was ready, and by 7 or so, the buggies had quietly rolled in. Aylmer buggies don't rattle, not unless they are in bad shape, like Dad's used to be years back. Because they have rubber tires on the wheels. The buggies hardly make a sound, going down the road. And Rosemary's children came home with their families. Eunice and her husband David. Simon and his wife, Kathleen. Naomi and her husband Peter. Philip and his wife, Miriam. And Lester and his wife, Tina. They came, they smiled, they shook my hand. They openly and totally welcomed Janice and me.
Rosemary had planned to eat outside, but it was a bit chilly for an August evening. So everyone gathered around inside the house. It was a full place. We ate cafeteria style, and I sat there in the circle, enjoying the simple, delicious food. And I was struck by a deep, deep sense of how much the Amish value the family structure. Here, in this room, sat my parents. Dad and Mom. And their oldest daughter and her husband. And their children. And their children's children. Four generations, right there at that time and place. Sure, Mom was out of it, pretty much. But still, she was there, surrounded by people who loved her and cared for her.
The children and the young adults sat outside on the deck. And I heard the cheerful murmur of their conversations, interspersed with bursts of laughter. It's tough, it really is, to walk away from something like that. And yet, many of us have chosen to, because the cost of staying was too high.
I have never regretted my choice. But that night, sitting there with a close-knit branch of my extended family, absorbing who and what they are, I realized anew what I had really walked away from for the first time in a long time. It was bittersweet, to absorb that, and I felt the loss of what I had left all the way down, deep inside.
At eight, it was time to get Mom to bed. I was asked to help, which I gladly did. They get her up at 8 or 9 in the morning, then back to bed at noon, then up again at 4, then back to bed at 8 again. That's a lot of back and forth. But they have a system. She sits on a large thin pad on her wheelchair. The pad has loops attached. And they bought a manual winch with an arm. It was designed to do exactly this job. She's wheeled up beside the bed, the winch arm is lowered, the straps are attached, and up and over she goes. The pad is then removed. She actually enjoys the rides up and over. "Put your hands here, on the crossbar," they tell her. And she does. We put her to bed and pulled the curtain over the window. In a minute, she was asleep. That's what she does now, mostly. She sleeps and sleeps.
Saturday. Titus and I wanted to go tour the old home place, and the school house. Janice and I arrived at Rosemary's place around ten. They were loaded in the van and ready to go. Janice decided to stay and help out around the house. So I followed Titus in his driver's van. Dad had hopped in, too. And Thomas, Titus's youngest son. We pulled into the drive of the farm on which we were raised.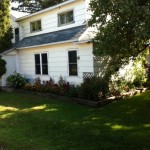 Our old house from the southwest.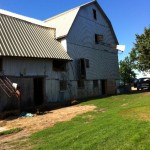 The great old barn from the northeast.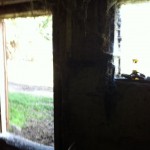 The barn window where I once caught a sparrow, and the doorway where I set it free.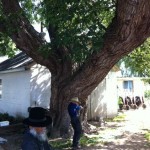 The huge Maple tree on the south side of the shop and house. We scrambled on its limbs as children.
We never kept our farm that tidy. Not in Aylmer, and not in Bloomfield. Both farms eventually fell into the hands of people who are even less tidy. Slovenly people who just trashed the place. Our old home farm in Aylmer is recognizable, but barely. Yeah, I know. It's not my home anymore, and I have no claims to it. None. But it would have been cool if the current owners could have kept up at least some semblance of preservation. They didn't and they don't. We never went into the house, so that might be a different story. But outside, the barns, those are so ill kept, so full of manure and cobwebs and junk, that you literally can't walk through them. All of that is none of my business, I know. But still, it's sad.
We checked out the pond, from a distance. It's half the size it used to be. They pushed it in with bulldozers. And they totally pushed in the little creek behind the barn. And then I walked behind Titus's wheelchair as he powered it up the ramp into the old barn loft. Where we used to unload loose hay from wagons, with pulleys and ropes and a great four-pronged hay fork. The entire loft was in shambles. The proud old barn is going to fall apart, one day soon. It will, simply because no one takes care of it. I could say a lot more, but I won't. I bite my tongue instead.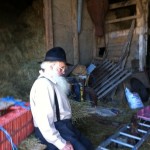 Dad, reminiscing in the loft.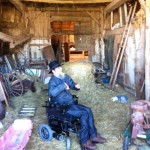 Titus, surveying the mess in the loft.
And then it was off, to pick up Janice and Ruth, and on to check out the old West School. They moved the building, literally picked it up and turned in half a turn, and placed it on a new foundation a hundred feet to the south. From the inside, though, it still feels and smells exactly the same as it did back 40 years ago. Generations of Amish children have passed through this building. I walked downstairs and located my name, scrawled in pencil, back in 1974. Later in the day, we drove around the community and Janice took a bunch of pictures.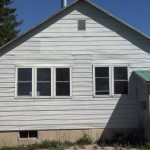 The old schoolhouse.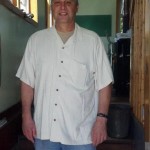 The doorway into the schoolhouse.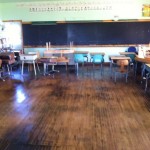 The classroom, exactly as it looked and smelled forty years ago.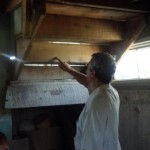 Pointing to my name under the stairs in the basement.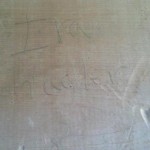 My name in pencil, preserved for almost forty years.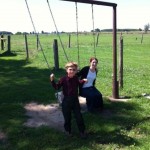 Janice and Robert (Titus and Ruth's son) on the old school swing.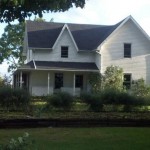 The house where Nicholas grew up. The dull bricks have been covered with siding, but the many sharply peaked gables remain. The place has been cleaned up and spruced up. It is no longer gloomy.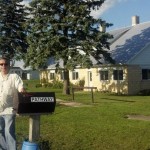 Outside Pathway, where Dad spent much of his time, writing. The second window from the left on the gable end was his office.
That afternoon, Rosemary's son Ivan and his wife Elizabeth and their family arrived from their home up north in the Elmira area. And a bit later, my nephew David Wagler (Joseph's son) and his wife Barbara and their family arrived as well, from their home even farther north. They had come to connect with family from distant places. Janice and I were honored. Aylmer was the focal assembly point for people from many places that weekend.
Sunday. The final day. Usually when I traveled to Aylmer, I stayed for mere hours, or, at most, maybe a day. This time, we stayed for two days. I left the inn at 9:30 or so. Janice stayed behind. Nathan had traveled up with Titus to see his girlfriend Juanita, who lives an hour or so north. They were coming down for the day, and had agreed to pick Janice up and bring her with them.
I arrived at Rosemary's home around ten. Everyone had gone to church. Except Rosemary and her husband Joe. And Mom. She sat there beside the stove in her wheelchair, covered with the light quilt. I had stopped by Tim Horton's that morning and bought a box of donuts. Put them in your pantry, I told Rosemary. These are for you. Not for your guests.
And we sat there for an hour or more, Joe and Rosemary and me. Joe mentioned that he was approaching his 70th birthday, the age his father was when he died. It was an offhand comment. But I pursued it. When did his Dad die? And his Mom? The stories spilled from them then, accounts that rarely get written. They spoke of my uncle Abner and his wife, Katie. How they had passed. At home. That's so important to them. To die at home. Rosemary happened to be there that morning, when Katie died. She told of how it was, how the family gathered around. As she breathed her last, Abner called out to his wife that he was coming soon to join her. Which he did, a few years later. And Noah and Nancy, Joe's parents, they told me of their deaths, too. Noah had suffered a heart attack on a Saturday afternoon. He was rushed to the hospital, and no one was allowed in to see him. No one, not even his wife. He died alone, in a strange cold hospital room. The pain of that injustice still shone from Joe and Rosemary's eyes. And they spoke of how Nancy, Joe's Mom, had warned them over and over. When it's time for me to go, let me go. Don't call out for me to stay. Let me go.
I sat there, almost mesmerized, and listened to their stories. Stories spoken from one generation to the next. Stories told and retold. And again that morning I grasped in the deepest sense the culture that had birthed me, but could not hold me. There is none other quite like it in all the world.
Mom sat there as we talked, beside the stove. Covered with her light quilt. Mostly staring at nothing, smiling now and then. I went up to her and rubbed her hands. She likes to have her hands rubbed. It makes her smile.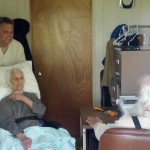 Moving Mom from her house to Rosemary's. Dad is typing at his desk.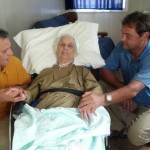 Mother and sons.
I give all the credit to my sister Maggie, Janice's Mom. She always told me. "When you get up there to Aylmer to see Mom, do this. Sit down beside her, and read the dedication of your book to her. Aloud. You might think she won't hear. But read it to her anyway. She might hear it. She will hear it."
You never quite sense the magnitude of a moment as it comes down. I decided to do it that morning before they trundled Mom off to bed at noon. Janice arrived with Nathan and Juanita around eleven. At 11:30, I told them what I wanted to do. Push Mom over to her little house. Go get a book from my trunk. And read the dedication to her. Alone, with no one else around. And everyone was supportive.
Janice accompanied me as I pushed Mom over. I parked the chair in the little living room, and walked outside to fetch the book. And that moment was the only time that she spoke my name, in all the time I was in Aylmer.
To Janice, she spoke. "Is Ira coming back again?"
"Oh, yes," Janice replied. "He's going to read you a story. He'll be right back."
And by the time I returned and Janice told me what had happened, Mom had drifted off again. And I sat there with my Mother. I wrote this book, I told her. Here. I handed it to her. She took it. Caressed it. Opened it. Janice quietly snapped a few pictures and left us. It's about when I was a child, here in Aylmer, I said. She smiled. But she could not speak. And it's about Bloomfield, too, I said. About how I left, and how I hurt you. I want to read the dedication to you. She smiled. And I took the book from her thin frail hands, and haltingly read the dedication. Switching from PA Dutch to English. That's where I lost her, I think. There was no response. I set the book aside and just held her hand. And I spoke to her in our native tongue, words that were on my heart to speak, words that will remain between us in that room, at that moment.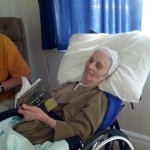 That afternoon, we hung out at Rosemary's house. A few visitors trickled in and out. Including Barry and June Kinsey, who stopped by to have their copy of the book signed. We hit it off and got to talking. They knew Les Shackleton, the auctioneer who had our sale in Aylmer, when we moved in 1976. A figure from my childhood. He's still around and still alert. I signed a copy of my book to "the auctioneer of my childhood." The Kinseys promised to get the book to him.
And Nathan and I caught up a bit and I chatted with Juanita and her friend Trudy Metzger, who had driven down to meet me. A fellow blogger, Trudy has been my friend for some time on Facebook. We've chatted there and even once on the phone, but we'd never met. The five of us, Nathan, Juanita, Trudy, Janice and me piled into the Charger and took off for a ride. I wanted a picture of the Aylmer town sign. We found it just outside town. I posed for the pic.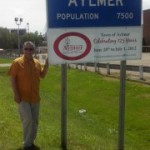 After we returned to Rosemary's house, Janice and I made noises to leave. Rosemary almost couldn't have it, that we didn't stay for supper. Her children were all coming home again that night. We can't, I said. We have to get going. We have hours to the border, and Janice has to catch an early flight to Boston. We pulled out around 4:30. We were both exhausted and exhilarated at the same time. It had been a wonderful experience. For me, to go back and see my Mom and family. And for Janice, to see her Grandma and to connect with relatives she had never really known. We talked about it, how everyone had so completely accepted us. It wasn't that long ago when such a thing would have been impossible.
After we sat in line at the border for an hour, some thug border guard barked at us as if we were common criminals for wanting to return to our own country. I detest borders of any kind. He waved us through, then, barely bothering to check our passports. We checked in at a very nice motel, then sat in the lounge and ordered food and drinks and unwound for a while. And then we retired to our rooms. Janice left early the next morning before I got up. I left the motel around 10 and meandered my way home. And that was our trip to Aylmer.
Home is where the heart is, at least that's what the old cliché claims. And clichés are always based in some seed of truth. Mom's heart, I think, has never left Daviess, the place she was torn from many decades ago. Her childhood world, to which she was rarely allowed to return. But she can't express that to us now. As she couldn't express it years ago when her mind was clear. Even then, she could find no words to speak it.
Because she never had a voice to speak her heart. She wasn't allowed one. All her life, she suffered in silence. And that silence, too, is all too common, all too accepted as simply another quaint element of Amish culture. It's so much more than that. It's real people, with real lives, like my Mother. And it's all that she endured. That's what that silence is.
My father now resides in Aylmer, the place he loves. He never left it, not in his heart. And now he has returned with Mom, in her current state. She will abide with him, wherever that is, as she always has through this life. This time, though, she will never leave Aylmer. One day soon, her body will be laid to rest in the tidy little cemetery on the west edge of the settlement. And one day soon, Dad will either greet or join her there.
And so they approach the end of their journey, the two of them together.
Share